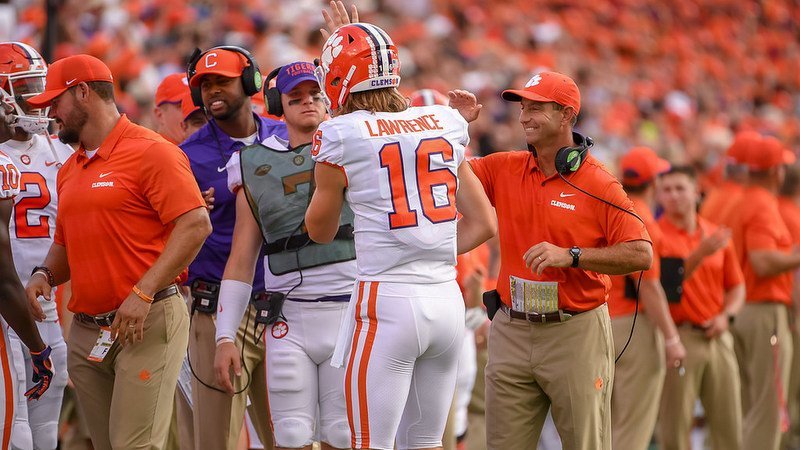 | | |
| --- | --- |
| Advanced outlook: Clemson-Florida State projections | |
---
| | | |
| --- | --- | --- |
| Thursday, October 25, 2018, 10:36 AM | | |
There have been several unusual elements to Clemson's 2018 season but few feel weirder than Dabo Swinney's Tigers possibly passing their biggest ACC test...before a trip to Florida State.
The numbers bear out the Seminoles' struggles in year one under Willie Taggart, which have recovered to three wins in the last four after losing by 22 points a game to start the ACC campaign versus Virginia Tech (home) and Syracuse (away).
ESPN gave a failing grade in one of those wins (at Louisville, 51 game score), which also characterized four of the first five games (a 73 game score versus Northern Illinois the outlier) before better efforts in the last two (69 game score in a 28-27 loss at Miami and a 38-17 win over Wake Forest). In the last two games, Clemson has posted an 85 game score versus Wake Forest and a 92 versus NC State.
Despite being mirror images in talent (FSU No. 5 in 247's Team Talent Composite; Clemson No. 6), the mismatches in performance abound and that bears out in the projections.
Football Outsiders metrics like the Tigers big, with the FEI taking Clemson 36-6 and the S&P+ picking Clemson, 34-15. TeamRankings projects a 34-17 Clemson win, while the fellow ESPN-affiliated metric from numberFire likes the Tigers 34-19.
As you can see below, the Tigers hold a No. 1 ranking on defense in ESPN's efficiency metric and defensive success rate*. On the offensive side, Clemson is up to No. 8 in success rate (50) and top-16 in two more efficiency metrics (ESPN - 16; S&P+ - 11).
The Seminoles counter with triple-digit rankings across the board offensively and a defense that's knocking on the door of a top-25 unit by consensus.
Advanced metrics profile
Clemson
ESPN efficiency rank: Offense – 16. Defense – 1. Special teams – 109.
Football Outsiders efficiency rank (S&P+): Offense – 11. Defense – 2. Special teams – 77.
Success rate: Offense – 8 (50). Defense – 1 (30.1).
Florida State
ESPN efficiency rank: Offense – 106. Defense – 26. Special teams – 88.
Football Outsiders efficiency rank (S&P+): Offense – 109. Defense – 21. Special teams – 95.
Success rate: Offense – 122 (34). Defense – 32 (37.1).
--
The FSU offense shows some explosiveness (12th) despite its overall lack of efficiency, meeting a Clemson defense that's been solid in containing big plays (29th). Backed into 'blitz-down' situations, the Seminoles are 121st in success rate (21 percent) versus a Clemson unit also in the top-30 there (30th; 22.8).
The bigger mismatch in that scenario may come on the other side of the action, with a No. 2 Clemson attack in big-play rate on blitz downs (21) against an FSU defense ranked 100th in containing them (10.3). Among the bigger battles on this matchup comes in the Seminoles' side of the 50, where they rank No. 9 in points allowed per scoring opportunity (3.49) versus a Clemson offense in the top-20 (18th; 5.31).
Florida State has struggled most in the running game and it won't see a favorable matchup there either. They are 116th in rushing efficiency against the nation's most efficient run defense. The Seminoles are among the worst teams nationally in runs contained at or behind the line of scrimmage (116th in stuff rate, 27.5) against a Clemson 'D' in the top-5 there (5th; 29).
Those struggles contribute to minimal success on standard downs** (129th in success rate, 36.1) and then more struggles in third down success rate (107th, 33.8). FSU has had its most issues in pass protection on standard downs (102nd, 7 percent) against a talent-rich Clemson front-seven averaging a top-10 sack rate overall (7th; 10.7).
Meanwhile, the Clemson offense has been flexing its muscles of a balanced attack.
Per CFB Film Room, Trevor Lawrence holds a 90.3 adjusted completion rate on third and fourth down, which is up 25 percent from 2017 starter Kelly Bryant's efforts. Among the ACC's leaders last year, even Bryant's solid 72.9 adjusted completion rate in 2017 falls short of Lawrence's efficiency (79.2), who is completing 66.7 percent of his throws under pressure and connecting at an above-average 42.1 rate on 20-plus yard throws.
Clemson ranks 15th in rushing efficiency and 21st in passing efficiency, as one of six Power 5 teams with top-25 rankings in both (five ranked in top-21 and in). The way that complements the defensive rankings shows in Clemson and Alabama being the only teams with top-25 rankings against the pass and run there as well.
Metrics outlook: Clemson-Florida State
S&P+: Clemson 34-15
FEI: Clemson 36-6
TeamRankings: Clemson 34-17
numberFire: Clemson 34-19
(S&P+ is a SB Nation/Football Outsiders metric that combines ratings for the five factors of efficiency, explosiveness, field position, finishing drives and turnovers.
FEI is a college football rating system based on opponent-adjusted possession efficiency.
* Success rate is determined by gaining 50 percent of the necessary yardage on first down, 70 percent on second down and 100 percent on third and fourth down.
** Passing downs are defined as second down with eight or more yards to go or third or fourth down with five or more yards to go. All other situations are "standard" downs.)
Stop Rate: @ClemsonFB's defense takes the No. 1 spot. Probably because of stuff like this:

- Allowing 1.94 yards/carry in 1st half
- 22% 3rd down D in ACC games
- No 25+ yard TD passes this season
- Gave up 1 TD over last 32 driveshttps://t.co/ieNm7DQcN8

— Max Olson (@max_olson) October 24, 2018
If you win in the trenches, Clemson ranks…

3rd in QB pressure rate
3rd in yards/rush before contact
1st in opposing QB pressure rate
5th in % opposing runs stopped for loss/no gain

That's real good.

— Johnny Clickbait (@ADavidHaleJoint) October 23, 2018
Ryan Finley on throws of 11+

1st 5 games: 69% completions, 13.0 yards/att, 6 TD, 1 INT

vs Clemson: 33% completions, 6.44 yards/att, 0 TD, 1 INT

— Johnny Clickbait (@ADavidHaleJoint) October 23, 2018
Trevor Lawrence has been a significant upgrade at quarterback for Clemson this season pic.twitter.com/kfqVC8YZcq

— CFB Film Room (@CFBFilmRoom) October 24, 2018
After 8 weeks of action – NC State is the highest-graded offensive line in the ACC.

For how they've done so (via @PFF_Cam) ?? ?? ?? https://t.co/FAwchmuJ6M pic.twitter.com/Om7Qw1f2HV

— PFF College (@PFF_College) October 24, 2018