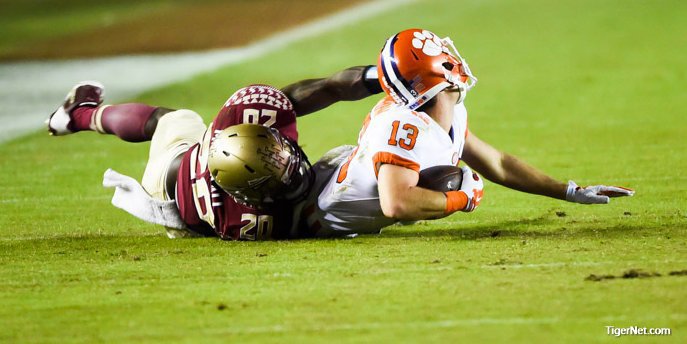 | | |
| --- | --- |
| WestZone Monday: Carter says players have to move past interference calls | |
---
| | | |
| --- | --- | --- |
| Monday, October 31, 2016, 2:38 PM | | |
CLEMSON – The tone was set early in Clemson's Saturday night win over Florida St.
Junior defensive back Ryan Carter was in man coverage against Seminole wide receiver Aulden Tate on the sideline when Tate shoved Carter in the back and pushed him to the ground before making an acrobatic 23-yard catch. A penalty flag was thrown on the play, but instead of Tate getting flagged on the play Carter was the one penalized, even though his head was hitting the ground from the shove when Tate made the catch.
The call was one of five interference calls against Clemson Saturday night, but the calls were bad for both teams. Both teams can complain that the officials affected the pace of play, and with the advent of targeting calls it's hard for defensive players to stay aggressive when they know a flag can be thrown even when they do everything right.
Carter met with the Clemson media Monday afternoon in the WestZone, and he addressed the penalties by saying players simply have to move on to the next play and ignore the calls, both good and bad.
"It's definitely an issue. But when it happens, it's like, 'next play.' As far as some of the interferences we got this past weekend, maybe some were right and maybe some weren't," Carter said. "We just have to move on to the next play and have a short term memory so you aren't thinking about that pass interference you might have just gotten because that might affect you on the next play. I definitely feel like a lot of those interference calls might not have gone our way, but you just have to move on to the next play."
On moving between corner and nickel Saturday night
"It has its challenges but I feel like I've gotten used to it because I am an older guy and I understand that scheme and what Coach V wants on defense. There are more guys who can play corner like Marcus Edmond and Mark Fields, so it gives us a better opportunity and I can move into the nickel spot in pass formations. It has its difficulties but I feel like I've taken it on pretty well."
Facing Syracuse
"They are a tempo-oriented team, but we are used to that in practice. So, it's not like something we aren't used to. They are going at a high speed, so we have to get lined up as fast as we can and get the call as fast as we can and go from there. We definitely have to match their pace. We will definitely have to tighten up our coverage, and we have to get back to basics this week. They have two good wideouts and we have to get our technique right because we play man. That is what we do."
On where he ranks the win over FSU
"Personally, I feel like all the wins are big. It's always good to especially go down there in a primetime game at night and the whole world's watching. It was one of the best overall team wins."
What did he tell the team before leading the game-winning drive?
"Let's just go win the game. Players make plays and this is what we are built for. We practice this every Wednesday and bend down or bend up depending on the situation to have an opportunity to go win the game to solidify the win."
Was this your best game of the season?
"No, not really. I did some good things but at the same time I made some poor decisions that I wish, at the time of making those decisions, would've been able to pull it back, but at the same time it's a learning lesson. I'm still growing as a player and as a person. The stats can seem like it's one of the best games, but personally watching film myself, it wasn't."
Are there any young quarterbacks he watches?
"I like Wentz. I've trained with him before. Dak, talked to him before. All those guys are playing well. I watched that game last night. Just very excited and proud for those guys going in there as rookies and playing on the big stage and being successful. I'm a huge fan of both those guys."
On Wayne Gallman's blocking
"I think that's a big part of his improvement. You'll hear Wayne talk about how he wants to be a complete player without the ball. I think that's where he's developed the most over the last two years and he knows there are certain games, maybe you go back to Miami where we ran for over 400 yards, and then there's certain games based off what the defense is doing where we match up or strengths and weaknesses where you're going to throw it a little bit more. Wayne is one of the most unselfish players I've had the chance to be around at Clemson. I mean he's awesome. Whatever you ask him, he's going to do it. I think he likes to pass protect because he gets to put that on video and show, 'Hey, I can do this,' so he can add to his portfolio as a player."

Upgrade Your Account
Unlock premium boards and exclusive features (e.g. ad-free) by upgrading your account today.
Upgrade Now