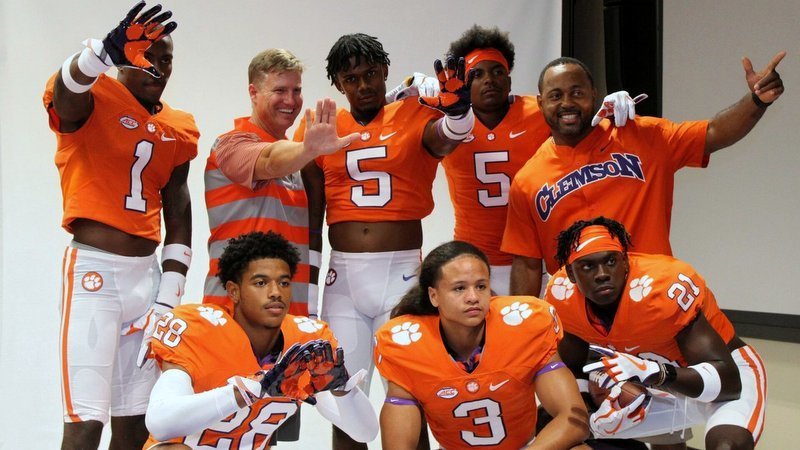 | | |
| --- | --- |
| Weekend Recruiting Insider: Webb speaks, Line of Succession in place | |
---
| | | |
| --- | --- | --- |
| Monday, July 30, 2018, 7:01 AM | | |
When you think of the term "line of succession" your thoughts likely turn to Britain's royal family or our own government and what happens in the event of an emergency. The dictionary describes the term as "the order in which individuals are expected to succeed one another in some official position."
Brent Venables is putting all of the pieces in place for the Line of Succession of the Big Five on Clemson's talented defensive line. Those positions aren't governmental by any means, but they are official, and there is no doubt that the loss of Clelin Ferrell, Christian Wilkins, Austin Bryant, Albert Huggins, and Dexter Lawrence after this season will leave a leadership and talent void. Venables is working to make sure that transition goes as smooth as possible.
In case you were living in a bubble over the weekend, Clemson's recruiting made major news over the weekend with the addition of 2020 linebacker Sergio Allen on Thursday, linebacker Vonta Bentley on Friday, wide receiver Joseph Ngata on Saturday and defensive lineman Etinosa Reuben on Sunday.
Clemson's recruiting reach ranges far and wide and the Tigers already have players committed from 13 different states. The record is 14 different states by the 1989 class, Danny Ford's last class as the Clemson head coach. Allen is from Georgia, Bentley is from Alabama, Ngata is from California and Reuben is from Missouri.
The addition of Reuben is intriguing – he shunned Ohio St. because he wanted to play for Venables, and it's obvious that Venables has hand-picked the successors to the Big Five and Josh Belk.
To recap – Venables already has several talented pieces in place. Xavier Thomas and K.J. Henry might walk onto any other campus in the country and start right away, but the depth Clemson has at the defensive end position has them fighting for playing time as backups. They will play this year, and they will learn, and they will be ready next season. Add in veterans like Xavier Kelly, Justin Foster, Logan Rudolph and freshman Justin Mascoll and the Tigers have to feel good about next season.
At the defensive tackle spot, veteran Nyles Pinckney and youngsters Darnell Jefferies, and Jordan Williams will lead the way. The lack of depth at the defensive tackle spot has forced Venables to look long and hard at the prospects on the board – the staff can't afford another culture-miss like with Belk – and he's picked some guys that have versatility.
That leads us to the 2019 class. Reuben (otherwise known as ET), Ruke Orhorhoro, and Logan Cash are all jumbo defensive linemen that can play inside and out. Reuben is at 270, Orhorhoro recently weighed in at 272 and Cash is at 260. Add in monster tackle Tayquon Johnson (who is at 305) and it's a nice start to replacing the Big Five. The Line of Succession looks really good from here.
*From the above note about the states represented, it reminds me of when I watched college football as a youngster and would notice that schools like Notre Dame and Southern Cal and Texas had a nationwide recruiting footprint. Clemson has always had success recruiting South Carolina, Georgia, North Carolina, and Florida and will always recruit those areas. But the Tigers are now able to recruit nationally, and it allows the coaches to handpick the players they want. Oh, how times have changed. Sometimes the fans don't like the number of stars beside a kids' name, but I'll trust Venables and Swinney and company over a bunch of writers who are looking for subscription money.
As for the states, Clemson has commitments from South Carolina, Georgia, Florida, Virginia, California, Louisiana, Connecticut, North Carolina, Maryland, Alabama, Missouri, Pennsylvania, and Michigan.
Amazing.
*A lot of people have asked for a list of recruits that attended the Cookout. Commitments that were in attendance were Frank Ladson, Joseph Ngata, Sheridan Jones, Taisun Phommachanh, Vonta Bentley, Joseph Charleston, Bryton Constantin, Chez Mellusi, Jaelyn Lay, Tayquon Johnson, Hunter Rayburn, Logan Cash, Etinosa Reuben, Ruke Orhorhoro, Ray Thornton, Davis Allen, Brannon Spector, Greg Williams, and Landen Zanders.
The prospects on hand were Clay Webb, Andrew Booth, Cooper Dawson, and Jalyn Phillips.
We reached out to Webb Sunday night, and he had this to say about the event.
"We had a really good time at Clemson," Webb said. "It was a great family atmosphere with lots of fun and games. I enjoyed getting to know Coach (Robbie) Caldwell better, talking with Coach Swinney, and Todd Bates."
*After attending the All In Cookout with nearly a dozen of his family members, CB Andrew Booth announced via Twitter that he would be releasing major news at noon Monday.

Tags: Clemson Football
,
Sergio Allen
,
Vonta Bentley
,
Etinosa Reuben
,
Logan Cash
,
Tayquon Johnson
,
Frank Ladson
,
Sheridan Jones
,
Taisun Phommachanh
,
Joseph Charleston
,
Bryton Constantin
,
Chez Mellusi
,
Jaelyn Lay
,
Hunter Rayburn
,
Ruke Orhorhoro
,
Ray Thornton
,
Davis Allen
,
Brannon Spector
,
Greg Williams
,
Clay Webb
,
Andrew Booth
,
Cooper Dawson
,
Jalyn Phillips
,
Brent Venables
,
Danny Ford
,
Todd Bates