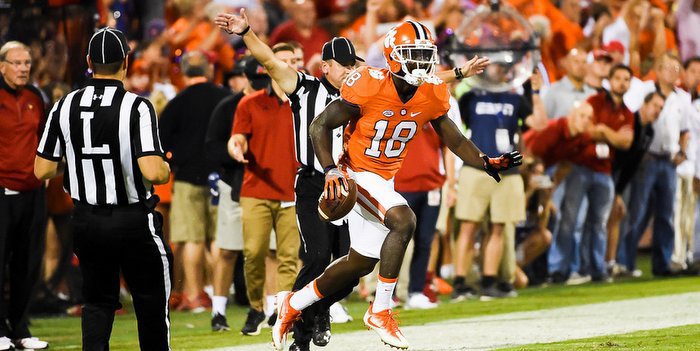 | | |
| --- | --- |
| Wednesday nuggets: Pick sixes, the backups and quiet stadiums | |
---
| | | |
| --- | --- | --- |
| Wednesday, October 26, 2016, 7:01 AM | | |
CLEMSON – Clemson is busy preparing to take on 12th-ranked Florida St. Saturday night in Tallahassee, and we have plenty of nuggets to pass along from the first two days of interviews in the WestZone.
We'll start with head coach Dabo Swinney, who spent a good portion of his Tuesday press conference talking about anything and everything but the Seminoles. The best question – and we say best just in terms of entertainment value – came when of the overeager new guys asked Swinney about the missed field goal that forced overtime against NC State.
Swinney was reminded that coaches on all levels try to ice the kicker, and then he was asked, "What was your reaction to the result of that call?"
Just once I wish he'd say "I hate it that he missed. I really wish we would have lost."
Instead, Swinney rolled his eyes and twirled his hands in the air before smiling and saying, "Ok, we're still alive. Let's go win this thing. I was trying to hang on to one (timeout) just for that purpose."
*Swinney was asked if anything Deshaun Watson does ever surprises him, and he said no but did give an example of a recent play that stuck out.
"Surprised me? Hmm … I don't know. Nothing really. Nothing he does surprises me," Swinney said. "He just makes me proud. It's like the pick-six (against NC State). It's his first pick-six ever. It's never happened ever, not in high school. He's never done that in his whole life. What did he do? He came back and set a record of 14 straight completions. That's pretty impressive. But it doesn't surprise me. Our offense is better than it was last year, despite what y'all write. We've got less interceptions, more touchdown passes, we're averaging more yards per play. We just had a bunch of drops in the first couple of games. But he comes back to the sideline and tells me that was his first one. Ever. And then he goes out and responds."
*Swinney was asked about many of the backups, and he mentioned several players that are beginning to stand out.
"We've played a lot of offensive linemen, guys like Tremayne Anchrum and Sean Pollard," he said. "They've gotten a lot of experience as true freshmen. Taylor Hearn is a young sophomore player who has had a solid year for us. Justin Falcinelli has had to play center and guard. He's a really good player. Milan Richard has come on even though he hasn't had a lot of touches. He shows a lot of promise for us. We have a good future there at tight end in that sophomore group. The development of our quarterbacks has been good. Kelly Bryant has continued to improve. It's a good situation.
"Same thing on defense. A guy like Tre Lamar and Jamie Skalski. They're going to be great players. Travyon Mullen and K'Von Wallace, more talented guys who give us a bright future. Several other guys, too. Albert Huggins is emerging. He'll be a great player for us. Chris Register, Richard Yeargin don't get talked about much but have been good players for us."
*There's no doubt that Clemson has had success on the road the past few seasons, and safety Jadar Johnson gave some insight into why the defense seems to play well on the road.
"It's so much easier for us to communicate out there," Johnson said Tuesday. "The away fans, they try to be quiet for their offense. That's good for us because we are a defense that adjusts to certain things. A big thing for my unit that we have focused on this year is communicating better, and I feel like that has helped us so far. When we have a quieter crowd on the field that helps how we play."
*Linebacker Kendall Joseph told us that FSU quarterback Deondre Francois reminds him of Louisville quarterback Lamar Jackson.
"He's not as fast and their scheme is not the same, but he is a really good passer and has the ability to get out of the pocket and run when he needs to," Joseph said. "He looks really poised and I like his toughness. I've looked at the film and he has taken some big hits, but he always comes back in the game and has his teammates' back."
*If you like to watch videos, you might wanna play for defensive coordinator Brent Venables, who apparently watches a lot of tape.
"We are always watching film, even on game day," Joseph said. "Coach V doesn't give it a break. 20 minutes before warm ups he'll find something new that he wants to tell us. He will send us videos when he is in the hotel room and you can see his face in the reflection of the computer. That's what makes him so great, he's relentless."
Johnson said the film room has made him feel more "engaged."
"I feel more engaged this year. Taking the film room seriously has been a major reason I have improved," Johnson said. "I had a couple meetings with Coach Venables and he kept it real with me by telling me the things I needed to do. Once I decided to take that step and take it serious, here I am."
*Earlier this season, Clemson won at Georgia Tech for the first time since 2003, and Christian Wilkins knows the Tigers haven't won in Tallahassee since 2006.
"I watched the FSU game from two years ago. We obviously dominated the entire game and then let our chance go at the end. We had our opportunities to win the game, but we just lost it," Wilkins said. "I am looking forward to playing at Florida State. They have a great environment and I love going on the road. It'll be a great opportunity for our team.
"It was big to go to Georgia Tech and get that win earlier this year. That was one of our goals this season and another goal is to win down in Tallahassee because it has been a while since we have won there. We have accomplished a lot as a program in the past 5 years, but winning down there is one thing that we have not done. We are looking to do that this week and come out with a big win."

Tags: Clemson Football
,
Jadar Johnson
,
Deshaun Watson
,
Taylor Hearn
,
Chris Register
,
Milan Richard
,
Justin Falcinelli
,
Richard Yeargin
,
Kendall Joseph
,
Albert Huggins
,
Kelly Bryant
,
Christian Wilkins
,
Tre Lamar
,
Sean Pollard
,
James Skalski
,
Tremayne Anchrum
,
K'Von Wallace
,
Brent Venables