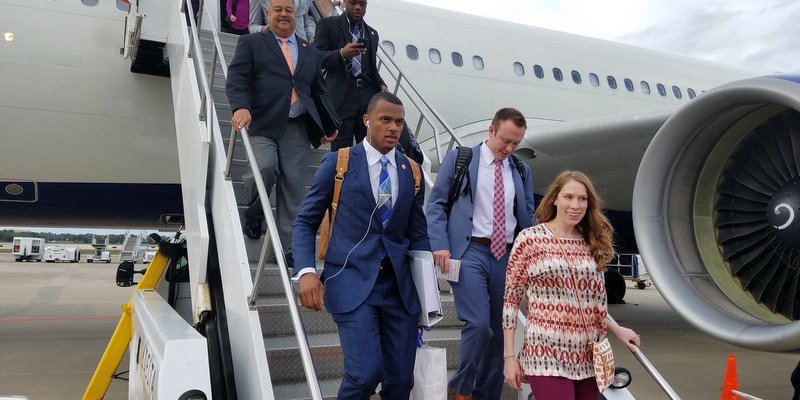 | | |
| --- | --- |
| Thoughts from Tampa: Tigers are no longer just happy to be here | |
---
| | | |
| --- | --- | --- |
| Saturday, January 7, 2017, 7:01 AM | | |
TAMPA, FL – When Clemson's team arrived on the tarmac in Fort Lauderdale last season, a week before the Orange Bowl against Oklahoma, anything concerning the College Football Playoff was brand new and a little bit clunky.
The fire trucks that were supposed to squirt water over the plane as it arrived weren't on station in time, and the first water cannon shots fell short of the mark. The players and coaches got off the plane, took selfies with anybody and everybody and smiles were the order of the day.
Not Friday in Tampa. That was all business.
Going back to Clemson's arrival at the Orange Bowl last season, there were maybe 40 or so media members in attendance and none of us had to push for space. The biggest moment of the afternoon was when soccer star Cristian Ronaldo stepped off a private plane and walked through our little group into the terminal.
There was a slightly larger crowd when the Tigers arrived in Phoenix for the National Championship last January, but the players and coaches still had that "we are happy to be here" look in their eyes, and it was once again all smiles and laughs at the increased media presence.
There was a little bit of a different feel when the team arrived in Phoenix before the Fiesta Bowl. The crowd of media was a few hundred strong, and when the team de-planed there was a serious vibe to the players and coaches. The feeling came through strong – we've been here before and we know what to do.
Friday in Tampa, there might have been as many as 300 media members waiting on the team plane to arrive. And while there were smiles and waves, it was once again a serious and focused group of players that walked off the plane. Especially Deshaun Watson, who didn't smile or wave but stared ahead and looked for the team bus.
From everything we've heard, it's been this way for a few weeks.
I told you a week ago that the Tigers were ready for Ohio St.. We had heard that it had been a great month of preparation (minus one bad day) and they were fully prepared to take on the Buckeyes. They wound up with a 31-0 victory that wasn't really that close. They dismantled a good Ohio St. team on national television, and even the national media – forever grudging in their praise of Clemson – understands what happened.
Following the Tigers' last practice in Clemson Thursday, I was told that the team was completely dialed in on Alabama. If that preparation and focus translates onto the playing field the way it did last week, we will have one heck of a game.
Last year, in the days leading up to the game, we talked to many in the media and not one person gave the Tigers a shot at knocking off Bama. Not a single one. This year, there is a general feeling among a lot of our peers that the Tigers will walk away victorious Monday night. I think the team feels this way, and I know the coaches feel like they are going to win.
Last year, it was hey we are happy to be here. This year, it's all business and we think we are going to win.
Monday can't get here fast enough, and I'll type something I usually reserve for the start of the season.
Spot the ball.

Upgrade Your Account
Unlock premium boards and exclusive features (e.g. ad-free) by upgrading your account today.
Upgrade Now