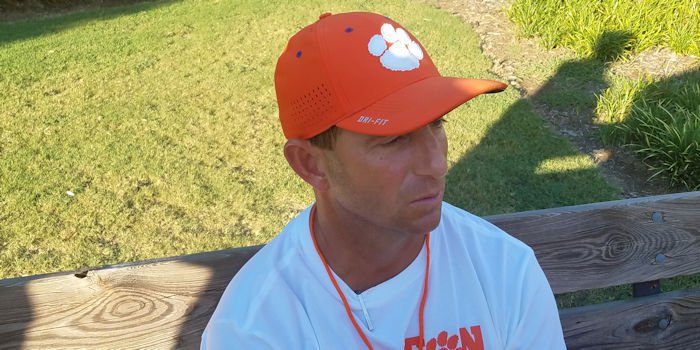 | | |
| --- | --- |
| Swinney says Tigers need more than Funky Cold Medina | |
---
| | | |
| --- | --- | --- |
| Wednesday, August 31, 2016, 8:15 PM | | |
CLEMSON – Auburn's fight song and crowd noise blared from the speakers at Clemson's practice fields Wednesday afternoon, and for head coach Dabo Swinney that meant it's one step closer to game day.
Clemson and Auburn kick off the season Saturday night at 9:05 p.m. inside Jordan-Hare Stadium and the Tigers practiced Wednesday in anticipation of the noise.
"You can only hear Funky Cold Medina so many times. It's good to get a little different tune out there. It just kind of means that it's getting close," Swinney told TigerNet after practice. "I think that's nothing - all teams do that. You know it's going to be really loud for the offense and really quiet for the defense. The defense really has more issues with noise when we play at home. It will be a big challenge for our offense to communicate properly and not have a bunch of pre-snap penalties. Those are the type of the things that you worry about in an opener like this. If guys get a little tired it's, 'Oh, I didn't see the signal.' So just trying to create that type of atmosphere in practice. You can't simulate 90,000, but we can get it as loud as we want and make it as challenging at practice as we can. I thought they handled it pretty well today, and we'll do it again tomorrow."
Wednesday's practice was about putting the finishing touches on the game plan for Auburn.
"It was really just kind of a scripted practice – dot the I's and cross the T's kind of day," he said. "We'll bring it all together and have a little 30-minute walk through on Friday. We've still got plenty of time. It's all mental and all about details at this point. The physical part is past us. It's just getting mentally dialed in and staying focused."
Swinney said he's been pleased with the focus this team has shown.
"It's been that way since the spring. They've been a focused group since day one, an easy group to coach. Not that you don't have a day here or a day there where you've got to get your nine and a half foot out, but they've been locked in," he said. "I'm very pleased with how they've prepared. Hopefully, we're going to play well. As I told you guys yesterday, that's the biggest thing for me. Where are we? I don't know. You think you know, but you can only get so far in this game in practice. At some point, you have to go see somebody that's different and not as familiar to you. No matter what happens Saturday, we're going to improve. We're going to make a lot of improvement, especially the first half of the season, as we grow some guys up and settle in a little bit.
"It's been a long time since we played. That's the big thing for me. Where are we? Then I kind of know what we need to do from there. How are we going to respond? How are some of these young guys that we're counting on - like a Clelin Ferrell - how is he going to handle that moment? I think he's going to do great but all I can base it on is what I've seen in practice. You never really know until you've gotten into that situation and then you go from there. I'm just ready to go from there."
Swinney grew up an Alabama fan and played for the Crimson Tide, but he said those rivalry hatreds have no bearing on his wanting to beat Auburn.
"I want to beat these guys because we're Clemson. That's why I want to win because we're Clemson, and we want to have a great season. I don't care if we're playing Russia. I want to win," he said. "It's certainly an easy conversation. I obviously have a long background playing at Auburn and hadn't had a lot of success down there. It's a tough place to go win. I was a part of the first win ever in 1999 when we went down there at Alabama and won and won the SEC that year.
"It's not an easy deal. I get excited about playing anybody and an opportunity to find a way to win. These guys, it doesn't mean anything. I'm not going to play the game, so it's certainly not a distraction or anything like that. You get questions like that, but when you kick the game off it's just like playing Alabama in the national championship. You're so locked into the strategy of the game and the decision making that you don't really know who's over there. You're just trying to beat that opponent."
If the Tigers want to be a championship contender, they have to win in places like Auburn.
"It's a hard to place to win. They've got a great environment," Swinney said. "They're confident. Just like people rolling in here. If you're going to be a great team and have a great season, you've got to find a way to win games like this. We're fortunate because four out of our last five years we've had games like this. We've won a couple of them and hopefully we can find a way to win this one."
One good piece of news coming out of practice was that cornerback Adrian Baker – torn ACL in the spring – was wearing a yellow jersey.
"He's doing much better," Swinney said. "They put him into all of his cutting this week, so we're hopeful that he's back in practice - at least in green - in the next couple of weeks."
Swinney also said that the cornerback spot opposite Cordrea Tankersley would be a game-time decision between Ryan Carter and Mark Fields.
"Everything counts. When it's close everything counts," he said. "We still have practice and meetings and a lot of things to follow through on these next couple of days. They're both going to play a lot, no doubt about it. I think Marcus Edmond will be ready to play. I think he's in the best place he's been mentally, so I'm excited that he's starting to mentally really feel good. If we need him, I think he'll be available for us and ready."