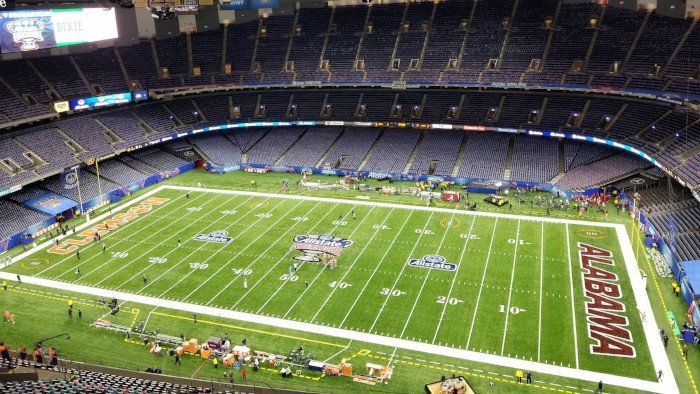 | | |
| --- | --- |
| Second Look: Grading Clemson versus Alabama | |
---
| | | |
| --- | --- | --- |
| Friday, January 5, 2018, 8:11 AM | | |
The narrative going into Sugar Bowl was if Clemson would top Alabama's status as the best program in college football. In the aftermath of a double-digit loss, was there a bigger gap than was thought going in?
After another look at the game, here's how the Tigers graded against Alabama:
Offense: F
To go ahead and the answer the question posed above, that's not how I came away feeling.
This is the section to get those thoughts in as is Alabama's dominance on the defensive side easily determined the game - and Clemson still had a chance to flip momentum in the second half and make it a different one.
After pundit talk of stacking the box and making Kelly Bryant beat them, Alabama didn't really doing anything drastic, mixing up pressures but feeling confident their athletes and plan could beat Clemson's athletes and plan.
For much of the game, the Crimson Tide DBs smothered Clemson receivers. Going back and watching the ESPN Coaches Film Room, it was interesting to see the difference around the room in fixes for Clemson's offensive woes in-game. They were often exasperated at the Tigers' attempted attack.
"They're (Clemson) not pushing them downfield. They're (Alabama) sitting on everything." "(There's) no separation. Where does he (Bryant) go?" "Clemson's guys need to be better."
What I didn't read from the coaches, who certainly had their moments of awe at Alabama, was a sense that Clemson didn't belong on the field with them. But at least on one side, they weren't playing like they belonged on the same field as the Crimson Tide.
After taking punch after punch after punch, it was still 10-3 at the half - not all that dissimilar from the first 30 minutes of the 2017 title game (7 points/4.8 yards per play), but when gifted the ball at the Alabama 20 to open the second half, they went backwards five yards and settled for a field goal.
In Alabama territory later with a chance at the lead, ghosts of past Bama pressures sent Clemson right tackle Tremayne Anchrum inside while the defender blew past him on the outside to force the pick. Bryant had Trevion Thompson streaking over the middle for a potential big play with even just a little more time:
The alternate reality of a Clemson score on that drive, instead of back-to-back interceptions doesn't necessarily guarantee a win, but it likely makes for another down-to-the-wire thriller.
Alabama earned the decisive win on the defensive side by beating the Tigers with a mental, physical and emotional edge, and that was channeled by a coaching advantage pregame and in-game.
Comparing this one to others in the series, sure, this was a Clemson team missing Deshaun Watson, but they were also missing a consistent downfield threat like Mike Williams, who they could count on to make the little and the big plays to make a drive work. The early loss of Tee Higgins didn't help, as ESPN's Joe Tessitore noted in-game the Clemson staff wanting to employ more one-back and four-receiver sets with a bigger target in the mix.
Fooled once and twice by Hunter Renfrow in title games, Alabama showed early that No. 13 wasn't going to burn them again:
Renfrow was limited to 31 yards on five catches in nine targets.
Needing an answer after the first interception, the pattern of Alabama DBs dominating play after play continued to a crushing pick-six:
Screens that worked with varying efficiency over the season weren't hitting against the athleticism in the Crimson Tide defense. They weren't going to be dink-and-dunk'd. Clemson had to hit something over the top, and that required some time and separation to do that enough.
Could Bryant have been better? Absolutely, but he didn't show anything we haven't seen the whole season in terms of ceiling and floor as a developing, first-year starter. And Clemson's coaches knew who they had going in and what Alabama had challenging them and had their plan stymied play after play throughout the game.
They could've anticipated better overall blocking and execution at receiver, but Bryant performed to the gameplan around him and wasn't given much chance - by several factors - to break down the Tide and come out with a win. What we did see from Bryant at points was the elusiveness and toughness as a runner after taking hit after hit, but those moments of brilliance were surrounded with few meaningful plays around them.
Numbers to know: 0 - Pass completions of 20 or more yards after hitting six last year against Alabama. In terms of chunk passes (15+ yards), the '17-18 Tigers hit three in this semifinal versus 11 last year in the title game. 6 – Clemson gained a first down on only six of its 12 drives. 1.9 – Tigers' yards per carry over the last two games.
Defense: B+
We'll start with the obvious: Clemson's defense did more than enough to win the game.
They contained Alabama to its season-low in yards (261) and yards per play (3.95) and its second-least points offensively (17).
Some of the reason for the low yard totals is how short a field they had to defense, with Alabama averaging a start at their 43 - and at the Clemson 42 on its three offensive scores.
With some quick passes, the Crimson Tide did its best to stem the tide of Clemson's front-seven, but over the course of the game, this group plugged the middle and made the plays on the outside needed to keep things close:
The one Alabama turnover was a rarity, a first in the Tigers-Tide trilogy for them, which made getting only three points that much worse.
It wasn't a flawless effort, including a coverage breakdown that did leave Alabama's best receiver wide-open in a couple different windows in the end zone...
...but overall, it was a strong way to cap a strong season for the unit.
Numbers to know: 0 – Alabama rushing touchdowns, which was their first rushing TD shutout since Nov. 2014 (Nov. 8 v. LSU). 21 – CFB Film Room counted a season-high in missed tackles, which amounted to 24.7 percent of the attempts. That was more than double their season average in percentage (12). 4 – Alabama chunk run plays (10-plus yards), after averaging nine per game coming in.
Clemson's defense missed a season-high 21 tackles (24.7% of their attempts) vs Alabama. The missed tackle rate for the season was 12.0%

— CFB Film Room (@CFBFilmRoom) January 4, 2018
Special teams: B-
Alabama won the war here as well.
Alex Spence did serve as Clemson's offense with field goals from 44 and 42 yards out and finished his season by making seven of his final eight field goal attempts. Kickoffs were a solid part of the Tigers' game as well.
The Crimson Tide controlled their punt game, with six attempts, no returns and three times pinning Clemson inside the 20.
On the flip side, Alabama managed 30 punt return yards and freshman Will Spiers didn't have his best night facing some extra pressure on attempts.
In kickoff returns, Etienne was rocked a couple times by big hits and averaged a measly 16 yards per return. For a team badly needing any kind of spark, it just wasn't there.
Videos are included under fair use. Under section 107 of the Copyright Act of 1976, allowance is made for "fair use" for purposes such as criticism, comment, news reporting, teaching, scholarship, education and research.

Upgrade Your Account
Unlock premium boards and exclusive features (e.g. ad-free) by upgrading your account today.
Upgrade Now