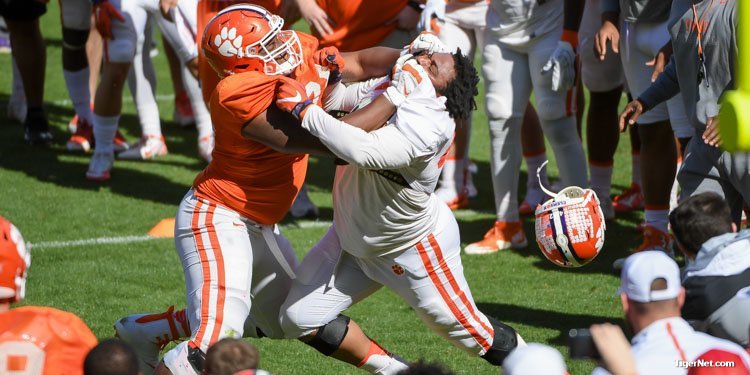 | | |
| --- | --- |
| Practice insider: PAW drill highlights as players go from 5-stars to seeing stars | |
---
| | | |
| --- | --- | --- |
| Wednesday, April 4, 2018, 5:53 PM | | |
CLEMSON – Watching the first part of Wednesday's practice was fun. Too much fun.
The Tigers held practice inside Death Valley Wednesday afternoon and the first five periods were open to the media. It had everything you want – a sunny day inside Clemson Memorial Stadium, the sound of pads crashing together, top-notch recruits on the sideline, and a bunch a smack talk along the way.
I will start with this – I tend to be conservative in my season projections, as you know. But this team has the most talent, top to bottom, I've ever been around. This team is good and has the chance to be really, really good. Everywhere you turn there is jaw-dropping talent. I walked into the tunnel after we were ushered out, turned to Nikki and said, "Oh my goodness." Her response? "Yeah. I know."
We were allowed to watch the "W" drill and the Oklahoma drill, and they were just as much fun to watch as you would think.
I'll start with the smack talk – Christian Wilkins lined up against center Gage Cervenka knocked Wilkins to the ground and proceeded to let Wilkins hear about it. Offensive line coach Robbie Caldwell rushed in to let Cervenka know he didn't approve of the talk, but the two kept talking. It wasn't long before they were matched up again, and Wilkins was in full form. The ball was snapped and Wilkins easily tossed Cervenka to the side to make the tackle on a running back, and the two continued to talk to each other.
Wilkins' dander was up at that point, and he continued to bark and lead the charge of the defensive line. Freshman defensive tackle Josh Belk lined up against freshman offensive lineman Jackson Carman and pushed him out of the circle and almost to the ground. He was quickly mobbed by Wilkins, Clelin Ferrell, and Xavier Thomas.
Tight ends and guards coach Danny Pearman barked at one young offensive lineman a few minutes later, "Stars? You had all of them stars and now you're just seeing stars." Good stuff.
Speaking of Thomas…..good grief. He matched up against Carman, and Carman appeared to have Thomas stymied. Thomas shed Carman as easy as I would a jacket and grabbed the running back before he could make it to the line of scrimmage.
In the meantime, Belk continued to dominate every battle. He's going to be a good one.
Head coach Dabo Swinney called the players over for the one-on-one drills, and he would call out one offensive player and one defensive player. One of the first offensive players called out was running back Travis Etienne, who faced off against defensive back K'Von Wallace and more than held his own. He's gotten stronger.
Thomas matched up against Mitch Hyatt and won a battle (did I mention that Thomas is ridiculous?) and Matt Bockhorst defeated Jordan Williams in a spirited battle. Isaiah Simmons matched up against Tee Higgins and showed why the coaches are so excited about him at the SAM linebacker spot. He's a freak. The duo went at it twice, with Simmons winning the first battle and Higgins coming back to tie the second round.
John Simpson was called out to match up with Wilkins and Wilkins lost his helmet as the two battled to a draw. Blake Vinson and Thomas battled to a draw, Ferrell beat Tremayne Anchrum and Wallace beat Tavien Feaster. Etienne and Denzel Johnson also battled to a draw.
Noah DeHond and KJ Henry also battled to a draw.
And a quick note – running back Adam Choice has drawn rave reviews from Tony Elliott and he was impressive in the early action.
*East Carolina coaches were on hand, including former Clemson assistant David Blackwell, the defensive coordinator for the Pirates.
*We were allowed to watch kickoff return, and it's obvious that Amari Rodgers is going to be a weapon back there. He doesn't dance, he doesn't juke. He simply runs a straight line and makes a quick cut and is past the defenders in a hurry. He's dangerous. And while everybody is talking about other receivers, it's also obvious that Rodgers will be an offensive weapon as well.
*I have to run back out to the stadium for post-practice interviews, so I have to cut this short, but I will leave with a note about the QB's. Trevor Lawrence, Hunter Johnson and Chase Brice all look very comfortable out there alongside veteran Kelly Bryant. They were throwing sideline routes into the wind, and Lawrence made all of his throws look very easy. He gets the ball to the sideline in a hurry, which can only help the screen game when he plays.
Did I mention this team has a lot of talent? More to come.

Tags: Clemson Football
,
Christian Wilkins
,
Gage Cervenka
,
Josh Belk
,
Jackson Carman
,
Clelin Ferrell
,
Xavier Thomas
,
Travis Etienne
,
Mitch Hyatt
,
Matt Bockhorst
,
Jordan Williams
,
Isaiah Simmons
,
Tee Higgins
,
John Simpson
,
Blake Vinson
,
Tremayne Anchrum
,
Tavien Feaster
,
Denzel Johnson
,
KJ Henry
,
Adam Choice
,
Amari Rodgers
,
Trevor Lawrence
,
Hunter Johnson
,
Chase Brice
,
Kelly Bryant
,
Robbie Caldwell
,
Tony Elliott
,
Danny Pearman