---
| | |
| --- | --- |
| Sunday, December 1, 2013 3:34 PM | |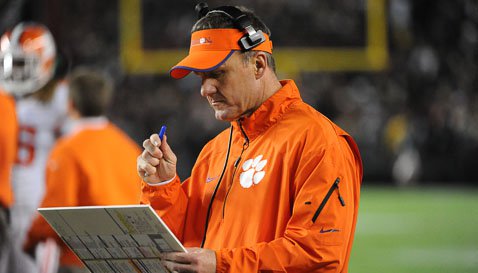 COLUMBIA – Everybody was thinking it. Chad Morris

Chad Morris
Offensive Coordinator / QBs
View Full Profile said it.
The 31-17 loss to South Carolina and the six turnovers that caused it simply stinks.
Clemson's offensive coordinator met with the media outside of the locker room and admitted that the loss not only stinks, it hurts.
"You can't win games turning the ball over the way we did," Morris said." Our guys didn't quit, they didn't give up. I'm proud of them and their effort. Yeah, it stinks. It stinks. But you have to move on and you have to deal with it. And you have to hurt. It's going to hurt."
Morris said it would be hard to beat any team with six turnovers.
"I didn't expect that. Absolutely not. It's hard to beat anybody with six turnovers," he said. "Four in one quarter wasn't what we scripted. But I thought our guys battled hard. It was 17-17 going into the fourth quarter, we're driving down and give up a turnover on the plus side of the field. Those are hard to overcome. It hurts. Give them credit.
"They played hard. But again, you cannot turn the ball over six times against anybody and expect to come away with a win. It gives them extra possessions. It's tough. You lose the possession and they got the ball on the short end of the field. Now, our guys played hard and fought hard. We came into this together and we're going to go forward together."
Morris said that the coaches knew going in that South Carolina would try to strip the ball away, and that ball security was stressed all week and all year long.
"They do a good job of stripping the ball. They've done it all year long," he said. "And we've worked on it all year. And we stress to our guys, 'Look, when they get you in a pile, they're going to grab it and try to strip it and take it away.' Tajh was in the pile. I don't know that he was fighting for extra yards there as much as he was trying to get down. And then the guy took the ball from him."
Once the Tigers got down a score in the fourth quarter, he said he thought his offense might have been pressing a little bit.
"I think we pressed a little bit. I think Tajh pressed some on those last two drives to try to make something happen," he said. "He had some checkdowns he probably should have hit. He was just trying to get some momentum back on our side."
Morris was asked how disappointing it was for quarterback Tajh Boyd

Tajh Boyd
RS Sr. Quarterback
#10 6-1, 225
Hampton, VA
View Full Profile to end his career with a loss, and he said it was disappointing for the entire team, not just one player.
"It's not just Tajh. It's disheartening for all of us," he said. "Tajh has had a great career and has another game left. He's definitely done a lot of great things for this university. That's not going to be looked down upon. Yeah, it stinks we haven't won and it's our job to get it fixed."
Perhaps the lone highlight for Clemson offensively was the play of running back Roderick McDowell

Roderick McDowell
Gr. Running Back
#25 5-9, 195
Sumter, SC
View Full Profile , who rushed for 111 yards in his regular season finale. He averaged 7.9 yards per carry and scored the third quarter touchdown that tied the score at 17-17. He averaged 8.9 yards per touch on the night, and needs just 44 yards in the bowl game to reach 1,000 for the season.
"He played about as well as I've ever seen him play. He was a man on a mission," Morris said. "He ran the ball well and caught the ball out of the backfield well. He was focused and determined. That was really good to see. I'm proud of him. I mean our guys played hard. They played hard."