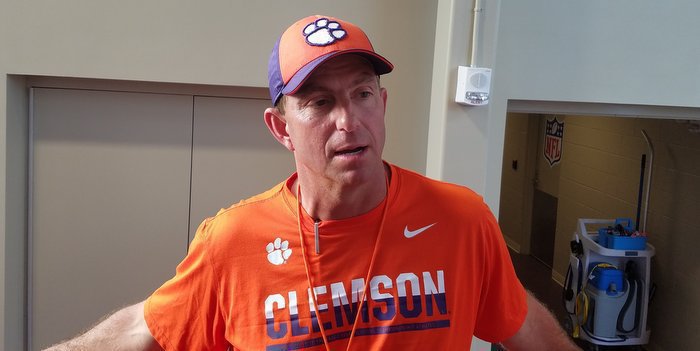 | | |
| --- | --- |
| Monday update: Tigers rusty, still no separation at quarterback | |
---
| | | |
| --- | --- | --- |
| Monday, March 27, 2017, 8:36 PM | | |
CLEMSON – Dabo Swinney has seen better practices coming out of spring break, but he's also seen worse.
The Clemson football team returned to practice Monday afternoon, the first practice following an extended break for spring break, and Swinney said the Tigers were predictably a little rusty.
"I've seen worse on a first day back. They've been off nine days or whatever, but not as sharp as we needed to be throughout practice," Swinney told the media after the two-hour session. "There were certainly some moments and we did some really good stuff. We just kind of got them back in shape. It didn't look like we were starting over, but we were a little rusty today. But again, I've seen a lot worse practices coming off nine days of spring break, but we'll build on it. Wednesday is going to be a big day. It will be another big scrimmage day. We only get three scrimmages in the spring."
With installation complete, the coaches will begin to evaluate players during Wednesday's scrimmage.
"Wednesday's a big day for a lot of these guys. As I told y'all beforehand, the first half of spring there's installation and a lot of how to do certain things, kind of back to the basic fundamentals and the second half of spring is a lot of evaluation - right now who can do it? Who can take what we put in and what we've taught and go do it consistently, so that's the way we structured practice this year," he said. "Wednesday we'll have a scrimmage. Friday is our clinic day, and that's always a tough practice, and Monday and Wednesday will be half practice kind of 50-50 days, kind of half scrimmage days. We've got a lot of evaluation opportunity coming up in the next couple weeks."
OTHER NOTES
Spring game
"I'd love for us to fill the stadium, to be honest with you. We need to create the best type of atmosphere that we can have because it helps us in the evaluation process. It's the best we can do as far as creating some type of game day environment. We split the team. We'll hopefully have a ton of fans because we don't get any type of game until we go live against Kent State."
Everybody made it back from spring break
"Everybody is back. It was a good week. I'm really proud of our guys. Everybody was back last night on time. We had meetings, and everybody was where they were supposed to be. It sounds like they all had a good time. They all had fun."
Injury report
"Everybody is back. I think the only one we held out today was Hall Morton. He got banged up in the scrimmage before we left. Everybody else was good to go. We had a few guys who had to leave early to take a test and didn't get to finish the scrimmage today. Injury wise, we're in pretty good shape."
Quarterbacks
"Ups and downs for all of them. Just like in the scrimmage last Wednesday, I thought Kelly (Bryant) did not start very well in the scrimmage but finished really well. I was very impressed with the two freshmen today. It's the first time they've had that type of break. We installed a lot, and they just looked more comfortable today in processing stuff, especially Hunter (Johnson). He obviously has the furthest to come from learning the system. He looked more comfortable today. Same thing with Zerrick (Cooper), and that's pleasing to see. We've got 80-percent of the offense in, and we're not going to have a lot more installation. We're trying to go at their pace now because we want to see them go play. I think we've got enough in to do what we need to do offensively. We really need to challenge these quarterbacks and take advantage of these next couple of weeks."
Early enrollees
"Baylon Spector had a pick six today. He went with the Pride group, and he had three plays - win or lose drill - and he made two of the three plays. Blake Vinson is coming along. It's good to see him. He's healthy. I actually noticed him today at tackle. Logan Rudolph is exactly what we thought he'd be. Four really good young players."
Cornerback competition
"Very good competition there. Marcus Edmond was out today. He had a senior project he had to get done. He's graduating in May and he's in a really tight major. He's got some classes that this is the only time they offer, so he's missed a little more work than I would've liked for him to. We're very confident in what he can do. He'll be back out there on Wednesday. Ryan Carter has been the most steady guy. You know exactly what you've got. He's worked the boundary and the field. He's our move guy. They two young guys - Trayvon Mullen and K'von Wallace - have really come on. I'm really pleased with them. Mark Fields, same thing. Mark has had a good spring. He's battling a little bit of a turf toe. He's trying to practice through it but it has definitely affected him some. It means a lot to Mark. He's a tough guy, but we all know what he can do. He's definitely going to be a big-time factor for us. We've got a lot of depth there and all of those guys are competing."

Upgrade Your Account
Unlock premium boards and exclusive features (e.g. ad-free) by upgrading your account today.
Upgrade Now