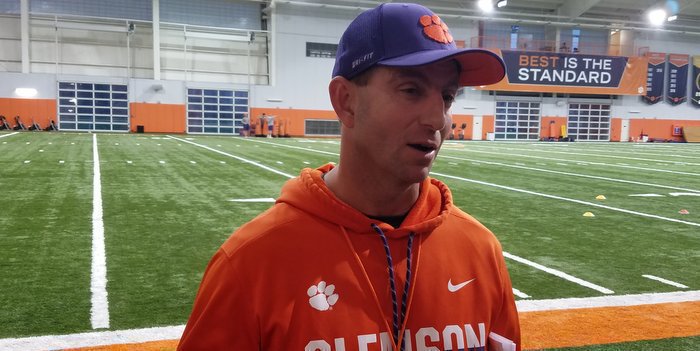 | | |
| --- | --- |
| Monday night update: New voices are starting to be heard as leaders | |
---
CLEMSON – Many of the superstars that fueled Clemson's run to the National Championship were on the sidelines for Monday's practice, back on campus to prepare for Thursday's Pro Day as they get one last chance to convince NFL talent evaluators of their worth.
As players like Deshaun Watson and Artavis Scott looked on, the Clemson coaching staff was in the process of using the seventh practice of the spring to not only evaluate the talent on hand, but also watching to see which players will step to the front as leaders.
The team will hold the first full scrimmage of the spring Wednesday, and head coach Dabo Swinney says he's excited about what he's seeing in camp.
"We've covered everything. We did some goal line today, some redzone and green zone, and now we feel better about letting them play," Swinney said after Monday's practice. "I think we have enough in - about 80 percent of the offense is in - and guys are doing a good job. They are competing, there is a lot of competition every day, and they are battling. Wednesday will be a big day for a lot of those guys."
The loss so many experienced players means many of the familiar voices are gone, but new voices are starting to be heard.
"Mitch Hyatt isn't a vocal guy, but I think he's a great leader. Falci (Justin Falcinelli) has done a great job at center. He has done a nice job, so I am pleased with him," Swinney said. "I think a young guy like Sean Pollard (has stepped up), and Tremayne Anchrum has been outstanding. He has done a nice job. There really isn't one guy. Adam Choice is a guy that we want to see take a step forward, and he has asserted himself a little bit more. I think that Kelly (Bryant) has bene very good through seven practices, and I want to see more of him on Wednesday.
"More of the vocal guys are over on defense, which is not surprising - guys like Christian (Wilkins) and Clelin (Ferrell). Clelin was a freshman last year, but you'd think he was a senior. He's a guy that's really leading. I'm hearing him all of the time. I don't ever hear Dex (Dexter Lawrence), but I see him all of the time."
Swinney is also seeing many of the younger players come "out of their shell" now that they have a chance to compete for playing time.
"Guys like Jamie Skalski - the freshman who was happy to be there, happy to be on the bus and now his whole demeanor is different. Shaq Smith, guys that are kind of coming out of their shell a little bit," Swinney said. "Chad Smith. You can see the leadership of J.D. Davis and Judah Davis. Dorian O'Daniel, this time last year was trying to earn a spot and prove he could go do it and he's in a different spot right now. Their demeanor is different and that's good to see because we need a bunch of those guys to step up. Van Smith, last year he was the pup - is he going to go do it?
"Now, he's played a lot of ball and he's kind of having to lead back there. Trayvon Mullen is another one. He was trying to figure this thing out and now he's asserting himself as a bona fide guy. There's a lot of those guys that I'm excited about. We're a junior/sophomore team. A lot of those guys have played and some of them are going to play bigger roles than they have before. Albert Huggins is a guy who I think has just been happy to be here. He's got all of the talent in the world and he's asserting himself much more consistently than he has in the past."
Swinney then said that he thinks this year's schedule is more conducive to teaching and evaluating than it has been in years past.
"I think we are right on schedule. I like the way the schedule has set up this year from a calendar standpoint. We got an extra week before spring break that we really haven't had in the past," Swinney said. "We are going to have eight practices under our belt after Wednesday and a really good foundation. We've spent a good bit installing, re-teaching fundamentals, the techniques of what we do, studying ourselves from last year and teaching that to the players. We will come back the second half and then there will be more evaluation. More foundation in the first half, more evaluation in the second half. In the past, we had three or four or five practices, and then we had to shut it down and go to break, and then you come back. I think we've gotten a lot done."

Upgrade Your Account
Unlock premium boards and exclusive features (e.g. ad-free) by upgrading your account today.
Upgrade Now

Tags: Clemson Football
,
Deshaun Watson
,
Artavis Scott
,
Mitch Hyatt
,
Justin Falcinelli
,
Sean Pollard
,
Tremayne Anchrum
,
Adam Choice
,
Dexter Lawrence
,
James Skalski
,
Shaq Smith
,
Chad Smith
,
J.D. Davis
,
Judah Davis
,
Dorian O'Daniel
,
Van Smith
,
Trayvon Mullen
,
Albert Huggins