| | |
| --- | --- |
| Mike Williams: Unfinished Business | |
---
| | |
| --- | --- |
| Friday, December 18, 2015 4:55 PM | |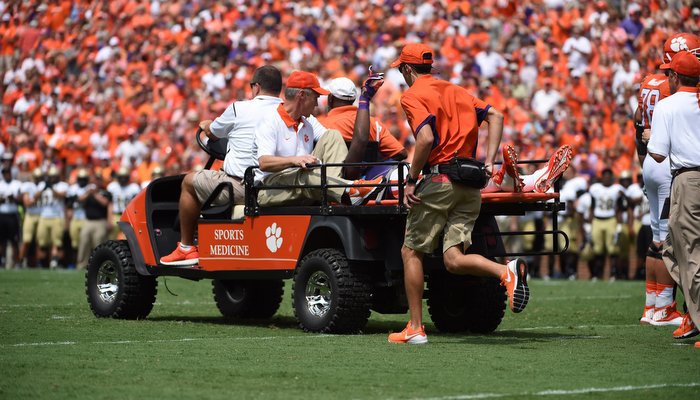 CLEMSON – Mike Williams came into the season with All-American dreams and NFL aspirations, but a neck injury leaves the junior wide receiver with some unfinished business at Clemson.
Williams entered the 2015 season as Clemson's go-to guy at receiver, but a season-ending neck fracture on the first drive of the Tigers' season not only scared the Vance (SC) native, it also put his plans on hold.
Williams collided with the goal post on a route deep in the endzone early in the first quarter against Wofford, and he said as soon as he hit the ground we lost feeling throughout his entire body.
"I know there was something because my body went numb," Williams said Friday afternoon after practice. "I felt some pain but after a while, I started to feel my body again. I told the trainers I wanted to get up and walk off the field. But they felt like the way I was feeling – kind of weird – they weren't going to take any chances. So they told me they were going to have to bring the board out."
The junior wide receiver met with the media for the first time since the injury Friday and said he and is mom prayed in the moments after the injury, but he knew right away that he would be back at some point.
"Just my mom by my side. We just sat right there praying that it wasn't anything too serious," Williams said. "That's just about it. All along I felt I was going to be back. Just a little small fracture. It wasn't too serious."
The most disappointing part for Williams? All of the hard work was essentially wasted before the season even really began.
"Yeah, it was crazy actually. In the offseason, I worked so hard. I had goals set for this season and just the first drive of the first game of the season it is just ended that quickly," he said. "So I mean it hurt a lot. I'm just back right now getting in shape. Just working even harder."
It wasn't until several doctor's visits that Williams decided to sit out the remainder of the season and try to return stronger than ever in 2016.
"I wanted to play the season out first. The season was going to tell everything," he said. 'After visiting with the doctors and seeing the neck specialists, they were giving me some ideas on what they thought I should do. I just went ahead and said I was going to sit the year out and just be 100% next year."
Once spring practice rolls around, Williams should be close to practicing at full speed but will probably be held out of contact drills until the fall.
"I should be in the dress of the day. What everyone else has on I should have the same thing," he said, "But limited in contact and stuff like that. Probably just do individuals. Everybody pretty much knows what I can do. I am just going to take it slow. There isn't any need to go in there and take licks and all that. So probably just go in there and do a lot of individual drills with the team."
In the meantime, he's endured watching his teammates have the fun of a 13-0 season.
"I want to see everybody go out there and have fun. That's just part of the game seeing your teammates making a lot of a lot of plays and keep everything going once I got out. That's just what I wanted to see," Williams said. "It's been hard. Undefeated team. Number one in the country. I wanted to makes some plays out there and be a part of it. I'm just sitting on the sidelines being a role model to the young guys like Deon Cain, Ray-Ray McCloud and just taking on some leadership. Just telling them I see this on the field. You should do this you should do that. Just helping the coaches on the sidelines."
Next up? A stellar 2016 season for the Tigers and then the NFL.
"Once it happened, the first game of the season, I felt like I had some unfinished business here at Clemson," he said. "I felt like I needed to come back and finish it off the right way here. I graduate in December so everything should work out good for me. That's the goal. That's my mindset right now."