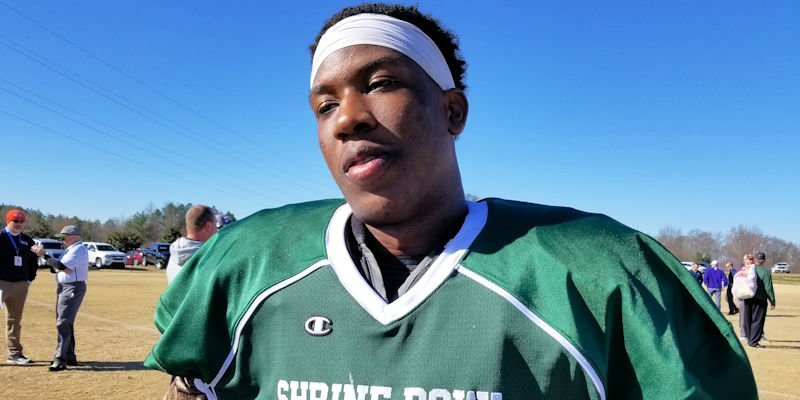 | | |
| --- | --- |
| KJ Henry, the latest: Tigers in good shape with nine days to go | |
---
SPARTANBURG – Recruiting comes in all different shapes and sizes and all prospects handle the process differently. K.J. Henry has taken his time one day at a time, one visit at a time and one school at a time.
However, it all ends on December 20th when Henry will announce a decision and sign his National Letter of Intent at his school and on ESPNU at 4:20 p.m., but first he is 100-percent focused on representing the state of North Carolina in the Shrine Bowl.
"This week comes first. I am taking it in stages - enjoying the Shrine Bowl, going to the Shriner's Hospital. That's first and foremost. Having fun with these guys and taking SC down on Saturday that is the first goal," Henry said of this week's activities. "It's been fun. Just being out here with a lot of the guys that you play against during the season and you know they are good. Then you get out here and you just get to talk it up with them. It's going to be a fun week. Then these last couple of days is when we start thinking. I tell everybody I really haven't thought about it. I haven't really decided or put people in groups. I get 48 or so hours to think about it with the family. That's what those last days will be for."
The 5-star Clemmons (NC) West Forsyth defensive end narrowed his list to Alabama, Clemson, Georgia, South Carolina and Virginia Tech and took official visits to all but Alabama.
Henry said he has enjoyed being able to sit down with all of the coaches during the in-home visits that have taken place over the last week or so.
"It's been different. I think as a recruit you really look forward to the officials," Henry told TigerNet. "But with all the in-home visits, it has been something that I have probably enjoyed the most out of the entire recruiting process. Just getting to eat a meal or have a coach come by the school and just sit down and talk about how your future is looking and things like that. It's probably been my favorite part."
Henry has had his family along every step of the way and holds their opinion in high regard, especially is father Keith – the running backs coach at Charlotte – and he said that if his dad were to get a job at one of the five schools, that would make his decision even harder, even though nothing of that nature is on the horizon.
"It does. Out of my five schools if my dad were to end up anywhere obviously that's what he loves to do and he is part of my family and I like all five schools enough to where that could be a big decision coming forward," Henry said. "It's nothing where it is an analyst type deal or anything like that, but if he could go in and coach that would be big. At the same time, we have already talked about that. He is not pressuring me like if he were to get a job he's letting every coach know that doesn't ensure that I'm committing there. It's still my decision, but it is definitely something I think about."
Familiarity and long-standing relationships with the Clemson coaches is one of the main reasons that the Tigers have remained on Henry's leaderboard.
"Just the fact they have been recruiting me so long. obviously, they are very successful. That speaks to all the five schools I am talking to," he said. "That's really not that big of a deal but just the fact they have been recruiting me since my freshman year. Obviously, Coach (Dabo) Swinney has been a great guy and great recruiter in that aspect. With Coach (Todd) Bates coming in I think is the biggest thing. I had a really good relationship with Coach (Marion) Hobby, but Coach Bates is a genuine guy and has been really good taking that spot. Not really forcing it because he knows I had a good relationship with the last coach."
Henry's relationship with defensive coordinator Brent Venables and Clemson's defensive scheme are also a positive for Clemson.
"He seems me mixing around as well. He told me stance wise it wouldn't matter that much,". It's whatever I am comfortable with. What I can be more successful I," he said. "Obviously, they are more of a 4-3 and that's what I played my junior and sophomore years. Just getting that versatile feel really helps me with all the schools.
"We didn't really talk about that (Venables being mentioned for other jobs) much, but I saw a write-up with Mike Jones and he told him that. So that was really good."
The Clemson coaches – head coach Dabo Swinney, Venables and defensive line coach Todd Bates – conducted their in-home visit with the Henry family last week and their message was strong and to the point.
"That they are still in it. That they still love me. That if I go in they will not take anyone else. I will be the last one," he said.
On South Carolina and his relationship with head coach Will Muschamp:
"It was kind of split up. Coach Muschamp had to come by the school first to see me and then he got to go by the house to see my parents so it was split up, but it was the best he could do so we will take it. It went very well. He definitely talked about me being a trailblazer there. Just like Jadeveon Clowney and guys like that. The fact they have made progress over the last couple of years, which you can see just in their record so it went well.
"It (his relationship with Muschamp) has been very important. I tell a lot of people out of the head coaches he is definitely the one I talk to the most. He's taking my recruitment straight into his hands. I know he is a defensive head coach and that speaks a lot to that school and him himself."
On his relationship with Clemson defensive end commit Xavier Thomas:
"Like I was telling the last reporter, he's a good friend of mine. He texted me last night. We are both Eagles fans. We talked the quarterback. We took a big loss there. It's just friendly banter. He understands this process. He has been through it. He knows I've got to do what is best for my future and my family so he has been good with it."
On Alabama:
"They are still in the mix. After some recruiting talk with the coaches and Coach (Nick) Saban, there are a lot of secondary guys going to the league, so they're putting the outside linebackers on the back burner for right now. By me saying, it's just the guys that are committed right now that they're focusing on. I know one of their coaches will be hitting me up this week and catching me up on what's going on with them."
On Georgia:
"I don't think so. Coach Sherrer came by my school so I've already talked to them. As far as them coming by, I think the way the rules set up after this week, it will just be me with the family."

Upgrade Your Account
Unlock premium boards and exclusive features (e.g. ad-free) by upgrading your account today.
Upgrade Now