| | |
| --- | --- |
| Hyatt, Fruhmorgen earning praise for their "fight" plus defensive nuggets | |
---
| | |
| --- | --- |
| Wednesday, March 4, 2015 8:33 PM | |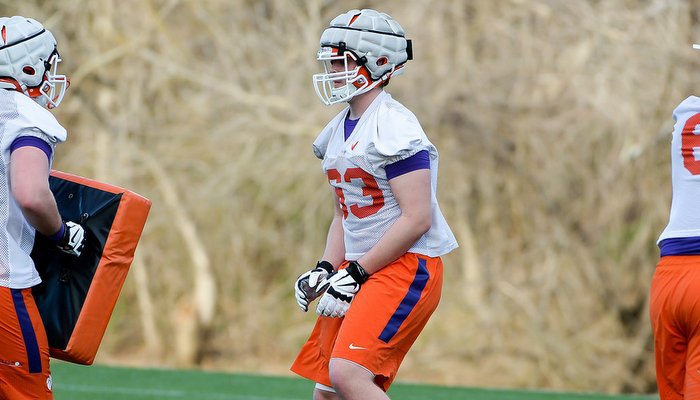 CLEMSON – The youngsters are getting a little chippy, and Dabo Swinney

Dabo Swinney
Head Coach
View Full Profile is okay with that.
The Clemson football team went through practice number two of the spring Wednesday afternoon, and it didn't take long for the news to leak out that freshman tackle Mitch Hyatt

Mitch Hyatt
Fr. Offensive Tackle
#75 6-6, 270
Suwannee, GA
View Full Profile got into a scrum of sorts with one of the defensive players. Seeing his good friend involved in a tussle, freshman tackle Jake Fruhmorgen

Jake Fruhmorgen
Fr. Offensive Tackle
#63 6-5, 280
Tampa, FL
View Full Profile swooped in to help out his roommate, earning a loud cheer and whoops from the veteran offensive linemen.
Swinney said after the practice that Hyatt, Fruhmorgen, Noah Green

Noah Green
Fr. Offensive Tackle
#71 6-5, 275
Boiling Springs, SC
View Full Profile and Zach Giella

Zach Giella
Fr. Offensive Tackle
#77 6-6, 285
Augusta, GA
View Full Profile have already made a difference with the team.
"Obviously I love seeing guys that care and guys that want to be great," Swinney said. "All four of those guys, man they have the right stuff. Those four guys have brought an edge that we haven't had. It's going to be a fun spring practice. They are making everybody better. They have a long way to go, but they want to be great and they are committed to being great. When you have guys that are talented and committed it's usually a pretty good result."
Guard Eric Mac Lain

Eric Mac Lain
RS Jr. Offensive Tackle
#78 6-4, 306
Hope Mills, NC
View Full Profile said the freshmen are already showing they understand the brotherhood of offensive linemen.
"When you have guys that are going to fight - fight for you, fight for your position, fight for your position coach - that is what you want," Mac Lain said. "That is why we recruited them. Obviously seeing Mitch Hyatt in high school, he has a mean streak in him and we like that. We love that to death. And then a guy comes in and hits him in the back and here comes Jake Fruhmorgen just flying in and knocking somebody else out. It's crazy to see the brotherhood they have developed - kind of the Beard Gang thing we have had for so long - and they have come in and picked it right up where we left off last year."
Other notes
Swinney on practice
"Really good. I'm very encouraged after two days. I really like the tempos, the energy that we've had at practice. To be honest with you – we're repping three groups on both sides and the tempo has been tremendous the first two days. We've got a hunger out there – a hunger that is kind of fresh and that's the only way I know how to describe it. It comes with youth. There's a hunger and innocence that comes with those young guys and I like that. We've got a really talented group of young players out here. I can tell that they're studying because we're not having to stop practice."
Swinney on Nick Schuessler

Nick Schuessler
RS So. Quarterback
#12 6-3, 195
Grayson, GA
View Full Profile
"Nick Schuessler has come to work these first two days. We called him 'Sleepy Schuessler' around here for forever and he's awake now. It's impressive. He had as good a team skelly period as I've seen around here in a long time at quarterback. It's so encouraging to see that."
Ben Boulware

Ben Boulware
So. Outside Linebacker
#10 5-11, 235
Anderson, SC
View Full Profile on practice
"It was a lot more physical than it was yesterday. The young guys weren't intimidated but I know the feeling and you're overwhelmed at your first college practice. They were getting used to it today and guys were flying around. They were a lot more confident, too."
Boulware on freshman linebacker Chad Smith

Chad Smith
Fr. Outside Linebacker
# 6-4, 215
Sterling, VA
View Full Profile
"I notice guys annoying me exactly how I was with Coach Venable. They are asking me so many questions. I appreciate it because it's making me learn so much more because I'm having to teach him. That's the best way to learn is to teach someone. Every single time I come off that field this dude is asking me 15 questions. I like him doing that. He's eager to learn and he wants to learn this defense and I appreciate that. I can't breathe at all and I'm over there trying to catch my breath and he's asking me what formation and what do I do. Just shut up and let me breathe. He's eager and he wants to learn this defense. We need guys like that."
The defense
*We spent some time talking to defensive coordinator Brent Venables

Brent Venables
Def. Coordinator / Linebackers
View Full Profile , defensive end Kevin Dodd

Kevin Dodd
RS So. Defensive End
#98 6-5, 275
Taylors, SC
View Full Profile and Boulware and learned that Boulware – like we posted in our observations piece Monday – was working out at WILL. However, Venables admitted that he likes to move his players around and that could be subject to change.
Dodd is working out at strongside defensive end – Corey Crawford

Corey Crawford
Sr. Defensive End
#93 6-5, 276
Columbus, GA
View Full Profile 's old position – and said that while he is comfortable playing as a rush end he feels like his talents are better suited at the strongside spot. Ebenezer Ogundeko

Ebenezer Ogundeko
RS Fr. Defensive End
#1 6-3, 246
Brooklyn, NY
View Full Profile is working behind Dodd, while Shaw Lawson and Richard Yeargin

Richard Yeargin
Fr. Defensive End
#49 6-4, 225
Lauderdale Lakes, FL
View Full Profile are working at the weakside spot.
*During Boulware's interview session, the trailer carrying the players passed by the interview area and linebacker Dorian O'Daniel leaned out and screamed "Junkyard Dog" at Boulware. Several times. Boulware never cracked a smile or acknowledged his teammate, and Venables said that Boulware is focused.
Speaking of O'Daniel, we've heard great things about his off-season and first two days of camp and Venables seemed pleased with what he has seen. "He'll make another huge jump if he'll continue to work as he has," Venables said.

Tags:
Eric Mac Lain
,
Nick Schuessler
,
Corey Crawford
,
Kevin Dodd
,
Ben Boulware
,
Ebenezer Ogundeko
,
Richard Yeargin
,
Mitch Hyatt
,
Noah Green
,
Chad Smith
,
Jake Fruhmorgen
,
Zach Giella
,
Brent Venables