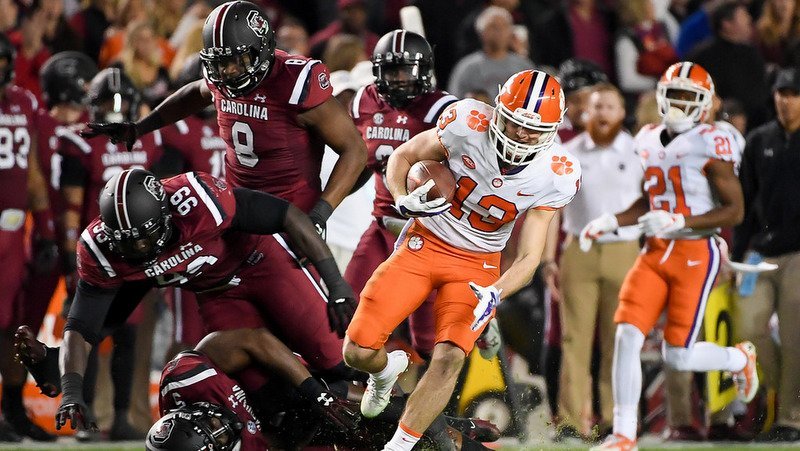 | | |
| --- | --- |
| Hunter Renfrow breaks down QB battle, says Trevor Lawrence "can do it all" | |
---
| | | |
| --- | --- | --- |
| Thursday, April 5, 2018, 12:47 PM | | |
CLEMSON – Hunter Renfrow knows a thing or two about quarterbacks, and he knows about catching passes from the best. When he gives his opinion on the Clemson quarterback battle, you listen.
Renfrow played quarterback in high school and is one of Clemson's leading receivers, but is best known for catching the title-winning pass from Deshaun Watson against Alabama 15 months ago, securing Clemson's first National Championship in football since 1981.
Renfrow has had a quiet spring as the coaches look to get valuable snaps for the younger players, and that hasn't escaped the noticed of head coach Dabo Swinney. Swinney noticed Renfrow being interviewed after Wednesday's scrimmage and loudly proclaimed that Renfrow, "caught his first pass since becoming engaged. I was beginning to worry about him."
Renfrow has had a front row seat for a quarterback competition that has veteran Kelly Bryant holding off Hunter Johnson, Trevor Lawrence, and Chase Brice.
"It's fun. Every day is a competition," Renfrow told TigerNet. "Every day someone else does something that you're just like, 'Wow.' I firmly believe that whoever goes out there, we can win a bunch of games with them and we can achieve the goals we want to achieve, whether it's Chase, Trevor, Kelly or Hunter. All four of them can start for us."
He said that Brice has natural leadership abilities.
"Chase is just a leader. He just gets it done," Renfrow said. "When he was at Grayson or if we're playing Wiffle Ball, he just wins games."
Renfrow said that Lawrence has arm talent that is noticeable.
"Trevor has a unique ability to throw from all different arm angles so he can extend plays from that standpoint and be able to get off a release a little different," he said. "Watching him last year on TV, that was pretty special to watch. Rolling out right and throwing it left, he can do it all. It's definitely unique and something that is special. Hopefully, we're going to enjoy it over the next three or four years here."
Bryant and Johnson have been as advertised during the spring, and Renfrow said both are going about their business with a professional attitude.
"They've just been cool customers. Kelly knows that he's the guy right now and he knows what he's done," Renfrow said. "Kelly is confident because of the experiences he's had last year and being able to go win games. Hunter has had that confidence of being here for a year and just being able to go out there and make plays."