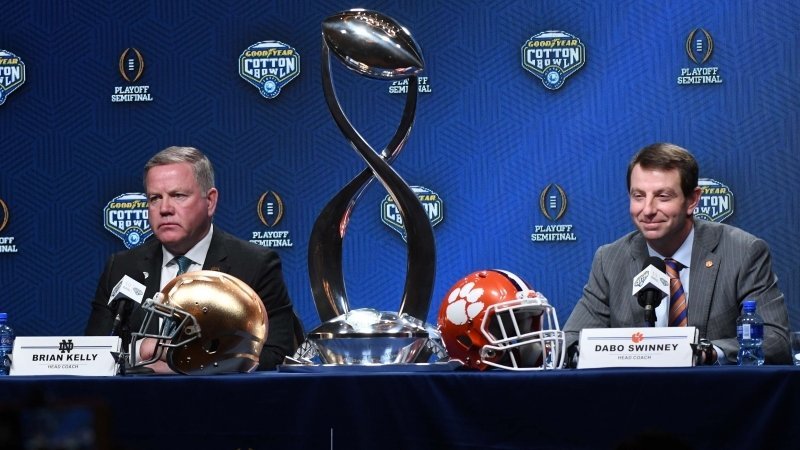 | | |
| --- | --- |
| Finishing touches: Tigers and Irish getting into competitive mindset | |
---
DALLAS, TX – Practice is complete and both teams are putting the finishing touches on Cotton Bowl prep.
Head coaches Brian Kelly and Dabo Swinney fulfilled a final media obligation Friday morning with a joint press conference, and both said their teams are readying themselves for Saturday's Cotton Bowl.
"Just really our routine. Obviously, we had a lot of time to prepare for this opponent," Swinney said. "But we love routine. And that's one of the things that's been kind of cool about this particular bowl, is a Monday is actually a Monday and a Friday is actually a Friday. So that's been a little easier.
"But today is Friday, and so we have a very routine day, and I think that helps. So we just prepare for the game as we do for all of our games. Obviously, we've had a lot more time. But I think the routine, it's important that it's the same. So we'll go about our business today just like we would if we were back at home or on the road any other Friday."
Kelly said the Irish are getting into a competitive mindset.
"The ability to now get into flipping that mindset from a practice to a competitive mindset, using Friday to do that," Kelly said. "But I think it's much more about the routine and getting comfortable in that routine today. And our kids will feel as though today is really Friday and tomorrow they're ready to play."
The Tigers haven't played in the Cotton Bowl since 1940, a 6-3 victory over Boston College.
"Being at Clemson for 16 years I've seen pictures of Banks McFadden and the one of him with the cowboy stuff on and all that. That's pretty neat. So I actually showed our team a little history video of the Cotton Bowl," Swinney said. "But for me, it's amazing. It's awesome for Clemson to come back to the place that we were in our very first bowl game. It's been so long. With all the bowl affiliations and all that stuff, I don't know that we would have gotten back here without this unique situation, the way it worked out.
"So, I think Clemson fans are really excited. Dallas is an amazing town with so much to offer. But for me personally, too, having been a part of college athletics since 1988, I've never been to the Cotton Bowl. And then you throw in the fact that you get to play in that stadium (AT&T Stadium) over there, I've never seen anything like that. It's unbelievable. What an environment. So it's special all the way around, and we're excited about it. That's what it's all about."
Swinney then recounted some of the history between the Irish and Tigers.
"You get a chance to play an unbelievable opponent. And we hadn't played Notre Dame very much at all. And it seems like every time they have played they've been epic games," Swinney said. "And we were very fortunate to win in a hurricane in '15 down to the last play literally. The last time Notre Dame had come to Clemson, Joe Montana, I think, with about a minute to go, imagine that, took them down to win. So some really neat history, not a lot of history but pretty neat history with Clemson/Notre Dame. And Tim Bourret, as he sits right here in the front row, he is in his glory, 40 years as the SID at Clemson but the biggest Notre Dame fan ever (laughter).
"Dad went to Notre Dame. Tim went to Notre Dame. And so trust me, I know way too much about Notre Dame and I have for years. And when that game got put on our schedule, I knew he wouldn't retire until we played them. So now he's semi-retired, but he gets to be a part of this. And I don't think he can lose. He's one of the few people that can't lose in this ball game. So I know he's pulling for Clemson, but he's got a little -- he's got a little four-leaf clover somewhere in his pocket (laughter)."

Upgrade Your Account
Unlock premium boards and exclusive features (e.g. ad-free) by upgrading your account today.
Upgrade Now