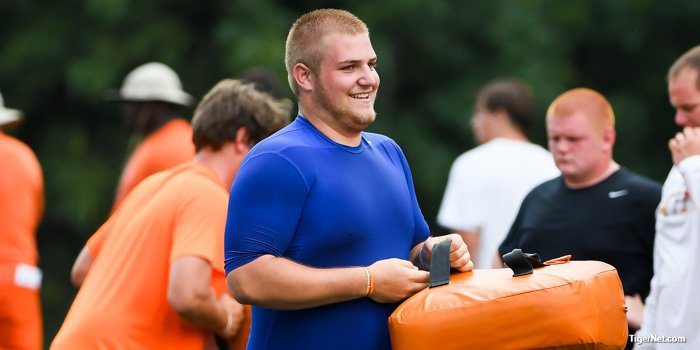 | | |
| --- | --- |
| Clemson commit Bockhorst has surgery but still 'All In' | |
---
| | | |
| --- | --- | --- |
| Friday, July 1, 2016, 8:04 AM | | |
It will take a lot more than a broken nose to dampen Matt Bockhorst's spirit.
The four-star offensive guard, a hard-commit to Clemson out of Cincinnati's St. Xavier High School, suffered the facial injury this month on the first day of Dabo Swinney Football Camp.
So, otherwise, how was camp?
"It was awesome," the 6-foot-5, 300-pounder says. "It was everything I could ask for and more. … (The broken nose) kind of prohibited me from participating in the practices and what-not, but the important part was at least I got one day in, which is valuable. I tell you what, though, we went out there and worked in the heat, and that was a good first day of practice, and just spending time with the other recruits and the coaching staff – you name it. Just getting really comfortable down there with the Clemson family was really important, and every time I go down there, I'm just so convinced that this is the place for me."
On the first day of camp, Bockhorst got the bad end of a tangle in a one-on-one drill.
"A defensive lineman, in an attempt to break my hands with his forearm, he broke my nose, so ..."
The 2017 recruit spoke candidly to TigerNet by phone Tuesday, a day after surgery to repair the fracture that was "pretty bad." And already he was enthusing about tangling with the nation's best next week at Nike's The Opening Finals, in Oregon. Clemson's 2017 class is bonding nicely, he said, and the camp setting provided a great opportunity for team building.
"And I could never see myself going anywhere else, even if – I mean, things happen – but I mean, in my mind, I'm playing football for the Clemson Tigers, and that's not gonna change," Bockhorst said. "So that's something I was really excited about. Just hanging out with all the guys after practices in the West End Zone – whether we're eating cake, whether we're eating dinner, you know, just hanging around and developing that relationship. Because that part's really important. So it was awesome to just have those couple of days to really build those bonds with other guys."
What stands out to you about the 2017 class?
As far as the talent we've got coming in – I'm not one that's too focused on the "stars" and rankings and what-not. … When it boils down to it, I think we have a group of true football players – some dudes that are ready to work and some dudes that have a similar mentality, and that's why we all ended up at Clemson.
I just think it's great because in recruiting today you see a lot of guys who may decommit, or do all this crazy stuff. But at Clemson, when we say "All In," we mean it. And I don't think there's any guy in the 2017 group that's not "All In."
What has been the message from the coaches, as far as your immediate role and how you would fit in?
Coach (Robbie) Caldwell (assistant coach/offensive linemen), he's the type of guy – you've got to bring your hardhat to work every day. You've got to have that mentality going to work every single day. And if you want to get playing time … you've gotta earn it. So he's not the type of guy who's going to tell me what role I'm going to have going into it, you know, a year out, right? The way I see it is, they recruited me as a guard. That's what they'll be looking at me to play. But if I can play tackle, if I can play center – which I can, both of those positions – I can get the opportunity to get on the field. But I just have to go out there and work every day – every day at practice, every day at weights – and prove to them that I deserve to be on the field.
If I'm not ready, whether that be physically or I'm just not quick on the plays, then so be it, and I'll get a redshirt. But I'm understanding, I'm ready for whatever happens – whether I do get redshirted, whether I do play my freshman year, I'm not really worried about that, because there's upsides to both. But all I know is that when I get on campus, it's time to work. And you're not getting recruited anymore – you're not a recruit. You don't get rides around on the golf carts from every coach or what-not. And yeah, it's nice right now, but I'm well aware that once I get on campus, I'm a Clemson football player and I'm there to work. And I'm there for one reason – there's a reason that I have a scholarship.
It sounds like you have things in perspective. Do you plan to graduate early and enroll in January?
My school doesn't allow it, but even if it did, I'd probably take the regular route and come in June.
Have you been encouraging any other Cincinnati-area prospects to consider Clemson?
As far as guys in the Cincinnati area that have Clemson offers, there's only one other guy … and that's Jackson Carman (Fairfield High School; Fairfield, Ohio) – he's a 2018 offensive tackle, a real talented kid. He plays a lot like me – just kind of nasty. That kind of generally could be said of a lot of guys in the Cincinnati area. I think there's a special sort of grit that comes with the Cincinnati guys. Just a different kind of playing style, especially when you get on the offensive, defensive lines, linebackers – stuff like that. It's something I pride myself on – I know he does, too. I mean, I would love for him to come down and see Clemson. But realistically, I think he's definitely leaning more toward some of the Big Ten schools – I mean, Ohio State's already offered him. That's kind of the way most guys go (around here) – Ohio, Midwest guys. I'd love for him to give Clemson a shot, but do I think Clemson could realistically land him? Probably not. I'm not an optimist, I'm not a pessimist – I'm a realist.
What makes Clemson special to you?
Well, I mean, if I was talking about what makes Clemson special, we'd probably be here all night, but one thing I lean back on – and it sounds like a cliché, people may say it's overused – but Clemson is a family, and I will stick by that until I die. Because Clemson is truly a family – what coach Swinney and coach Caldwell have going on, you feel like you are part of the family. And that's so important to me, because there are lots of programs that have success – when you get to the point I have in recruiting, you have offers from these big-time schools, you have offers from national championship contenders, people who are going to the playoffs. And it's not all about who's winning, you know, because realistically every program is going to have its up years and every program is going to have its down years – it's college football, nothing is in stone.
But you've got to find a place where you can go for four or five years and you can develop as not only a football player but as a student, as a person, and Clemson is that place for me. And the Clemson family just rings true – not only with the football program, but my brother plays football at Furman, which is 40 minutes away, and I'm really tight with him. So when we talk about Clemson family, I want to be close to my immediate family, too. And that just happened to work out. … God works in mysterious ways, and I think that was kind of his sign to say, "Hey, look – it's a family."
When did you know you would commit to Clemson?
I was probably getting heavily recruited for a year, almost exactly. You see, in the recruiting process, you see a program's true colors. What you see on TV is not always what you're gonna get. And I think that's the crazy thing, that's what most people don't understand, is that college football is a business. And I understand that, and I get why coaches do what they do. … But with Clemson, what I saw is what I get. It was always straightforward when I visited. I visited twice before I had an offer – I was offered after my second visit. And it was never leading me on – I didn't even know I was gonna be offered. I kind of visited because I was down at Furman visiting my brother. But it was always straightforward.
Are any other schools still leaning on you, and if so, what is your message to them?
Well, if they're leaning on me, I'd tell them not to be, because I'm not moving anywhere. I can tell you this, though – after I committed and after I made my phone calls, you still have to be respectful. They offered you a scholarship, they spent time recruiting you. … And this isn't a move out of disrespect, this is just kind of how I work – after I called each coach, they're no longer in my contact list, I don't follow them on Twitter, because I'm a Clemson Tiger. I'm "All In," and I don't need the distraction. I'm anticipating I'll start getting some calls in September, when they can start calling us. But at the end of the day, I'm not going anywhere, and if anyone thinks that, if anyone thinks I'm going to Ohio State or Notre Dame, they are foolish. I don't care what Rivals says, I don't care what anybody says, I don't care if I'm on anybody's board at No. 1 or No. 10, I'm a Clemson Tiger, through and through. And that is not changing anytime soon.
What are your goals for your senior season at St. Xavier?
As far as team goals, I'd like to think of myself as a team-oriented guy, I want to win the Greater Catholic League, I want to win the home opener. … And I want to win the state championship.
As far as personal goals, I don't want to give up any sacks. I want – this is kind of a general goal – but I want to be that guy, I want to have as much of an impact where if things aren't rolling, they can be confident that they can run it behind the left tackle. … That's something I take great pride in. Because if you're a guy that your team can lean on when nothing else is going, then that's the best teammate you can be. My goal every game is to go kick some (butt) – that's just how I play.