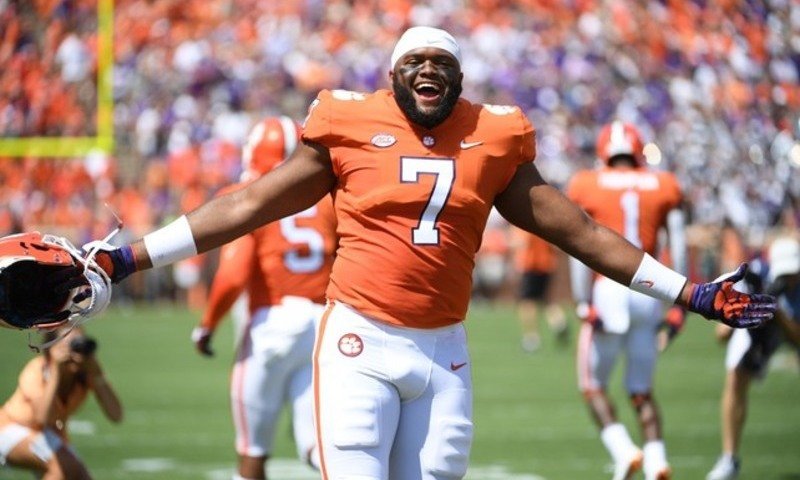 | | |
| --- | --- |
| Bryant on Primetime matchup in College Station: "Just spot the ball" | |
---
CLEMSON - The Tigers find themselves in a familiar this situation on Saturday as they are playing in another primetime game on the road at Kyle Field.
Texas A&M's 12th man is one of the most well-known college experiences in the nation. Senior Austin Bryant has never been to Texas, but he is excited to be in the hostile environment Saturday night.
"I have never actually been to Texas," Bryant said. "I'm excited to play there. Everybody says it's a great place to play. It has always been a place that I have admired just being a college football fan."
Clemson is familiar with playing in hostile environments on the road and winning. Last year the Tigers traveled to Virginia Tech and Louisville, both primetime night games with College Gameday in attendance. The trip to Texas A&M is no different and Bryant knows this team can play anywhere.
"We can play anywhere. That's just something that we have kind of instilled around here. It doesn't matter where we play, when we play, or who we play, just spot the ball," Bryant said.
Despite Clemson's experience in night games on the road, every road game is still tough, no matter how easy they make it seem. It's important for the Tigers to jump on the Aggies early on in College Station.
"I think that's very important," Bryant said. "If we are locked in on what we're supposed to do and focus on how we play. It is very important for everyone to come out knowing their assignments, so we can get those stops early in the game."
It's not unusual for players to get pregame jitters as they go out to play in a hostile environment on the road. But for Bryant, he gets the jitters every week.
"For me, I know I have pregame jitters every game. It doesn't change from who we play. It's just all about how we play and getting your job done so your team has the best chance to win," Bryant said.
Along with the familiarity in road night matchups, Clemson will see a familiar face on Texas A&M's sideline: Jimbo Fisher. Fisher took over for the Aggies over the off season after his tenure at Florida State, Clemson's Atlantic division rival. Even though there is a familiar coaching style in Fisher, it is still hard to know exactly how the Aggies will look this weekend against the Tigers.
"It's tough on you because the scheme is definitely going to cross over to them but it's hard because you don't get to see that much Texas A&M's personnel because they've only played one game," Bryant said.
The Tigers look to continue their dominance on the road against the Aggies Saturday at 7 p.m. at Kyle Field.

Upgrade Your Account
Unlock premium boards and exclusive features (e.g. ad-free) by upgrading your account today.
Upgrade Now