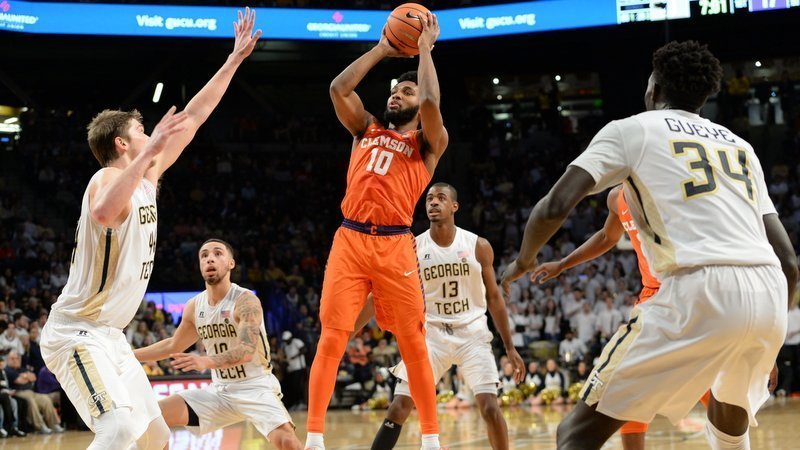 | | |
| --- | --- |
| Reed's layup and DeVoe's career-high 25 lead No. 17 Clemson past Georgia Tech | |
---
ATLANTA, GA – Marcquise Reed hit the go-ahead shot with 24 seconds to play and Gabe DeVoe set a career-high with 25 points as No. 17 Clemson overcame a 12-point first-half deficit and held on to defeat Georgia Tech 72-70 Sunday evening at McCamish Pavilion.
Clemson improves to 17-4 overall and 6-3 in the ACC. Tech falls to 10-11 overall and 3-5 in the ACC.
It was a night of career-highs for the Tigers – Reed had a career-high 11 assists, the most for a player under head coach Brad Brownell. DeVoe also set a career-high with 10 field goals made, while Shelton Mitchell hit a career-high four 3-pointers. Mitchell added 17 points while Reed had 13.
The last time the Tigers were a ranked team on the road at Georgia Tech, the Tigers won 81-73 on Feb. 22, 2009. Clemson now holds a 70-63 edge in the series with Tech and has won 14-of-the-last-18 matchups. Brownell is 13-4 against Georgia Tech, including 5-3 in Atlanta. The 17 wins match last season's victory total.
The Tigers committed just seven turnovers.
"Just really proud of our team tonight. We obviously didn't play well early, and I certainly thought Georgia Tech had a lot to do with that," Brownell said. "They were very sharp offensively in the first 12 minutes and we couldn't stop them. We didn't play the game the right way. But to our guys' credit, they battled back. Gabe hit some three's against their zone and kept us in the game. Marcquise was very good in the second and played well down the stretch. A very hard-fought, tough win for our guys."
Reed said he was confident he could make the play that needed to be made.
"I can't tell you the play," he said with a laugh, "but I had a four-man on me so I thought I had an advantage. I try to look at the matchups and if the shot is there I will take it."
Georgia Tech head coach Josh Pastner said Clemson hit big shots, especially from 3-point range.
"You've got to give them credit," he said. "They hit deep threes and hand in their face threes and it bit us in the butt."
The Jackets raced out to a 7-0 lead in the first 90 seconds, forcing a quick Brad Brownell timeout. Gabe DeVoe hit three consecutive three-pointers that made it 9-9, but the Jackets followed that with a 10-0 run to take a 19-9 lead. Shelton Mitchell ended that run with a 3-pointer, but the Jackets followed with a triple of their own and held a 22-12 lead at the second media timeout.
The Jackets eventually pushed the lead to 12 at 29-17 after a 3-point play at the 8:34 mark. The Tigers, who struggled offensively through the first 12 minutes, eventually began to chip away at the lead. A jumper by Marcquise Reed made it 38-32 with just over two minutes to play, and Mitchell made a 3-pointer and was fouled at the 51-second mark. Mitchell hit the free throw, and Clemson trailed just 38-36 at intermission on the strength of DeVoe's 18 first-half points.
The Tigers came out of intermission and scored the first five points of the second half, the last three on a layup and free throw by Thomas that gave the Tigers a 43-38 lead. That completed a 13-0 run for the Tigers – Tech took a 38-30 lead with 1:30 to go in the first half and then saw Clemson score 13 straight.
The Tigers kept a working margin of four to eight points for most of the second half, never letting Georgia Tech close or opening their own lead and led 66-60 with just under four minutes to play when Reed drove the lane for a layup and a 68-60 lead. The Jackets turned the ball over on the ensuing possession, with David Skara winding up with the loose ball.
Clemson couldn't add to the lead and Thomas appeared to have a block at the other end but was whistled for his fifth foul with Clemson holding the 68-60 lead at the 2:33 mark. The Jackets hit both free throws and it was 68-62 at the 2:30 mark of the second half. The Tigers promptly turned it over, and the Jackets raced to the other end of the court and hit a layup. Clemson was called for a foul, and the free throw made it 68-65 with 2:06 to play.
Reed answered on the Clemson end, however, driving the lane for a 70-65 advantage. The Jackets didn't blink, however, with Josh Okogie drilling a 3-pointer from the top of the key to make it 70-68 with 1:32 left to play. Aamir Simms missed a 3-pointer after a quick timeout, but the Jackets missed two quick shots. The Tigers couldn't rebound either miss, however, and Okogie was fouled on the third attempt. He hit both free throws and it was tied at 70-70 with 41.2 seconds to play.
Reed took the ball, drove the length of the court and hit a layup with 24 seconds remaining to put the Tigers back out front at 72-20. Tech's hurried shot was knocked out of bounds and Clemson took possession with 4.9 seconds to play. Reed was fouled and missed the front end of the one-and-one, but Tech's 3-point attempt was just after the buzzer and long and Clemson escaped with the win.
Brownell said he was happy the Tigers could get a win on the road, especially after dealing with the loss of senior Donte Grantham.
"This was good. We've obviously had to deal with a lot of things here with Donte, who is really our leader and best player in terms of what he does," Brownell said. "But our guys have continued to battle. and we've had to change some things in terms of how we've played. Not drastically, but there are some subtleties that Donte brings to our team that makes him unique. So I've plugged in Aamir, and I thought he battled today. I am also really proud of the way our guys competed and just hung in there."
Clemson has a short turnaround, returning to action Tuesday night, hosting North Carolina at 7 p.m. in Littlejohn Coliseum.
Notes: The win improves Clemson to a 6-3 mark in ACC play … it's the ninth time in program history (64 ACC seasons) the Tigers have started a conference season at least 6-3 … since the ACC moved to an 18-game schedule in 2012-13, the Tigers have now matched their best start through nine games when playing at least five road games … it's the first time since 1986-87 that Clemson is 21 games into a season without losing consecutive games … Clemson is now 5-1 in games decided by five points or less or in OT … that leads the ACC in wins by five or less … Gabe DeVoe notched career-highs in points (25), field goals made (10) and matched his high in threes made (5) … Marcquise Reed set a new career-high with 11 assists (the most for a player under head coach Brad Brownell at Clemson) … Reed's double-double is the second of the season and his career (also had 16 points and 11 rebounds vs. Hofstra on Nov. 17).

Upgrade Your Account
Unlock premium boards and exclusive features (e.g. ad-free) by upgrading your account today.
Upgrade Now