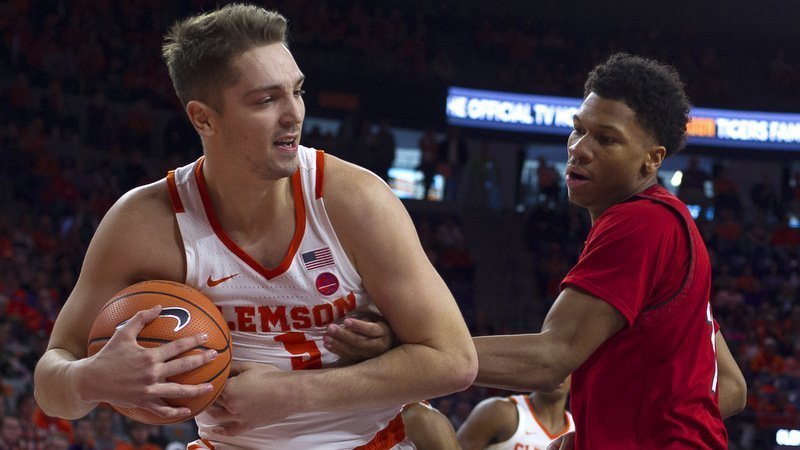 | | |
| --- | --- |
| Can Clemson win in Chapel Hill? It might take someone getting mad | |
---
| | | |
| --- | --- | --- |
| Sunday, January 14, 2018, 3:38 PM | | |
CLEMSON – If Clemson is to ever break the streak in Chapel Hill; it will probably take someone getting mad.
Maybe, Clemson head coach Brad Brownell can get animated and mad at Mark Donnal again.
The Michigan graduate transfer has quietly gone about his business over the first half of the season, spelling starting center Elijah Thomas, but took Clemson fans by surprise Saturday afternoon when a key block and two three-pointers gave the No. 19 Tigers control in the 72-63 win over No. 18 Miami in Littlejohn Coliseum.
After Miami tied the score, the Hurricanes had two chances to take the lead but David Skara and Mark Donnal each had blocks and Donnal buried a 3-pointer on the other end to make it 47-44. A minute later, Donnal buried another 3-pointer and Miami was forced to call a timeout trailing 50-44 with 9:48 to play in the game.
The timing of the threes couldn't have been better for Clemson, but Brownell was just following the advice of one Donnal's former coaches.
"A funny story. He comes from Michigan and my former player and an assistant coach at Michigan at the time Billy Donlon was trying to help me a little bit in the recruitment and he told me when Mark committed and was coming, 'Now he plays better when you get mad at him and he's really even keel and almost never changes his expression, ever.' There's a lot of truth to that," Brownell told the media following Saturday's game. "The play before he made a bad defensive play and so as I was being very animated today, I let him have it pretty good. Ironically, he goes in and makes the next two threes. He and I have talked about that."
Brownell said he's not surprised by the impact that Donnal has had so far this season.
"That's one of his best attributes is his ability to play away from the basket, make plays. Mark Donnal has been great," Brownell said. "He's a fifth-year guy who comes from a winning program and he's playing 15 meaningful minutes for us. Eli is our starter and plays more minutes, but Mark just comes to practice every day and does what you need him to do. Unbelievable teammate. Guys love him.
"He's extremely quiet and just kind of goes about his business, but he does it almost like a professional. He's a professional in the way that he handles himself and carries himself and practices and because of that our guys love him, so when he makes a shot you see our whole bench jump up because they love him. They appreciate the sacrifice he's making and the kind of young man he is. It's been a lot of fun to have him around."
However, Brownell just hopes he can find something, anything to get mad at Donnal about before Tuesday's tilt with North Carolina in Chapel Hill.
"I'm figuring out what to be mad at him about before we go to Chapel Hill. I'll find something here," Brownell said with a laugh.
A bigger challenge than figuring out how to make Donnal angry is how Brownell will battle the mental and physical fatigue of his team playing its third game in five days, but he said he'll treat the quick turnaround to North Carolina just as he did the day leading up to Miami.
"It's hard. It's funny, somebody on TV asked me what we did to make 12 threes and I said we didn't shoot yesterday. I made a decision that we didn't do anything," he said. "We watched 30 minutes of N.C. State clips to teach from because there's a lot of things we could use from that game in this game. We ate a sandwich together. We went back in and watched 30 minutes of Miami clips and we walked through some Miami things, but we didn't shoot one free throw. We didn't shoot one shot. We didn't do anything. We got them off their feet away from basketball and had them energized this morning. It will be the same against North Carolina."

Upgrade Your Account
Unlock premium boards and exclusive features (e.g. ad-free) by upgrading your account today.
Upgrade Now