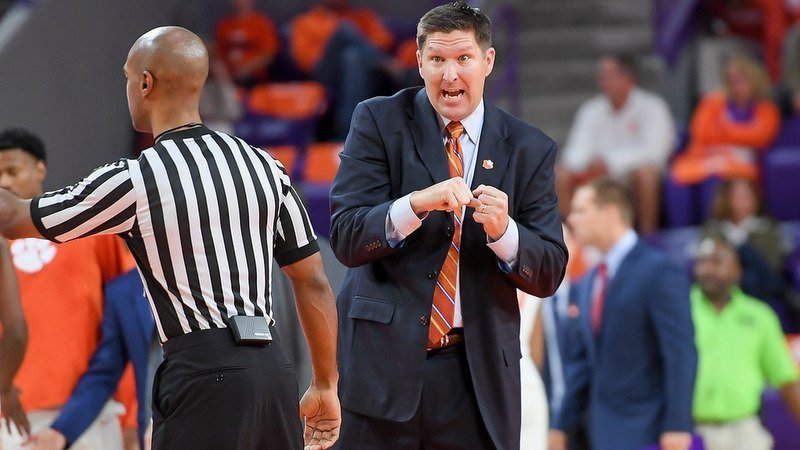 | | |
| --- | --- |
| Basketball, family and football: "At Clemson, we live it" | |
---
| | | |
| --- | --- | --- |
| Friday, March 16, 2018, 6:01 AM | | |
SAN DIEGO – Head football coach Dabo Swinney exited the Tigers' indoor practice facility Thursday afternoon, spotted a group of media and broke into his trademark grin. "Why aren't y'all in San Diego? San Diego, baby! If I were you I would be in San Diego!"
Swinney has made references all week to Brad Brownell's basketball team, which plays tonight against New Mexico St. in the NCAA Tournament here in San Diego. It's obvious that Swinney is a big fan, and Brownell appreciates it. In fact, Brownell thinks having a successful football program helps his basketball program.
"Absolutely. There are advantages and disadvantages in a lot of things," Brownell said. "Tremendous advantage being at Clemson, because of the success under Coach Swinney, and what that's meant nationally for our school and our athletic department as a whole. I'm a huge Coach Swinney fan."
Brownell said Swinney has been especially supportive this week.
"He has left me messages multiple times this week, and sounds more excited than I am that we're in the Tournament," Brownell said. "He is a huge basketball guy. He played high school basketball. When we have football games, we've got our best recruits going to that environment, Death Valley, on a Saturday. It's an incredible experience. It's an incredible weekend, and whenever we bring a recruit, people that aren't from the area, they're shocked, because it's special.
"And at the same time in the middle of January when we're playing a big-time ACC game, Coach Swinney is expecting six or eight tickets right there behind the bench for some of the best high school football players in the country. Obviously, we are happy to deliver."
Brownell said Clemson is one of the few schools in the country that talk about having a family environment and mean it.
"So, it's an unbelievable experience; it's a shared experience, and I know schools talk about family, and I cringe because I've been at other schools and I hear other people talk about it. At Clemson we live it," he said. "We are a town of 12,000 people. There are six football coaches that live in my neighborhood. We just are around each other all the time, and it's real. We actually really do spend time together. We want the best for all of our athletes, we want the best for our students. A big part of that is the athletic department and what that means to our community. It's special and I think when you come to Clemson that's what you see."