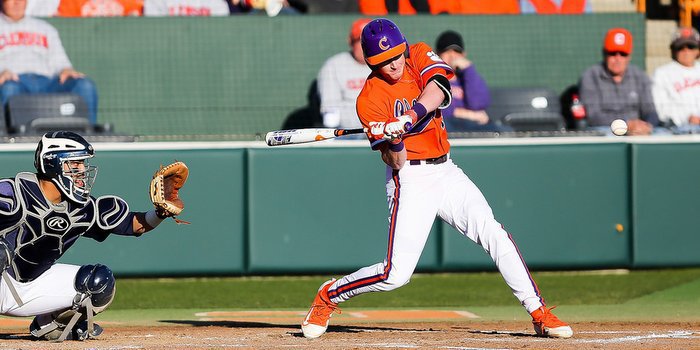 | | |
| --- | --- |
| Bat Wars: Tigers happy with switch from Easton to DeMarini | |
---
| | | |
| --- | --- | --- |
| Monday, February 22, 2016, 12:08 PM | | |
CLEMSON –Freshman sensation Seth Beer turned a 1-2 slider into a rocket to right-center Sunday afternoon, the ball disappearing over the wall near the DeMarini logo in right field. His grand slam, hit with a DeMarini bat, was the second homer of the day for a Clemson player as the Tigers took two out of three from Maine in the opening series of the season.
Clemson scored 19 runs and pounded out 22 hits in the victory, and the Tigers scored 34 runs in the three-game series, a good showcase for Clemson's new bat manufacturer of choice.
Under former head coach Jack Leggett the Tigers had a contract with Easton, but new head coach Monte Lee favors DeMarini.
"Clemson had been an Easton school for a long time. I am not sure if Coach (Bill) Wilhelm used Easton or not, but I am pretty sure that ever since Coach Leggett has been here, Clemson has been an Easton school," Lee told TigerNet Sunday. "I used Wilson DeMarini at College of Charleston the entire time I was there, and I really liked their bat. I think they have the best bat on the market along with really good gloves. That is why I chose to go with Wilson DeMarini; I think they have the best bat on the market."
Bat endorsement contracts continue to be lucrative deals for some programs through cash compensation and free products. The contracts can help offset the salaries of some coaches on staff, and in return, the manufacturers get invaluable exposure for their products.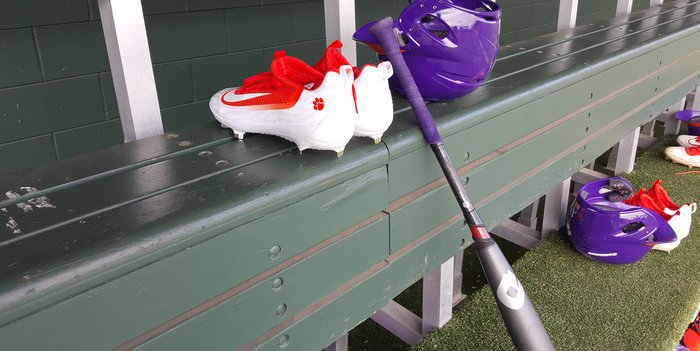 In the 2013 College World Series, four manufacturers were represented - Louisville Slugger (Louisville and UNC), Rawlings (NC State), Easton (UCLA and Miss St.), and DeMarini (LSU, Indiana and Oregon St.). In 2014, Louisville Slugger was used by Louisville, Ole Miss used Easton, Texas used Louisville Slugger and Easton, Texas Tech used Rawlings and DeMarini, TCU used Easton, UC Irvine used DeMarini, Vanderbilt used DeMarini and Virginia used Rawlings.
In the 2015 College World Series, Arkansas, Florida, Fullerton and TCU all used Easton, LSU and Vanderbilt used DeMarini, Miami used Louisville Slugger and Virginia used Rawlings.
New Clemson first baseman Chris Williams grew up using Rawlings but has made the transition to DeMarini.
"I used to use Rawlings, because I really like Rawlings," Williams said. "Making the transition to DeMarini was different, but I think everybody on the team loves the DeMarini bats. You can tell that everybody loves swinging the DeMarini bats, and there aren't any problems with them."
Lee said the Tigers now have a three-year deal with DeMarini.
"I have a three-year deal right now with Wilson DeMarini. I used them in Charleston, and we had a lot of success with them," Lee said. "When I came here there was really no other option for me. We did look at all of the different companies, but Wilson DeMarini is who I wanted to go with, and I wanted to get the contract with them so we could get their equipment. "
Beer said he has always used DeMarini and wouldn't want to use any other model.
"I was a DeMarini guy all through high school. I've always swung DeMarini," Beer said. "So when I heard we were going with the DeMarini I was so excited. I am comfortable using DeMarini, and I feel like it's helping our team right now."
Lee concurred, saying the players have embraced the change from Easton.
"I think they really like the DeMarini bat. In fact, when I told the guys we were going with DeMarini there were a lot of guys that were really happy about it," Lee said. "I think they were fine with the Easton bat, but I think a lot of guys really like the DeMarini bat, and as you can tell after this past weekend it looks like we swing them pretty good."