| | |
| --- | --- |
| Observations from Friday's practice | |
---
| | |
| --- | --- |
| Friday, August 5, 2011, 7:06 PM | |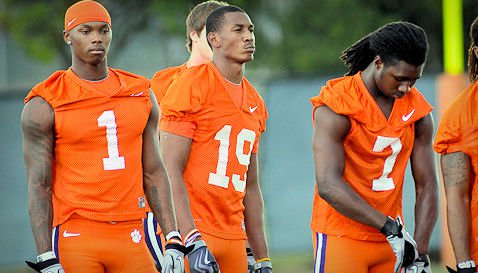 CLEMSON – The rains came in bunches during almost every home game in 2009, and the Clemson Tigers won the ACC Atlantic Division Championship.
So, maybe it was sign of things to come that shortly after the Tigers opened up their first fall practice on the practice fields behind Jervey that the skies opened up and the rain came in…you guessed it..bunches.
As a result, the team spent an early part of the practice inside at the indoor track facility, and the media on hand were allowed to watch the team go through several drills, and even though the players were inside and not moving at full speed, TigerNet was able to make some observations .
First off, running back Andre Ellington looked completely healthy and showed no signs of a limp. He took some handoffs as new offensive coordinator Chad Morris ran the team through some installs, and he showed absolutely no signs of the toe injury that sidelined him after the Boston College game last season.
*Freshman running back Mike Bellamy is as quick as advertised. He also ran through some drills, and he has unbelievable quickness. Considering he wasn't even close to moving at full speed, I can't wait to see him out on the field.
*Freshman defensive lineman Joe Gore was at practice and on crutches, the only member of the team not allowed to participate. He had surgery on his knee back in early July, and the prognosis then was that he would miss six to eight weeks, putting his season in jeopardy.
Gore enrolled early at Clemson and went through spring practice with the Tigers, with a sack in the spring game. He was listed as the third-team strongside defensive end behind Malliciah Goodman and Kourtnei Brown coming out of the spring.
*Freshman linebacker Tony Steward had a brace on his surgically repaired knee, but he didn't seem to be limping and looked like he was ready to go. And this guy is huge, a monster. One of the more impressive linebackers – from a physical standpoint – that Clemson has had in a long time.
*Another freshman linebacker that was running around was Stephone Anthony, and even though the temperature inside the track facility was the same as a sauna (think 125 degrees and add the humidity), Anthony was all over the place.
*Freshman wide receiver Martavis Bryant is going to be a big target for Boyd this season. Bryant is listed at 6-4, but he looks bigger in his No. 1 jersey. He was very easy to spot with the wide receivers. And sophomore wide receiver Nuk Hopkins looks bigger as well. He looks taller and also looks like he has added about 15 pounds of muscle over the summer.
I know a lot of people have been asking about what numbers the freshmen will wear, and here are the numbers that were given to us today at the practice.
#	Player	Position

76	 Shaq Anthony		OL


12	Stephone Anthony 	LB


5 	Mike Bellamy 		RB


1	Martavis Bryant 	WR


92	Roderick Byers 		DE


93	Corey Crawford 	        DE


2 	Cortez Davis 		DB


44	B.J. Goodson 		LB


73	Joe Gore 		DE


13	Adam Humphries 	        WR


50	Grady Jarrett 		DT


36	Ammon Lakip 		PK


88	Eric Mac Lain 		TE


96	Jerome Maybank 	        DT


12	Tony McNeal 		QB


58	Ryan Norton 		C


19	Charone Peake 		WR


78	Spencer Region 		OL


16	Morgan Roberts 	        QB


81	Stanton Seckinger 	WR


27	Robert Smith 		DB


7	Tony Steward 		LB


8	Cole Stoudt 		QB


20	Lateek Townsend 	LB


48	Colton Walls 		LB


7	Sammy Watkins 	        WR


99	DeShawn Williams 	DT




Tags: Clemson Football
,
Adam Humphries
,
Ammon Lakip
,
Andre Ellington
,
B.J. Goodson
,
Charone Peake
,
Cole Stoudt
,
Colton Walls
,
Corey Crawford
,
Cortez Davis
,
DeShawn Williams
,
Grady Jarrett
,
Jerome Maybank
,
Joe Gore
,
Kourtnei Brown
,
Lateek Townsend
,
Malliciah Goodman
,
Martavis Bryant
,
Mike Bellamy
,
Morgan Roberts
,
Robert Smith
,
Roderick Byers
,
Ryan Norton
,
Sammy Watkins
,
Shaq Anthony
,
Spencer Region
,
Stanton Seckinger
,
Stephone Anthony
,
Tony McNeal
,
Tony Steward