---
Friday Email Bag
Each Friday I publish your comments and answer your questions.  To submit a comment or questions please email me at mickeyplyler@hotmail.com.
Hey Mickey. Hope all is well.
Just wanna ask you a question in regards to this secondary group. Is it me or are they still playing soft coverage an not jamming receivers at the lines? Wouldn't it be better to jam a receiver at the line an make the qb have to wait for the pass to open up instead of playing soft an giving up a 3rd down stoppable play that goes for a 1st down? Wasn't Reed gonna bring more physical play at the line of scrimmage? I believe in playing ur man at the line an jamming him on every play instead of playing 7+ yards deep to give up a quick slant route that turns into a 1st down.
The other question is have you had the luxury of being in that locker room minutes before the team loads up the buses an tell me what that feeling is like an what goes on in that time?
Thanks Mickey.
bjcPARKERdsc
bjcPARKERdsc,
I believe you have to mix your coverages and your techniques. If you jam them at the line every play then there are things offensive can do react to that. Also if you are always in man coverage then running quarterbacks can enjoy big runs with the secondary guys running with the back to the ball. I think you have to disguise coverages and don't always do the same thing.
I have never been in the locker room and rode the buses around. I have run down the hill when I worked in the sports information office and I was working with the sideline reporter for TV. The feeling at the top of the hill was incredible. The energy and the anticipation are amazing feelings. Running down the hill is dangerous though. My main thought was to not bust my butt. My experience was different though because I did not have a game to play right after that. I do think the players have done a better job than me of describing what it all feels like.
Mickey, you would not believe Kornblut and his crew tonight on the radio.  Actually, you would.  They made every excuse under the sun for Spurrier.  Here they are in no particular order:
1) The man has earned the right to have a few drinks. There's nothing wrong with that.
2) The producers of the show deserve some blame.  They should've sent him home or pulled the show from being aired.
3) Those assistants around Spurrier shoulder blame.  They should've sent him home and taken his place on the show.
4) He was dehydrated (my buddy said he would be dehydrated after 10 Coors Lites too)
5) (My personal favorite--this one from the first caller into the show tonight) Steve Spurrier has never told a lie.  Therefore, if he says he didn't drink, then he didn't imbibe.  
Pretty incredible that grown men condone this type of behavior.  At no point did any Gamecock caller say that Slurrier needs to be held accountable, that this was a planned media engagement, and that as the face of the largest revenue generator for the university, he needs to act accordingly.  As of today (Wednesday) Ray Tanner claims not to have seen the clip (therefore, no accountability there).  It was really quite comical.  This event really defines USC athletics and their fanbase in my opinion. You have one organization in Clemson that acts with integrity, but in those rare cases when an individual or coach makes a mistake like the uppercut this year or Sammy's slip up last year, there is accountability with consequences.  At USC, there are instances of poor moral character and there is no accountability or consequences, or the consequences are minimal considering the crime, and there are even excuses made for their actions.  Thinking back 5 years with their program I remember theft, Garcia's antics, and now Slurrier and the excuses that are being made by the State Media and their fanbase.  
Glad to be a Tiger!  Won't send my kids to USC, even if they get a scholarship.  As a business owner who has interviewed hundreds of USC grads in Columbia, I can affirm that this is the right decision!
Michael 
Michael,
I am old enough to know that I can't change people's minds on this one. South Carolina fans will have their opinions and Clemson will have theirs. I don't believe anyone that is not totally biased can watch the video and dispute the fact that something up. I have a few policemen tell me that they know the signs and something was wrong. I also believe that he was representing his school and athletic department and this may be a bigger issue in the future. However, as long as he is winning, no one can question him in Columbia. I don't think this story goes away quietly.
Mickey,
I hear you are going to Syracuse. Fear the keys!
Go Tigers!
Rhonda
Rhonda,
I fear that my ear drums will burst with all of the crowd noise in the Carrier Dome. I may never be able to hear again. No! Not the dreaded keys!
Mickey,
I heard you this week and you sound pretty convinced my Orange have no shot against your orange. Hope you are wrong.
Bill
Bill,
I did not say no shot. Syracuse can win this game. They need to have early success to gain confidence. They need to keep the crowd into the game. They need to create turnovers and force Clemson into mistakes. However, other than Clemson turnovers and mistakes, I can't see Syracuse having enough playmakers to beat Clemson.
The Brad Hughes All-State Insurance Agency
Prayer List
We have started a prayer list on the blog. Here are the guidelines:
If you are offended by prayer or prayer lists then I apologize in advance. The blog is free and the prayer list will be on the bottom of the page so you don't have to read it.
If you would like to add someone to the list please email me at mickeyplyler@hotmail.com
*Please let me know when it is appropriate to take the person off of the prayer list.
Those who need our prayers include:Finn Brookover, Jo Ann Bachman, Kenneth Bryant, Pruitt Martin, Got igers and his family, David Rowland, Leonard, Gillespie and his family, Jim S, Daniel Rosborough, The Huffman family, Nancy Winkler, John Reeve, Vinnie Brock, Kaitlyn L, Susan Miller, Joyce Harley, Steve Proveaux, Jeffrey Greene, the Hutto family, Sherl Drawdy, Caleb Kennedy, Teresa O'Connor, Matt Jacobs,Perrin Seigler, Candee Massee, Lindsey Jordan, Sam Catoe, Tyler Felch, the Nicolopulos family, "the Jacksonville, FL guys", Kim Sims, the Coyle family, Ryleigh Tedder, Steve Lee, Kelly Trakas, Jimmy Moore, the Thomas. V Family, Emary Claire Young, Kitty Bowers,Julie Locke, the Scheider family, Lauren Kittles' family, Frank Gentry, Joyce Bussey, Stacey McKeown, Dale Childs, Larry Lentz, Jr, Carl Sharperson, Scott Hannon, William Perry, Tyler Swaney, Lillian, Mark Feit, David Frame, Chad Berry, the family of Matthew M. Watson, the Dowis family, Shervin Messer, Alan Putnam, the Olivers, Lee Tate, Ronnie Abrams, Eddie Greene, the Jackson family, Bill Vader, Jim Taylor, Tina DeWitt, Rock Horne, Christopher Tuten, Bobby Wayne Thomas, Emma and Danielle Carothers, Robert Ditty, Mr. and Mrs. Murray Smith, Dot Cartee, Ayden Mills, Millie Heatley, Lynn Martin and family, Michael Pinson, Jake David family, Angie Crowley, Ira, Mike Tolson, Poly Wells, Dr. Muriel Bishop, Jack Cunningham, Emily Jefford Meister, Zachary Stoller, Aaron Clackum, Pat James, Cortney Moore, William Moore, Angelia and Savannah Anderson, William Ross, Meredith Legg, Scott Johns, Frank Carroll, Brandon Thompson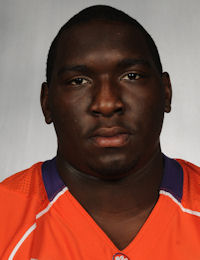 Brandon Thompson
Defensive Tackle
#98 6-2, 310
Thomasville, GA
View Full Profile , Alvin Sammons, Georgine McAlhaney, Glen Davis, Mike Price, Clay Childers, Aaron Knight, Danielle Johnston and family, Nicholas Abrams, Lana Kuykendall, Gary, Gary G, William Huggins, Jim Bennett, Chantz Fowler, Ethel McElveen, Michele Gurganus, William Gentry, Lewis Usher and Tanya Sanders, Shon Cooper, Nick Collins, Travis Patterson, Amanda Peake, Danny Hammond, Chip Turner, Nick Collins, Allen Steen, The Sturkey Family, Lance family, Nick Chrisley's family, Allison Williams, Lt. Kyle Walker, Summer and Joel Johnson, Nicole O'Donnell, James O. Johnson, Joy Pruett and family, Bill Schmidt, Jack Bailey, Gardner Family, Charles Turner, Kathy Bartholomew, Ray Sanders, David and Robin Blocker, J.R. Ray, Kenneth Kowe, Lauren Sielicki, Doug Bailey and family, Jenna, Mark Lawrence, Harlan Sullins, Peter Laboy, Kat and Carlisle Jones, Elizabeth Galloway and family, Anita McDonald, Willard Harryman, Liz Surratt, Molly Senn, Jackie Shearer, Richard Sellers, Tim Drisdelle, Edward Easterling, Dawson Bourne, Susan and Mike Brown, Julie Goodman Marshall, Willard and Dorothy Harryman, Justin Jernigan, Robert Summerville, Jack Cunningham, Mia Daughtery, Tee Senn, Jim Lanier, Bob Garrett, our great country and the men and women in uniform that protect and serve it every day plus their families.

Upgrade Your Account
Unlock premium boards and exclusive features (e.g. ad-free) by upgrading your account today.
Upgrade Now