---
Friday Email Bag
Each Friday I publish your comments and answer your questions.  To submit a comment or questions please email me at mickeyplyler@hotmail.com.
Mick - I had the pleasure of meeting and speaking with Tajh Boyd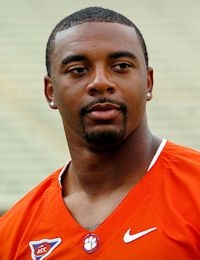 Tajh Boyd
RS Sr. Quarterback
#10 6-1, 225
Hampton, VA
View Full Profile at a church function recently and he told an interesting story of how he picked CU.
He decommitted for UT and WVU for coaching changes and philosophical differences as you stated earlier.  His other interests were Oregon and Ohio State.  Oregon was too far from his parents and he was leaning more toward visiting the Buckeyes. Then, in his own words, at the Army AA game "I met these 2 great guys named Andre Ellington
Andre Ellington
Running Back
#23 5-10, 195
Moncks Corner, SC
View Full Profile and Mal Goodman from Clemson and we established a friendship and kept in touch.  They told me to come visit CU and the rest is history."  He said he and his parents fell in love witht eh upstate and Coach Swinney and it was a done deal.
Thank goodness for Ellington and Goodman, right?!?!
Great show buddy.
Kevin
Kevin,
Thanks for the info. I had no idea that Ellington and Goodman had a role in Tajh's recruitment but it doesn't surprise me. I also remember Tajh's trip to Dabo's house being a big factor. I think we all are very happy Tajh chose Clemson and hopefully this year will give us more records. I remember Tajh hobbling around in the Army All-American game on his torn ACL. His arm and toughness were obvious then.
Mickey,
Just a quick comment on Brock Huard. Does this man have rocks in his head instead of a brain? He omitted Taj Boyd from his list of top 5 college QB's.
Eddie
Eddie,
Maybe Huard took too many shots to the head during his playing days. I can see how some can make a case for Manziel, Murray, Braxton Miller, McCarren and Bridgewater. I guess those are the five he was thinking of but I can't agree on all of those either.
Mick - I'm looking forward to a great season from Hot Rod.  While Dabo was speaking to campers and parents a few weeks ago Hot Rod was running the stadium steps at DV and he looked great!
As far as USC goes I think they do value beating CU over the SEC title.  That's their way of admitting without saying they will never win an SEC title.  They know as long as Bama, LSU, Florida & Georgia  are around they will not sniff a title.  Heck now they have to worry about Texas A&M!!  So, beating CU for them is a bigger deal in my opinion.
Great show buddy!
Kevin
Kevin,
McDowell has worked really hard and has gained muscle and weight. I think he is poised for a very good season. His role increased every game last season.
I just want to end this streak and get this rivalry back to where it needs to be.
Mickey,
I am sickened that Danny Ford was elected to the Ring of Honor while Greg Buckner was not.  Clemson University is about the students and Clemson athletics is first and foremost about the "student-athlete."
Greg Buckner was a Clemson student-athlete while  Danny Ford was not.  Greg Buckner was never in trouble with the NCAA nor Clemson University itself.   Danny was.  Greg gave us the greatest play in Clemson Basketball history.  Danny gave us a NC but not without an asterisk.
Danny was fired.  Greg graduated. 
I think it says a lot about our priorities and values when we honor Danny Ford over Greg Buckner.
I'm not happy about it at all!
Thanks for hearing my rant.
Sean
Sean,
I could not disagree more. I like Greg Buckner and support his candidacy in the future. However, Buckner's accomplishments fall short of Ford's. Danny Ford helped Clemson to its greatest athletic accomplishment. Buckner was a great player but Ford is more deserving.
Mickey,
Your right, the game plan will not cost us vs Ga, like it didn't vs SC. However, other than the obvious defensive issues,I think we did not stick to our game plan offensively. I think we only stuck to it about a quarter and a half, until we hit Nuk for the long TD. After that, it seemed like all we did was try and score 14 pts on almost every play. Leaving Clowney single blocked? While trying to run downfield routes? Running it at him had been working until that long pass, then it was abandoned. So,I agree, our game plan will not cost us. Getting greedy and trying to blow their doors off instead of just winning the game can cost us though. To me, that cost is just as much as the defense vs SC. That's one area Coach Morris needs improving in, not giving up on the run to early and becoming pass happy. Thoughts?
JP
JP,
I often criticize a lot of coaches for abandoning the run too soon. The real problem that night was that the offense could not get on the field. The defense continued to give up third and long and it kept Clemson's offense on the sidelines.
Mickey,
What is the deal with all the non-stop chatter about losing faith in Jack Leggett
Jack Leggett
Baseball Head Coach
View Full Profile and how we'll never "take the next step" with him at the helm?  I was in Omaha in 2010 and watched the Tigers take 3rd place in the country.  I watched the Tigers in 2006 do the same thing.  I know that each time we got beat two straight by our arch rival, but we are talking about the national semifinals in the College World Series.  The only next step is to win the CWS and national championship.  Our team has been an elite team since Jack took it over (and even before… Wilhelm was no slouch either).  Winning a national championship is hard and takes tremendous amounts of luck.  On top of that, recruiting for baseball is one of the most difficult things to do in sports.  Coaches recruit players who commit to school and then could never even come to school because they get drafted and go straight to the majors. 
Clemson is in the top baseball conference in the country and shares a state with a team that is also elite.  Jack Leggett is one of the top coaches in college baseball.  If he were to be replaced, who would we get?  Clemson has missed the national tournament one time since Jack became head coach.  One time!  Clemson has been to the CWS 12 times.  6 times under Jack.  That puts Clemson at number 11 in most CWS appearances.   For some perspective, Oklahoma State has been to the CWS 19 times and won only once in 1959.  Florida State has gone to the CWS 21 times and never won!  Even Texas, who has the most appearances with 34 has only won the CWS 6 times.   Even USC (the real one) who has the most CWS titles of any school has only won one since 1980 and hasn't made it to the CWS since 2001.  It isn't easy.  It isn't supposed to be easy. 
Who is going to do better considering the bar is already so high?  A down year is just that, a down year.  I'm not saying there is no coach better than Jack, but until you can name him (or her) and convince them to come to Clemson, this is a crazy discussion.  Not even Texas, Stanford or Cal State Fullerton make it to the CWS every year.  Can we please just everyone calm down and enjoy the fact that when Clemson has a "down year" we are still in the NCAA tournament as a regional 2 seed?
Karl
Karl,
I think some Clemson fans are impatient because the standards are so high. I think the program has slipped a little in the past five or six years but agree with your points. I do think next season has the potential to be huge. I look for next year's team to make it to Omaha.
Mickey,
Who is responsible for security for the Rock?  What steps had been taken to protect it since the last attack and why did those fail (cover, lock, security camera, etc.)?  Are they planning on doing something else now or just continuing to believe Clemson is Mayberry and it is 1960?  Thanks,
74TIGER
74TIGER,
I am not sure where the responsibility falls. So far the university has not released details on changes to the security. I would be surprised if there were not big changes.
The Brad Hughes All-State Insurance Agency
Prayer List
We have started a prayer list on the blog. Here are the guidelines:
If you are offended by prayer or prayer lists then I apologize in advance. The blog is free and the prayer list will be on the bottom of the page so you don't have to read it.
If you would like to add someone to the list please email me at mickeyplyler@hotmail.com
*Please let me know when it is appropriate to take the person off of the prayer list.
Those who need our prayers include:Finn Brookover, Jo Ann Bachman, Kenneth Bryant, Pruitt Martin, Got igers and his family, David Rowland, Leonard, Gillespie and his family, Jim S, Daniel Rosborough, The Huffman family, Nancy Winkler, John Reeve, Vinnie Brock, Kaitlyn L, Susan Miller, Joyce Harley, Steve Proveaux, Jeffrey Greene, the Hutto family, Sherl Drawdy, Caleb Kennedy, Teresa O'Connor, Matt Jacobs,Perrin Seigler, Candee Massee, Lindsey Jordan, Sam Catoe, Tyler Felch, the Nicolopulos family, "the Jacksonville, FL guys", Kim Sims, the Coyle family, Ryleigh Tedder, Steve Lee, Kelly Trakas, Jimmy Moore, the Thomas. V Family, Emary Claire Young, Kitty Bowers,Julie Locke, the Scheider family, Lauren Kittles' family, Frank Gentry, Joyce Bussey, Stacey McKeown, Dale Childs, Larry Lentz, Jr, Carl Sharperson, Scott Hannon, William Perry, Tyler Swaney, Lillian, Mark Feit, David Frame, Chad Berry, the family of Matthew M. Watson, the Dowis family, Shervin Messer, Alan Putnam, the Olivers, Lee Tate, Ronnie Abrams, Eddie Greene, the Jackson family, Bill Vader, Jim Taylor, Tina DeWitt, Rock Horne, Christopher Tuten, Bobby Wayne Thomas, Emma and Danielle Carothers, Robert Ditty, Mr. and Mrs. Murray Smith, Dot Cartee, Ayden Mills, Millie Heatley, Lynn Martin and family, Michael Pinson, Jake David family, Angie Crowley, Ira, Mike Tolson, Poly Wells, Dr. Muriel Bishop, Jack Cunningham, Emily Jefford Meister, Zachary Stoller, Aaron Clackum, Pat James, Cortney Moore, William Moore, Angelia and Savannah Anderson, William Ross, Meredith Legg, Scott Johns, Frank Carroll, Brandon Thompson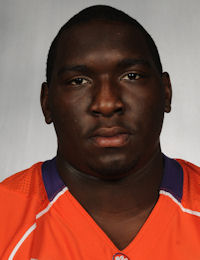 Brandon Thompson
Defensive Tackle
#98 6-2, 310
Thomasville, GA
View Full Profile , Alvin Sammons, Georgine McAlhaney, Glen Davis, Mike Price, Clay Childers, Aaron Knight, Danielle Johnston and family, Nicholas Abrams, Lana Kuykendall, Gary, Gary G, William Huggins, Jim Bennett, Chantz Fowler, Ethel McElveen, Michele Gurganus, William Gentry, Lewis Usher and Tanya Sanders, Shon Cooper, Nick Collins, Travis Patterson, Amanda Peake, Danny Hammond, Chip Turner, Nick Collins, Allen Steen, The Sturkey Family, Lance family, Marcus Lattimore, Nick Chrisley's family, Allison Williams, Lt. Kyle Walker, Summer and Joel Johnson, Nicole O'Donnell, James O. Johnson, Joy Pruett and family, Patrick Heher, Bill Schmidt, Jack Bailey, Bill Early, Gardner Family, Charles Turner, Kathy Bartholomew, Ray Sanders, David and Robin Blocker, J.R. Ray, Kenneth Kowe, Lauren Sielicki, Doug bailey and family, Johnnie Walker, Jenna Phipps, Mark Lawrence, Harlan Sullins, Peter Laboy, Kat and Carlisle Jones, Elizabeth Galloway and family, Anita McDonald, Willard Harryman, Liz Surratt, Molly Senn, Jackie Shearer, Richard Sellers, Tim Drisdelle, Edward Easterling, Dawson Bourne, Susan and Mike Brown, our great country and the men and women in uniform that protect and serve it every day plus their families.

Upgrade Your Account
Unlock premium boards and exclusive features (e.g. ad-free) by upgrading your account today.
Upgrade Now