---
| | | |
| --- | --- | --- |
| Friday, August 24, 2012, 10:52 AM | | |
Friday Email Bag
Each Friday I publish your comments and answer your questions.  To submit a comment or questions please email me at mickeyplyler@hotmail.com.
Mickey -
Since both coordinators have issued statements this week regarding toughness and a lack of depth and since we know that our lines are young and inexperienced but don't want to admit that, how can anyone expect a successful season this year? If we win 9 games or more, then either our coaches are finally developing players or our competition in the ACC is truly weak. Sadly, I predict 7-5 with two losses from the SEC.
Rick
Rick,
Dang, hope you are dead wrong. This is the time of year to be optimistic. Everyone is still undefeated. They won 10 games last year with issues on the offensive line. The defense was awful and they still won the ACC. Also, many are saying this is the best the ACC has been from top to bottom in several years plus the schedule includes two SEC schools. I hope you are wrong.
Mickey,
I am confident Coach Morris will refine his offense and throw new packages at opponents. But if the O line is porous, Boyd will be leg weary by the 4th game. On defense, a group of strong linebackers can cover a lot of weaknesses but, if the defensive line can't generate pressure, the defensives backs will leg weary as well.
I read what the coaches say and what the professional pundits write, but what is your read on the offensive and defensives lines going into the Auburn game? Friday Email Bag
Maestro
Maestro,
I am concerned about both lines of scrimmage but more about the offensive line. Right tackle and left guard are a major concern. I think the defensive line is less of a question mark but still a concern. My biggest concern is the secondary.
Mickey,
Years ago when I was growing up, my cousins, who are big Clemson fans, invited me, a Gamecock fan, to go to Clemson fan day with them and I wore all Carolina stuff that day. I remember Emory Smith coming up to me and saying, "boy you got some ball" and signed the program that I had my hand. I have always thought that was pretty cool, so no matter if you are a carolina fan or a Clemson fan, to go to one of these things is pretty special on I would recommend anyone doing so if they have the chance.
Brooks
Brooks,
Thanks for the email. The Fan Appreciation Day was a huge success this season. I think it is a tradition that will continue to grow. It is free and many families are looking for free entertainment.
Mickey,
I was just researching Auburn's Defense. It sounds like they have an experienced lb and d-line but inexperienced secondary. But a big question I have is about their new defensive coordinator. It says they're trying to change from a read and react to a more attack style. I'm also hearing they're young and that there may be some trouble catching on to the new system. Just wondering your thoughts on their defense and if they may have some troubles like with Kevin Steele
Kevin Steele
Defensive Coordinator/Linebackers
View Full Profile defenses where these young guys might play confused on Sept. 1 in the Georgia Dome. I'm not saying we're going to blow them out but I like a confident Tajh and our offense versus their new and young defense.
Tiger4Christ
Tiger4Christ,
I have heard the same thing about Auburn's defense. I am a little skeptical about NFL guys coming down to the college game. The NFL systems are better but the players are more experienced and they have all day to study the game plans. College kids have only 20 hours a week and sometimes you see the complicated systems too much to handle.
Mickey,
Lots of outrage about the whoo-hoo. Totally agree, but has there been much complaining about purple jerseys or pants (thank goodness we didn't see them last year)?  I get the purple thing being part of our history, but it's a trim color only, not a primary feature.  When we've ventured into this fashion fiasco we've been arguably the ugliest uniformed team in the land. Maybe I'm just a purist, but the options should only be all orange, all white, or a combination of the two - period.  Do you think purple jerseys and pants are gone for good.
Thanks,
Jerry
Jerry,
I disagree and like the purple uniforms on occasion. To me the best uniform combination in football is the orange helmet, purple jersey and white pants. I love the contrast. I don't think they are done. In fact, when the football team was introduced at halftime of a basketball game to present the ACC Championship trophy, the team was wearing the purple jerseys. I think we will see them at some point this season. BTW-nowhere does it say that purple is only a trim color. It is a primary color along with orange.
Mickey,
We hadn't won an ACC title in 20 years, so it was a big deal. That gives Swinney more of a pass.
The thing that has changed as far as our rivalry is SC is a lot better. But it took Spurrier 5/6 years to get there. There has to be a certain amount of patience to develop a program.
I hate it, but I'm pretty much resigned to losing to the shamecocks this season. But if Dabo doesn't beat'em next year in his 5th full season, then all bets are off no matter how many ACC titles we have.
Wayne
Wayne,
Unlike you, I have not resigned to the thought that South Carolina will beat Clemson this year. It is way too early to tell that. Each year the team that is playing the best in October usually loses. Therefore, how can we tell who will win in November? There is a lot of football to be played before the Clemson-South Carolina game.
Mickey,
I thought you may want to share this with the rest of Tiger Nation as part of your Friday e-mail bag.  It is a testament to the quality of the individual that is Dabo Swinney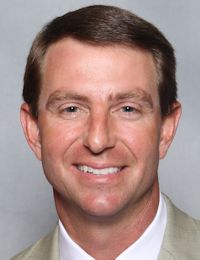 Dabo Swinney
Head Coach
View Full Profile .  He is so much more than a football coach.
My father-in-law, Jimmy, who lives in Easley, is currently under the care of home hospice as he is in the latter stages of battling with COPD.  Since he is confined to bed for the most part, he is no longer able to travel to Tiger Town to watch football and baseball games, of which he has been a fan since attending Clemson College and graduating in 1957.  Through some connections with home hospice and his social worker, apparently Dabo found out about his story and took time out of his busy fall practice schedule to go along with Don Munson and his brother to visit with Jimmy and his family (myself included).  It was a wonderful and inspirational visit and really served to brighten Jimmy's day.  I hadn't seen him that excited for quite some time; perhaps since the news that he was going to have his first grandson, who was born 3 months ago.  The visit lasted about 40 minutes and was filled with inspiration and talk of our bright future, both for the Clemson football program and after we leave this Earth.  Dabo really impressed me with his passion, compassion, and his faith as he took the opportunity to understand what Jimmy is going through and then to pray with us with regards to Jimmy's health and the impact he has had on his family and community.  My wife and I commented how much more we thought of Dabo after the visit and thought it would be nice to share this with the Clemson faithful and let them know that Dabo is a stand-up individual and that he hasn't lost sight of what is truly important; family and faith in God.  If I wasn't convinced before, I am now:  he really is "All In".  I can not imagine a better role model for the many student athletes with whom he is in close contact every day.  Clemson has a great man in its midst, and his modesty only makes me more impressed.
Thanks for letting me share this,
Phil
Phil,
Thanks for sharing that very cool story. Hope your family is well.
Mickey,
Enjoy your e-mails and updates. Glad Ryan doing better and know he had a good 21st birthday!!!. When time would you list members of the committee that Pres. Barker appointed. Is there a timeline to have their report back to him?  Have a good weekend. Thanks for all of positive things you do for Clemson...   Mack-74  (wife 81 son and daughter in law '09). Thanks, Cu,
Mack
Mack,
David Wilkins (Chairman of the Board of Trustees), Neil Cameron (VP for Advancement) and Janie Hodge (Associate Professor for Special Education) are the three members of the search committee. I am not aware of any timetable for their committee at this point but will ask. Thanks for the kind words.
The Brad Hughes All-State Insurance Agency
Prayer List
We have started a prayer list on the blog. Here are the guidelines:
If you are offended by prayer or prayer lists then I apologize in advance. The blog is free and the prayer list will be on the bottom of the page so you don't have to read it.
If you would like to add someone to the list please email me at mickeyplyler@hotmail.com
*Please let me know when it is appropriate to take the person off of the prayer list.
Those who need our prayers include:Finn Brookover, Mary-Louise Pawlowski (John's daughter), Jo Ann Bachman, Kenneth Bryant, Pruitt Martin, Got igers and his family, David Rowland, Leonard, Gillespie and his family, Jim S, Daniel Rosborough, The Huffman family, Nancy Winkler, John Reeve, Ethel Southard, Vinnie Brock, Kaitlyn L, Susan Miller, Joyce Harley, Steve Proveaux, Jeffrey Greene, the Hutto family, Sherl Drawdy, Caleb Kennedy, Teresa O'Connor, Matt Jacobs,Perrin Seigler, Candee Massee, Lindsey Jordan, Sam Catoe, Tyler Felch, the Nicolopulos family, "the Jacksonville, FL guys", Kim Sims, the Coyle family, Ryleigh Tedder, Steve Lee, Kelly Trakas, Jimmy Moore, the Thomas. V Family, Emary Claire Young, Kitty Bowers,Julie Locke, the Scheider family, Lauren Kittles' family, Frank Gentry, Joyce Bussey, Stacey McKeown, Dale Childs, Larry Lentz, Jr, Carl Sharperson, Scott Hannon, William Perry, Tyler Swaney, Lillian, Mark Feit, David Frame, Chad Berry, the family of Matthew M. Watson, the Dowis family, Shervin Messer, Alan Putnam, the Olivers, Lee Tate, Ronnie Abrams, Eddie Greene, the Jackson family, Bill Vader, Jim Taylor, Tina DeWitt, Rock Horne, Christopher Tuten, Bobby Wayne Thomas, Emma and Danielle Carothers, Robert Ditty, Mr. and Mrs. Murray Smith, Dot Cartee, Ayden Mills, Millie Heatley, Lynn Martin and family, Michael Pinson, Jake David family, Angie Crowley, Ira, Mike Tolson, Poly Wells, Dr. Muriel Bishop, Jack Cunningham, Emily Jefford Meister, Zachary Stoller, Aaron Clackum, Pat James, Cortney Moore, William Moore, Angelia and Savannah Anderson, William Ross, Meredith Legg, Scott Johns, Frank Carroll, Brandon Thompson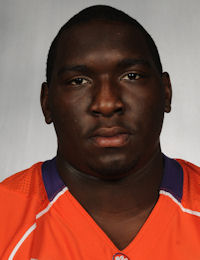 Brandon Thompson
Defensive Tackle
#98 6-2, 310
Thomasville, GA
View Full Profile , Alvin Sammons, Georgine McAlhaney, Glen Davis, Mike Price, Clay Childers, Aaron Knight, Danielle Johnston and family, Nicholas Abrams, Lana Kuykendall, Gary, Billy McLeroy, Gary G, William Huggins, Jim Bennett, Chantz Fowler, Ethel McElveen, Michele Gurganus, William Gentry, Lewis Usher and Tanya Sanders, Shon Cooper, Nick Collins, Travis Patterson.