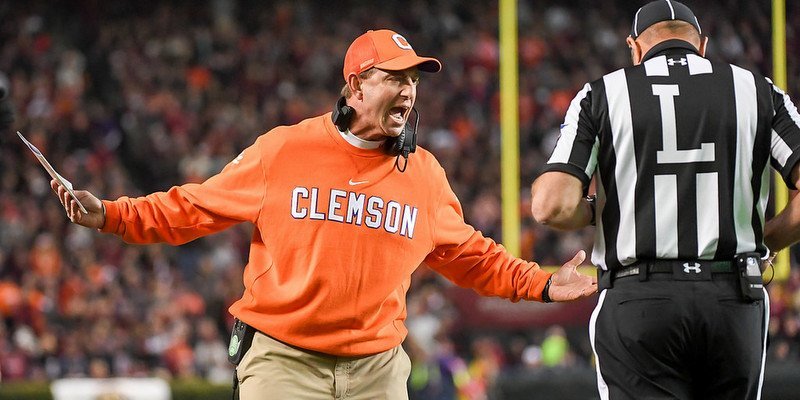 | | |
| --- | --- |
| Collins; OL; A&M; Game Day | |
---
| | | |
| --- | --- | --- |
| Wednesday, September 4, 2019, 9:36 AM | | |
Email Bag
In this format, we will publish your comments and answer your questions. To submit a comment or questions, please email me at mickeyplyler@hotmail.com.
Mickey,
Is there anything to the rift between Dabo and Geoff Collins? Thanks.
Jim
Jim,
I have heard some of the Clemson staff was not pleased with the weight lifting stunt before the game, but I didn't get that first hand. Dabo was asked about the weight lifting and he joked that he had never seen it before then added, "don't knock it until you have tried it." If Dabo was taken back I feel bad for Tech because we have seen evidence of a Dabo having a long memory.
Mickey,
Rarely have I seen us dominate on the offensive line like we did against GT. Are we that good or is Tech that bad? Can Caldwell survive this? LOL.
Greg
Greg,
Maybe the last few seasons and the next class will get some off of Caldwell's back. Clemson had 411 yards rushing which is the most in school history since 1957. I would say the Tigers are very good up front and could do this to a lot of teams this season. I don't think Tech is very good on defense, but Clemson is going to make a lot of defenses look bad. I agree this was one of the best offensive performances I have seen here. These backs had huge holes and often did get any contact until the second and third levels. The balance of the offense helps as well.
Mickey,
How good are the Aggies? Can they come into Death Valley and beat the nation's best team? What are the keys? I won't get a chance to listen to all of your shows this week, so could you answer in your email segment on tigernet? Go Tigers!
Vance
Vance,
I think Texas A&M is a top ten team. They are very talented and have a quarterback who can stretch the field when he extends plays. I think they are capable of winning Saturday. They have enough talent. However, I am not sure they are ready to take this next step and win in Death Valley with so much at stake.
I think one of the keys will be the coordinators. Who makes better adjustments Jimbo Fisher or Brent Venables? Tony Elliott and Jeff Scott or Mike Elko? These are among the best in the business and the chess matches should be fanscinating.
Another key will be the two quarterbacks. Kellen Mond played great last year against the Tigers last season but didn't play as well the rest of the season. He did look good last week in his opener. Trevor Lawrence didn't play a lot last season against the Aggies but had a great freshman season. However, it's no secret that he didn't play his best in this year's opener. Both teams could put a lot on their signal callers.
Finally, I think big plays will be a huge key. Both of these offenses rely on the big play. The defense that can limit the big play will have the best chance to win.
Mickey,
I just wanted to give some positive feedback about the game day operations this past week. I think the athletic department deserves some credit. Traffic for a Thursday was not as bad as I anticipated. The two dollar waters are a nice break. And I thought the metal detectors yielded very little delays. Good Job Clemson!
Daniel
Daniel,
I had a couple of meeting with Dan Radakovich and his staff and this subject came up several times. They work extremely hard to make sure the gameday experience is special here. They listen to the fans and they make their best effort to make the experience special. I was impressed with how much detail they get into to make sure things go as smooth as possible. I agree with your email. It was a pleasant experience last week.
The Brad Hughes All-State Insurance Agency