---
| | | |
| --- | --- | --- |
| Thursday, September 6, 2012, 10:33 AM | | |
Ball State Preview
The Cardinals went 6-6 in the first season under Pete Lembo. They had an impressive 37-26 win over Eastern Michigan in the opening week. Ball State was up 37-13 with ten minutes to go but gave up two scores with mostly reserves. The Cardinals had a big conference win in the opener in front of 12,000 fans. They will face a much bigger environment in their first road game of the year.
Last season went 1-2 against teams in BCS conferences. They beat Indiana 27-20 in the opener a season ago but lost 37-7 to 22nd-ranked South Florida and 62-6 at number two Oklahoma.
Saturday will mark just the fifth time in five years that ball State will face a ranked opponent. They are 0-4 but lost a close 41-40 decision at Nebraska in 2007.
Ball State Offense
Ball State put up some impressive numbers last week but the most was the 96 plays they ran from scrimmage. The had 41 passes and 55 runs. Ball State had 36 first downs in the opener and put up 596 yards of total offense. They controlled the ball for almost 36 minutes.
Quarterback
Keith Wenning is the returning starter at quarterback. Last year he went 247 of 449 for 2,786 yards with 19 touchdowns and 11 touchdowns. Last week against Eastern Michigan he was 26 of 41 for 267 yards with no touchdowns and no interceptions.
Running Back Ball State Preview
Jahwan Edwards was the big star for the Cardinals last week. The sophomore had 200 yards on 20 carries and three touchdowns. As a freshman he had 786 yards and 11 scores.
The Cardinals got over 100 yards from the combination of Horatio Banks and Barrington Scott last week. The backs combined for 55 carries for 329 yards and four touchdowns.
Wide Receivers
Jamill Smith is the leading receiver despite being 5-8 and 138 pounds. The junior had seven catches for 119 yards in the opener. Last season he had 40 receptions for 422 yards and three scores.
Connor Ryan had six receptions last week for 59 yards.
Offensive Line
Ball State starts the most experienced offensive line in the country. They have four returning starters who now have 120 career starts between the group.
Ball State Defense
Last week the Cardinals held Eastern Michigan to 366 total yards and 20 first downs. They allowed 186 yards through the air and 180 on the ground. Last season the Cardinals gave up 34.7 points per game and 510 yards a game including 226 on the ground and 284 through the air.
Defensive Line
Ball State has only one returning starter on the defensive line. Nathan Ollie is a 300-pound defensive tackle that had 42 tackles last season.
Linebackers
The Cardinals have two returning starters at linebacker in Tony Martin and Travis Freeman. Martin had 73 tackles last season while Freeman led the team with 134 stops.
Secondary
Both starting cornerbacks return as starters but both safeties are new. Jeffrey Garrett and Jason Pinkston had two picks a season ago.
Special Teams
Ball State has two seniors returning to handle the kicking duties this season. Steven Scott was 15 of 20 on his field goal attempts last season. Scott Kovanda averaged 43 yards per punt a season ago.
The Brad Hughes All-State Insurance Agency
Prayer List
We have started a prayer list on the blog. Here are the guidelines:
If you are offended by prayer or prayer lists then I apologize in advance. The blog is free and the prayer list will be on the bottom of the page so you don't have to read it.
If you would like to add someone to the list please email me at mickeyplyler@hotmail.com
*Please let me know when it is appropriate to take the person off of the prayer list.
Those who need our prayers include:Finn Brookover, Mary-Louise Pawlowski (John's daughter), Jo Ann Bachman, Kenneth Bryant, Pruitt Martin, Got igers and his family, David Rowland, Leonard, Gillespie and his family, Jim S, Daniel Rosborough, The Huffman family, Nancy Winkler, John Reeve, Ethel Southard, Vinnie Brock, Kaitlyn L, Susan Miller, Joyce Harley, Steve Proveaux, Jeffrey Greene, the Hutto family, Sherl Drawdy, Caleb Kennedy, Teresa O'Connor, Matt Jacobs,Perrin Seigler, Candee Massee, Lindsey Jordan, Sam Catoe, Tyler Felch, the Nicolopulos family, "the Jacksonville, FL guys", Kim Sims, the Coyle family, Ryleigh Tedder, Steve Lee, Kelly Trakas, Jimmy Moore, the Thomas. V Family, Emary Claire Young, Kitty Bowers,Julie Locke, the Scheider family, Lauren Kittles' family, Frank Gentry, Joyce Bussey, Stacey McKeown, Dale Childs, Larry Lentz, Jr, Carl Sharperson, Scott Hannon, William Perry, Tyler Swaney, Lillian, Mark Feit, David Frame, Chad Berry, the family of Matthew M. Watson, the Dowis family, Shervin Messer, Alan Putnam, the Olivers, Lee Tate, Ronnie Abrams, Eddie Greene, the Jackson family, Bill Vader, Jim Taylor, Tina DeWitt, Rock Horne, Christopher Tuten, Bobby Wayne Thomas, Emma and Danielle Carothers, Robert Ditty, Mr. and Mrs. Murray Smith, Dot Cartee, Ayden Mills, Millie Heatley, Lynn Martin and family, Michael Pinson, Jake David family, Angie Crowley, Ira, Mike Tolson, Poly Wells, Dr. Muriel Bishop, Jack Cunningham, Emily Jefford Meister, Zachary Stoller, Aaron Clackum, Pat James, Cortney Moore, William Moore, Angelia and Savannah Anderson, William Ross, Meredith Legg, Scott Johns, Frank Carroll, Brandon Thompson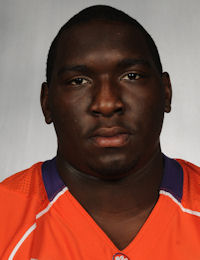 Brandon Thompson
Defensive Tackle
#98 6-2, 310
Thomasville, GA
View Full Profile , Alvin Sammons, Georgine McAlhaney, Glen Davis, Mike Price, Clay Childers, Aaron Knight, Danielle Johnston and family, Nicholas Abrams, Lana Kuykendall, Gary, Billy McLeroy, Gary G., William Huggins, Jim Bennett, Chantz Fowler, Ethel McElveen, Michele Gurganus, William Gentry, Lewis Usher and Tanya Sanders, Shon Cooper, Nick Collins, Travis Patterson, Nick Chrisley.