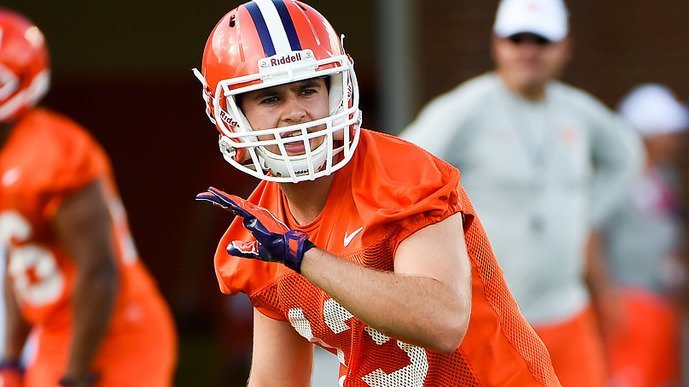 | | |
| --- | --- |
| Hunter Renfrow injury update | |
---
| | | |
| --- | --- | --- |
| Saturday, November 17, 2018, 8:13 PM | | |
Clemson veteran receiver Hunter Renfrow was injured in the second quarter against Duke on Saturday night.
Renfrow laid on the ground after trying to make a diving catch on the Duke sidelines. It appeared that he slammed his head into the ground very hard while almost coming up with the impressive catch.
Update 1: He is headed to the locker room with assistance from Danny Poole and the rest of the training staff.
Update 2: Renfrow will not return to the game per Clemson. Dabo Swinney to address the injury during postgame.
Update 3: Swinney said during his postgame press conference that Renfrow is currently being evaluated and didn't specify the injury whether or not it was a head issue. He said they will know more about the injury status tomorrow or the beginning of next week.
Update 4: Jeff Scott said the following during his postgame interview:
"He's under evaluation but we think he is okay. He was in the locker room after the game and I talked to him and he still knows what day he is getting married in April. Disappointed that he got hurt and wasn't able to come back but he broke two Clemson records today."
Update 5: On Sunday during the media teleconference, Swinney shared the following comment about the beloved former walk-on:
"He was good today. He will be evaluated daily."
Swinney said that he didn't know for sure if Renfrow had a concussion and that Danny Poole will re-evaluate him tomorrow.
Swinney says Renfrow was "out of it a little bit" after the hard hit to the ground but was trying to get up. Swinney joked that he tested him by asking his wedding date and he answered correctly.

— TigerNet.com (@ClemsonTigerNet) November 18, 2018
Swinney: Renfrow is being evaluated. Nothing specific (to update) but he was in the locker room and will evaluated tomorrow.

— TigerNet.com (@ClemsonTigerNet) November 18, 2018