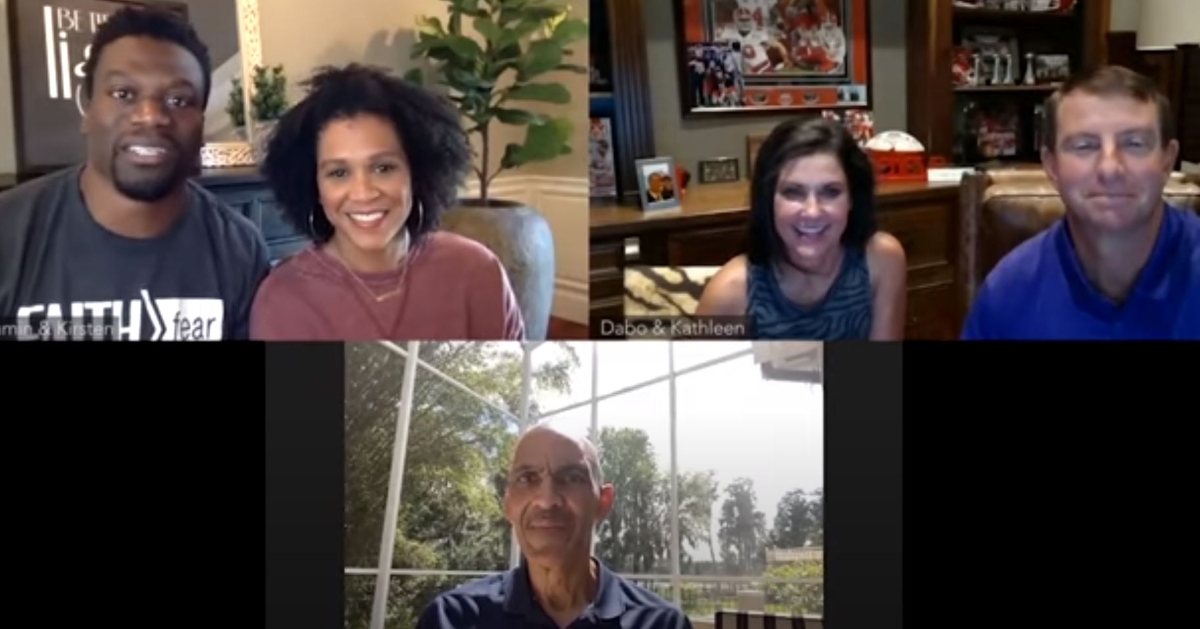 | | |
| --- | --- |
| WATCH: Swinneys, Tony Dungy talk faith, priorities in coaching | |
---
| | | |
| --- | --- | --- |
| Thursday, May 7, 2020, 2:06 PM | | |
Clemson coach Dabo Swinney and his wife Kathleen were on a video call with Tony Dungy and former NFL player Ben Watson and his wife Kirsten for the Fellowship of Christian Athletes Wednesday.
Swinney was asked about how he prioritizes his Christian faith and also family in how he operates as a coach, husband and father.
He also talked about how he feels it's his responsibility to advance to the faith of his players without making making anything mandatory about participating in church services and the like.
"I tell everybody, my job isn't to save them. My job is to win football games," he said. "I've come under fire many times by different organizations and stuff like that because of my faith. It's like they want me to shut that off and not be a Christian...
"We're a Christian in everything we do. I'm a football coach, yes, and people identify me with that. But I hope they see Christ in me as I do my job. I hope they see the light of Jesus through me as I do my job that God's called me to do. That's what we're supposed to do. My job's to not save them. I tell people, if I played the best Christians - we probably wouldn't have been in five Playoffs in a row or whatever - won a bunch of games. I get that.
"But I certainly hope when I meet my players at 30 -- when they're 35 -- that they will look back on that time, as they're a little more mature, if I get a young man at Clemson and he's strong in his faith and he leaves Clemson and I didn't help him get stronger -- shame on me...Ultimately, I will be held accountable for a much bigger scoreboard than in Death Valley."
Watch more below: