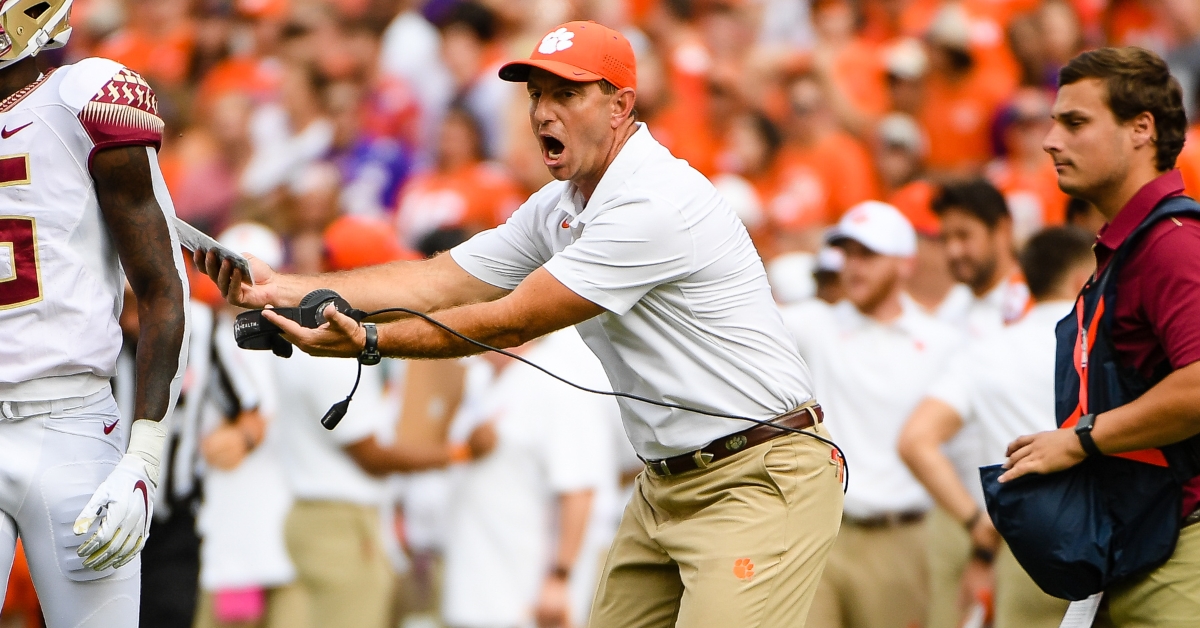 | | |
| --- | --- |
| Swinney on 'style points,' rankings: 'I'm not worried about that at all' | |
---
| | | |
| --- | --- | --- |
| Monday, October 14, 2019, 8:41 PM | | |
Clemson won 45-14 over the weekend but dropped from No. 2 to No. 3 in the Associated Press Top 25.
The Tigers have dropped two spots over the season despite maintaining an unbeaten run over the last 21 games. Talk of needing style points going forward to move up was brought up on Dabo Swinney's call-in show on Monday -- and the Tigers coach isn't having it.
"If it comes down to style points, we're going to have to be on the outside-looking in," Swinney said. "I'm not worried about that at all. I'm just worried about playing well. Playing to a standard. I do want to dominate the opponent but we're not out there to embarrass people and I'm not going to get a player hurt up 45-0 and really the game is over. I know some people may not like that but that's just the way it is. Our resume speaks for itself. We've beat them all to be quite honest with you."
Swinney says the program's resume speaks for itself.
"I don't know what else to say. People have said for years that we don't play anybody," Swinney said. "There is no different storyline this year than there has been for the last eight years. Since 2012, we've beat LSU, we've beat Georgia, we've beat Texas A&M twice, we've beat Auburn four times, We've beat Oklahoma twice, Ohio State, we've beaten Alabama twice, we've beaten Notre Dame twice. That's the same rhetoric that's been out there forever. Every year, apparently, we don't play anybody. People need to focus on who we are as a team and who we are as a program and all that stuff. I don't worry about that stuff one iota, No. 1. No. 2 ... you just watch here in two or three weeks -- there won't be many (undefeateds) left. It's not like you have great teams playing each other. There will be upsets. It's hard to win. It's hard to win.
"We just stay focused on what we're doing. We don't go in thinking, 'Oh, we better score 60 points or we might drop in the polls.' I could care less what a poll says. The only poll I care about is in December. We just want to find a way to win our games, somehow and some way and if people don't like us -- they don't like us. Nothing we can do about that."
Besides developing depth, Swinney is protecting his starters by taking them out of blowouts.
"Those same people who want me to leave Trevor (Lawrence) out there when it's 45-0 to try to score 60 will be the first to complain that he rolled his ankle and will miss three weeks," Swinney said. "Why'd you have them in there? I don't worry about that (style point) stuff at all. What I worry about is developing our team and having the right morale and the right culture. And winning games the right way, that's all I worry about. The rest of that stuff is just for people to talk about."
And the experience gained for backups as a philosophy is helping this current team.
"That's what we do -- we develop these guys," said Swinney. "It's huge for them to get out there. You take a guy like Joseph Charleston, Lannden Zanders and Jalyn Phillips -- they need some experience. We've got Denzel (Johnson) leaving, we've got Tanner (Muse) leaving, We've got K'Von (Wallace) leaving. We've got to -- that's what we've always done. Guess what? Everybody thinks we're not going to be good the next year. Well, we've got guys ready to go that we've got a little bit of experience. That experience that Xavier Thomas and K.J. (Henry) and Logan (Rudolph) and Justin Foster got last year was huge for where they are this year. It's just what we do. And we're just trying to win games."