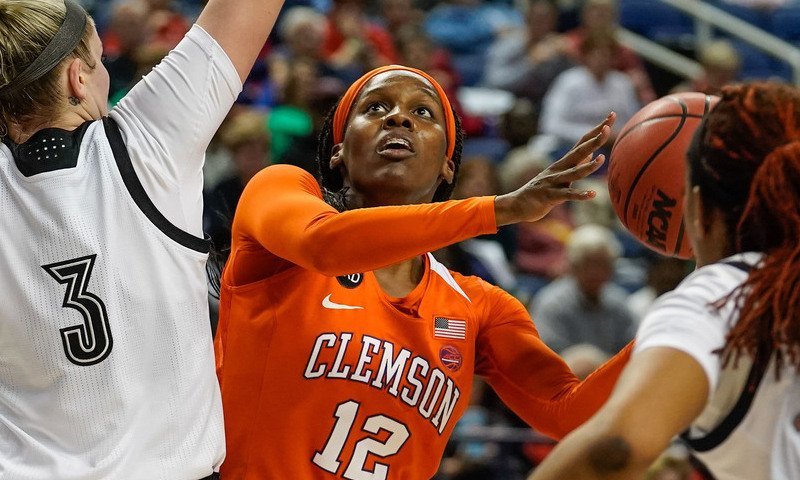 | | |
| --- | --- |
| No. 4 Bulldogs host Clemson women in NCAAs second round | |
---
| | | |
| --- | --- | --- |
| Saturday, March 23, 2019, 5:19 PM | | |
The Tigers (20-12, 9-7) are set to face the No. 4 Mississippi State Bulldogs (31-2, 15-1) in Starkville, Mississippi (Portland Regional) in the second round of the NCAA Tournament on Sunday.
The game is set to tipoff at 9 p.m. ET and will air on ESPN or on the ESPN app. Fans can also listen to William Qualkinbush and Kelly Gramlich with the radio call on ClemsonTigers.com.
Clemson is making its first Round of 32 appearance since 2001 after a 79-66 win over 8-seed South Dakota Friday.
The Tigers knocked down nine 3-pointers in the first round game against South Dakota, tying the program record for made threes in a NCAA Tournament game. Senior Danielle Edwards accounted for five of the nine threes, tying her career-high for made 3-pointers.
The Bulldogs are 31-2 on the season with their only losses coming to Oregon and Missouri. Both losses were single-digit defeats for the Bulldogs. Mississippi State rides a 9-game winning streak into Sunday's contest.
The Bulldogs boast the second-highest scoring offense in the nation, pouring in an average of 86.6 points per game. Outscoring its opponents by an average of 29.2 points per contest, Mississippi State leads the nation in scoring margin. On the defensive side of the ball, the team ranks second among NCAA Division I teams in rebounding margin (13.2) and eighth in the nation in blocked shots (177). Mississippi State's Teaira McCowan ranks in the top 10 in the nation in double-doubles (28-4th), field-goal percentage (65.4-4th), offensive rebounds per game (6.0-1st) and rebounds per game (13.6-2nd).
Come-from-behind victories have been a trend for Clemson this season. The win over South Dakota was the Tigers' sixth comeback win of the season and second in three games. Down four points at the half, Clemson's victory on Friday marked the largest comeback victory in program history in a NCAA Tournament game.
The Tigers are 15-15 overall in 30 NCAA Tournament games and are 4-9 in second round matchups.
Clemson senior Aliyah Collier is one rebound away from moving into the top 10 in career rebounds in Clemson program history.
Projected starting lineups
Clemson
No. Name Pos. Ht. Cl. PPG RPG APG BPG SPG
1 Destiny Thomas G 5-10 So. 2.4 2.1 1.1 0.1 0.7
5 Danielle Edwards G 5-7 Sr. 13.3 3.1 3.3 0.1 2.6
20 Simone Westbrook G 5-8 Gr. 13.9 3.9 3.6 0.2 2.8
44 Kobi Thornton F 6-2 Jr. 14.2 7.1 0.5 0.8 0.9
55 Tylar Bennett C 6-4 So. 4.7 6.2 0.6 1.8 0.8
Mississippi State
No. Name Pos. Ht. Cl. PPG RPG APG BPG SPG
2 Andra Espinoza-Hunter G 5-11 So. 8.8 1.2 0.7 0.1 0.5
5 Anriel Howard F 5-11 Gr. 16.4 8.3 1.4 0.4 1.1
10 Jazzmun Holmes G 5-8 Sr. 7.7 2.4 5.3 0.2 2.0
15 Teaira McCowan C 6-7 Sr. 17.9 13.6 0.9 2.3 0.9
24 Jordan Danberry G 5-8 Sr. 13.0 3.3 3.6 0.4 1.9