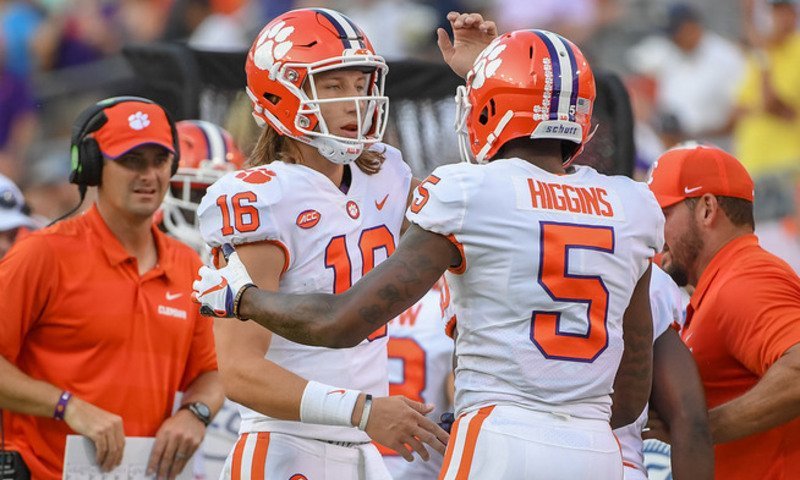 | | |
| --- | --- |
| ESPN analysts disagree on Lawrence effect on Clemson CFP chances | |
---
| | | |
| --- | --- | --- |
| Wednesday, October 17, 2018, 11:23 AM | | |
ESPN's Jesse Palmer is waiting for the other shoe to drop, so to speak, on No. 3 Clemson's undefeated campaign.
A true freshman in Trevor Lawrence leading the Tigers to a 13-0 run and a fourth-straight Playoff berth is hard to fathom for him.
"I still have a question about starting a true freshman at quarterback each and every week," Palmer said on ESPN's Top 25 Playoff show this week. "As good as Trevor Lawrence has looked and the arm talent and all the accolades he came into college with, I still believe true freshmen quarterbacks are one game away from just having a turnover fest and a meltdown. I think back to Clemson earlier this year playing games against Texas A&M or Syracuse and Trevor Lawrence struggled in those games against a good pass rush.
"There's still some games left on their schedule...where they have good defensive lines and good pass rushes that could affect Trevor Lawrence and maybe manifest itself into an upset loss. I'm not as sold that Clemson is the guaranteed breeze-through only because of this schedule."
ESPN's Playoff Predictor this week gave Clemson the best chance to make the Playoff, holding a two percent edge on Alabama (82 percent).
While Palmer sees Alabama with the best CFP chance, Kirk Herbstreit agreed with the metric and downplayed the freshman QB effect.
"I get it, but I think the true freshman thing is that no longer is an issue," Herbstreit said. "We saw Jalen Hurts and what he did as a true freshman - led Alabama to a national championship and came up a little short, saw Jake Fromm, saw Tua - these style of offenses most of these guys are playing a similar style, in (Lawrence's) case), when he was playing in high school for four years.
"While it's only natural to wait for that true freshman moment - and he could have it, I just think the game has evolved with these systems and it's just turnkey for a lot of these guys because it's a carry-on from where they were in high school."
Lawrence currently ranks sixth nationally in pass efficiency (174.2) and No. 1 in the ACC, also top-25 in completion percentage (12th; 69 percent) and yards per pass attempt (22nd; 8.68).
In terms of challenges, ESPN's David Pollack said this weekend's home matchup with NC State (3:30 p.m., ESPN) might be the toughest left on the Playoff path.
"I think (NC State) is the biggest challenge for Clemson the rest of the way because NC State can make Trevor Lawrence beat them through the air," said Pollack. "They're physical enough upfront. They're a good tackling defense. They're disciplined enough that this week - and for that purpose - Alabama is the team I expect to be the one that runs the table. I think Clemson has a few more challenges on its hands coming up that will take all they need."
Rounding out the panel discussion, Joey Galloway isn't sold that Alabama's schedule is challenging enough to produce a loss, while he is still wary that Clemson's could.
"I feel very confident Alabama will run their schedule. I don't see the LSU as much of a challenge as other people do," he said. "Because LSU has that same issue they have had for years and it's the ability to run the ball. I believe Alabam will exploit that. Schedule? Absolutely you're right. They have tougher teams on their schedule but they are a better team. Clemson, the path looks very easy for them, but we have seen Clemson in the past drop one of those games. Last year with Syracuse and this year it was almost Syracuse again.
"I think if I was just calculating numbers and crunching numbers, I would say Clemson also (as most likely undefeated), but with the way Alabama is playing, I'll go Alabama."