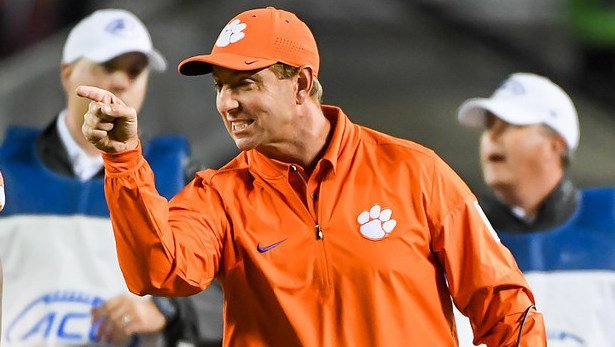 | | |
| --- | --- |
| Dabo on Finebaum: "Don't worry about criticism from people that you wouldn't seek advice from" | |
---
| | | |
| --- | --- | --- |
| Tuesday, December 3, 2019, 12:00 PM | | |
Can't we all just get along?
ESPN college football analyst Paul Finebaum didn't hold back during his Tuesday appearance on ESPN's 'Get Up' as he directed a tirade responding to Dabo Swinney's national respect comments.
"I think Dabo Swinney is the most annoying winner in all of sports," Finebaum said. "The guy can't keep his trap shut. Someone just give him a pacifier, send him to timeout, and we will check in on him on Dec. 28 when he finally plays a legitimate team during this entire college football season."
Swinney was asked about those salacious comments by Finebaum during his Tuesday press conference, and he had the following response.
"I like Paul (Finebaum)," Swinney said. "Paul is great at what he does. I'm not going to dislike somebody because he's great at his job. You know a lot of people don't like me because I'm good at my job, or because I wear this logo (Tigerpaw)."
Swinney is not going to take things personally regarding Finebaum or other media types.
"They don't know me as a person," he said. "They just don't like me because I'm passionate about doing a good job. He works for the SEC. Let's get Eric Mac Lain and put him on the shows every day. That's what he does. That's his job. I would never be upset at a person because he does a great job. Paul Finebaum is great at what he does."
Swinney understands that Finebaum has a job to do and that is to push certain narratives.
"What does he do," Swinney said. "Which way do we need to go, well, go back that way (storylines). He's great at that. That's what he does. He creates great conversation and creates drama so I would never be upset if somebody does an awesome job at what they do. Again, I've said it before we are the Red Sox, he's the Yankees. You're not gonna have the Yankees guy stand up talk great things about the Red Sox. That's not what he's paid to do. So I think he does a wonderful job."
Swinney then goes full mic-drop status with the following sage wisdom.
"But at the end of the day, I don't know what he said and don't really care but I learned, one of the best lessons I've learned is that you don't worry about criticism from people that you wouldn't seek advice from."