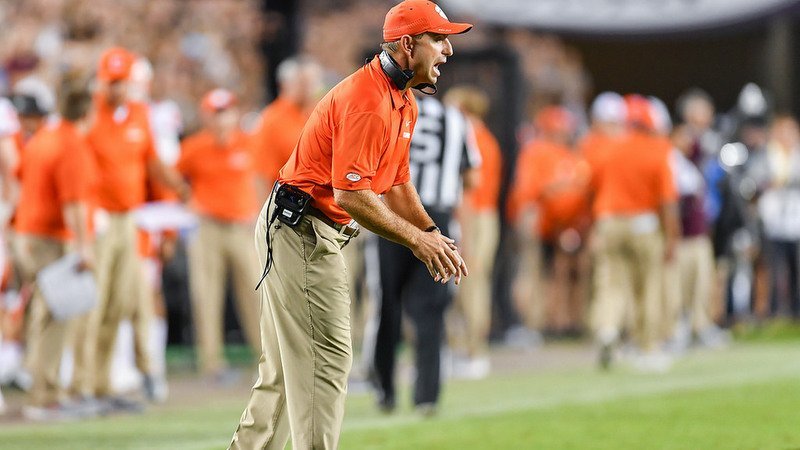 | | |
| --- | --- |
| Dabo Swinney midweek teleconference transcript | |
---
| | | |
| --- | --- | --- |
| Wednesday, November 7, 2018, 1:05 PM | | |
Clemson coach Dabo Swinney made his regular appearance on the ACC coaches teleconference on Wednesday in the lead up to the top-20 division-deciding game at Boston College Saturday (8 p.m./ABC).
Swinney talks about the position group he's learned the most about, breaks down the weekend ahead and more.
Swinney Wednesday transcript:
DABO SWINNEY: For us, we're excited about our last road trip for the season. This is it for us. Last true road game for our seniors. This has really been a special group of seniors that we've had in our program for the last several years. Kind of the end of the road, if you will, from a road game standpoint.
Not just any game either, an opportunity to compete for our division, opportunity to stay in control of our destiny. There's so many great things to compete for in this game. It's Game Day, so there will be a lot of excitement. 8:00 game.
Man, we got a huge challenge in Boston College. Really impressed with their team. They've gotten better and better as the year has gone. Tough, physical, well-coached team on both sides of the ball. Do a great job in special teams.
No doubt, this will be a great game. I think two teams that have a lot of pride in what they do and how they do it. Only one team can win. Excited about this challenge.
Q. Before the season, was there an area of your team you were most curious about that you've now gotten answers on?
DABO SWINNEY: Quarterback. I mean, I think for sure, you know, coming into the season we knew we had a very competitive battle, kind of how was that going to all play out. I think that's for sure the one.
Q. You obviously had a lot of guys back, especially areas like the defensive line. Have you guys been able to do more with them or just do the same things that have made you successful for many years?
DABO SWINNEY: I think you definitely can do more with a veteran player just because they just know more. They're so much more experienced. Like anything, the more experience you get in something, the more comfortable you get, the more you can handle, more you can do and process.
But you're only as good as your weakest link. Fortunately for us defensively we have a very veteran group. All those guys on defense have all got good experience coming into the year. We've been able to do a lot with them.
Q. Obviously you haven't had a close game in a while since the Syracuse game. What have you been doing in practice to make sure your team keeps that edge in case you have a four-quarter battle on your hands this week?
DABO SWINNEY: Well, we do a lot of good on good in practice. We compete. Even on Mondays, we do a little bit of good on good. On Tuesdays and Wednesdays with pads on, we keep a pretty sharp edge because the competition on our practice field is pretty tough.
But we go into every game expecting a four-quarter battle. That's just our mindset. We don't go into any games thinking anything different. We respect every opponent, prepare the same every week. I think that's the biggest thing. We try to prepare the same every week, prepare our team for a four-quarter battle.
If the game goes different, then you respond in the course of the game. But I think every week our guys have that mindset.
Q. What are you most satisfied with your run defense as you get ready for the Boston College running game?
DABO SWINNEY: Well, we lead the country right now I think in yards-per-carry defense. I think we're only giving up two point something a carry. They've been very consistent. We've done a good job up front. That's the main thing: just consistency in their performance from start to finish.
We're going to need that. We're going to need to be who we are Saturday night. These guys know how to run the football. That is for sure. We've been challenged with many different styles of play, whether it be triple option, spread, you name it. This is another style of play that's going to be a big challenge for us.
Q. With Christian Wilkins making his last trip to Massachusetts as a college player, how has he evolved as a player, how important is he to that success especially against the run?
DABO SWINNEY: He's a huge factor in our success over the last four years, and certainly specifically against the run. I mean, he's a great, great defensive lineman. He's one of those rare guys that was an impactful player as a freshman. I mean, really came in here and made a huge difference for us.
As he's matured, his body has changed, just his physicality, his strength, his recognition, the speed he plays with because of his knowledge, his confidence, his leadership. All those areas, he's just grown and grown and grown. He's a special young person, dynamic leader, a guy we're definitely going to miss.
Q. You mentioned his maturity. Has that come a decent amount off the field?
DABO SWINNEY: Oh, yeah. He's one of those guys, too, that really was kind of a leader the day he got here. Just very natural to him. He was a kid that was at a boarding school since the ninth grade, so he's very independent.
I remember the first time I met him in the recruiting process, I came away, Wow, this is a really neat kid here. That's kind of who he is.
He's one of those guys that's so engaged in so many different things, he's so much more than a football player. He's just dynamic, incredibly engaged in the community, seeks out opportunities to serve others. Just really proud of him. He's definitely one of the best leaders we have.
Q. Do you have an example of that, what he's done with the community?
DABO SWINNEY: This past spring he went and served as a substitute teacher. That's the first player I've ever had go do that that didn't have to do it. He's always serving his teammates. He does things that people don't see. He does some community service. He always stops and speaks to people, all kind of different ways.
Q. Talk about last week, you as a father watching your son score a touchdown in college football. What was the feeling like?
DABO SWINNEY: It was awesome. I mean, Will has grown up on the sideline here. When I moved here, he was four. Drew was three. Clay, my baby, was born here. They've literally truly grown up on this sideline.
I got the job, I think, as the head coach, I believe Will was nine or ten years old. They've always been on the sideline. I've always given them little jobs to do. To now see one of my babies out there, first of all lets me know I'm getting older, but it's really cool to see anybody achieve a dream, but especially one of your children.
I know how hard he's worked, how committed he is. It was awesome. It was great as a coach, and certainly great as a dad, especially to see his teammates so happy for him.