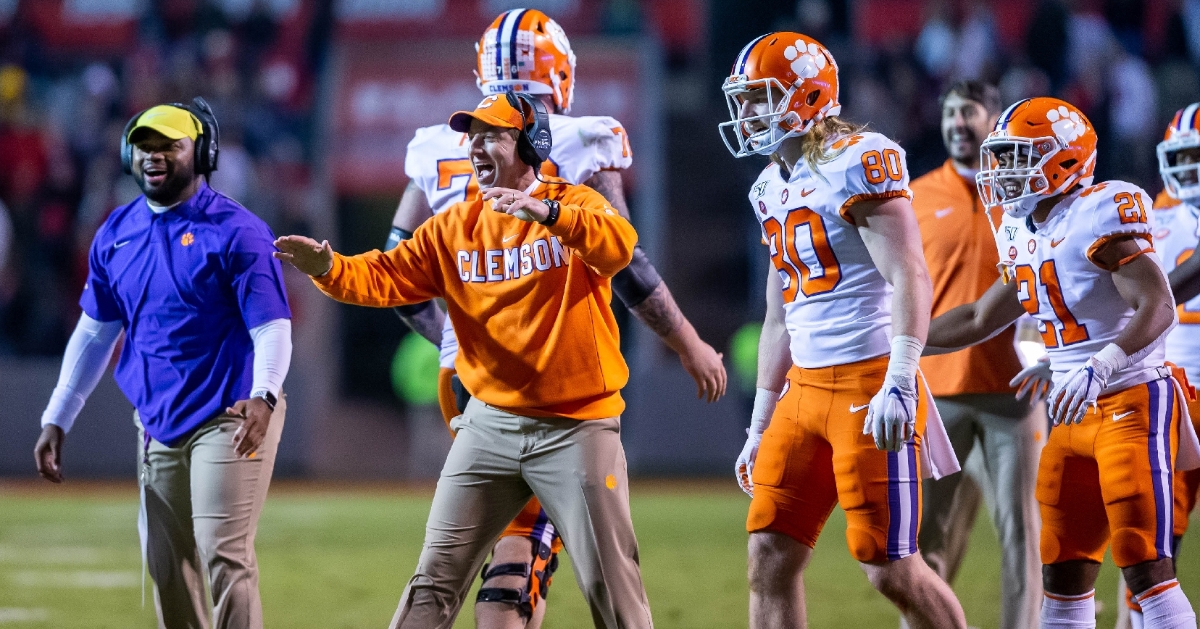 | | |
| --- | --- |
| Clemson wins second-straight AFCA academic achievement award | |
---
| | | |
| --- | --- | --- |
| Thursday, November 14, 2019, 2:14 PM | | |
WACO, TEX. — The Air Force Academy, University of Alabama, Clemson University, University of Louisville, Rice University and the University of Utah will share the American Football Coaches Asso­­ciation's 2019 Aca­demic Achieve­ment Award, which is presented by the Touchdown Club of Memphis.
Clemson football has earned the honor in back-to-back seasons now.
All six schools recorded a perfect 1,000 for their single-year Academic Progress Rate (APR) for 2017-18. This is first honor for Air Force and Louisville, the second honor for Alabama, Clemson and Utah and the third honor for Rice. The award will be presented to the head coach at each institution during the Honors Luncheon on Monday, January 13, at the 2020 AFCA Convention in Nashville, Tennessee.
This is the second year that the NCAA's single-year APR has been used to select a winner. The APR holds institutions accountable for the academic progress of their student-athletes through a team-based metric that accounts for the eligibility and retention of each student-athlete for each academic term.
The APR is calculated as follows:
Each student-athlete receiving athletically related financial aid earns one point for staying in school and one point for being academically eligible. A team's total points are divided by points possible and then multiplied by 1,000 to equal the team's Academic Progress Rate.
From 1981 to 2007, the award was presented based on a formula used by the College Football Association and the AFCA. From 2008 to 2017, the AFCA used the NCAA's Graduation Success Rate to select a winner.
The Academic Achievement Award was established by the College Football Association in 1981. The award recognized the CFA-member Football Bowl Subdivision institution with the highest graduation rate among members of its football team. When the CFA disbanded in 1997, the AFCA stepped in to present the award.
Past Academic Achievement Award Winners
1981: Duke*
1982: Notre Dame*
1983: Notre Dame*
1984: Duke & Notre Dame*
1985: Virginia*
1986: Virginia*
1987: Duke*
1988: Notre Dame*
1989: Kentucky*
1990: Duke*
1991: Notre Dame*
1992: Boston College & TCU*
1993: Duke*
1994: Duke*
1995: Boston College, Duke & Wake Forest*
1996:? Boston College, Duke & Vanderbilt*
1997: Duke*
1998: Northwestern
1999: Duke
2000: Syracuse
2001: Notre Dame & Vanderbilt
2002: Northwestern
2003: Duke
2004: Boston College & Northwestern
2005: Duke & Northwestern
2006: SMU
2007: Northwestern & Notre Dame
2008: Vanderbilt
2009: Notre Dame & Miami (Fla.)
2010: Northwestern & Rice
2011: Boise State & Miami (Ohio)
2012: Northwestern & Stanford
2013: Georgia, Rice, Stanford & Tulane
2014: Duke, Northwestern, Notre Dame & Stanford
2015: Duke & Vanderbilt
2016: Miami (Fla.), Northwestern & Stanford
2017: Alabama, Cincinnati, Middle Tennessee State, Northwestern, Utah, Utah State & Virginia
2018: Clemson, Kansas State, Nevada, Oklahoma State & Pittsburgh
Most Awards: Duke, 14; Northwestern, 10; Notre Dame, 9; Boston College, 4; Stanford, 4; Vanderbilt, 4; Rice, 3; Virginia, 3; Alabama, 2; Clemson, 2; Miami (Fla.), 2; Utah, 2.