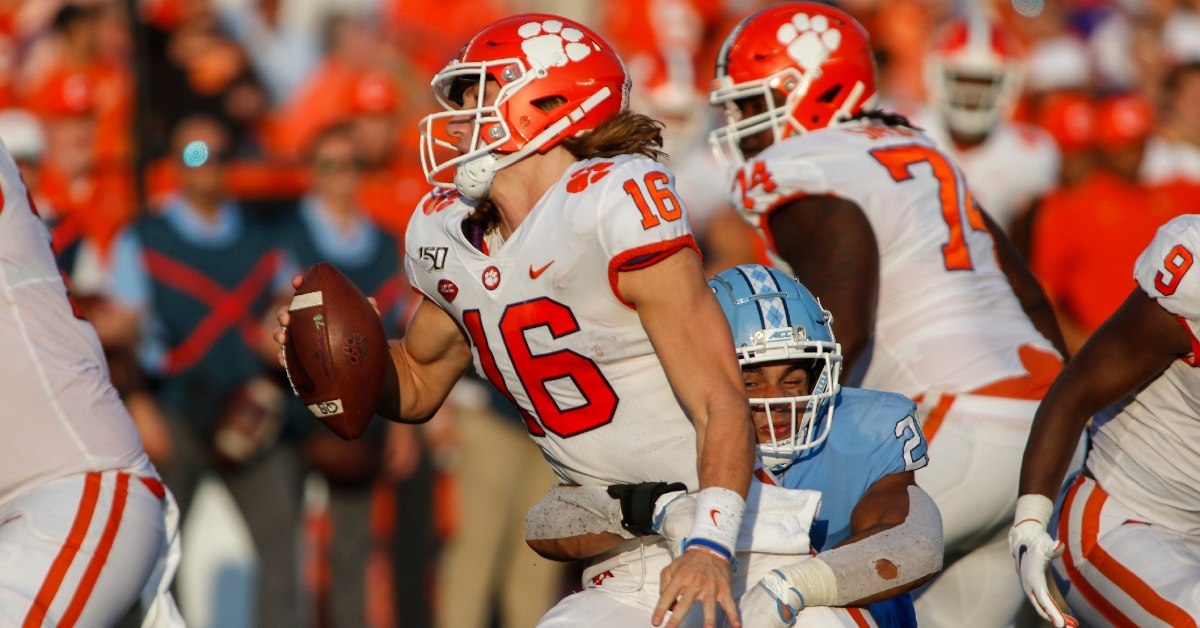 | | |
| --- | --- |
| Clemson not in first Playoff ranking top-4 | |
---
| | | |
| --- | --- | --- |
| Tuesday, November 5, 2019, 10:34 PM | | |
Clemson isn't a part of the College Football Playoff committee's top-four for the first time since 2014.
Dabo Swinney's Tigers checked in at No. 5 in the initial CFP ranking, behind Ohio State then LSU, Alabama and Penn State.
Only one team ranked outside the top-5 in the first CFP ranking has gone on to win the national championship (Ohio State in 2014, No. 16).
According to ESPN, despite a No. 3 ranking in their Football Power Index — Clemson has the eighth-best strength of record and a sixth-best mark in their 'game control' metric. That ranked behind other prominent Playoff contenders in Ohio State (No. 3 strength of record/No. 1 game control), LSU (No. 1 SOR/No. 5 GC), Alabama (No. 4 SOR/No. 2 GC) and Penn State (No. 2 SOR/No. 3 GC). Sagarin rates Clemson with the worst schedule of that group (64th) with one top-30 win and most comparable to Alabama (59th; same top-30 win over Texas A&M, on the road).
"Penn State and Clemson specifically are two outstanding teams," CFP committee chair Rob Mullens said on ESPN. "You guys already referenced the close game against UNC with Clemson. When you look at Penn State's resume with wins over Michigan and at Iowa -- those are marquee wins...Penn State has been very consistent. I think they have held seven of their eight opponents to 13 points or less.
"Clemson is coming on and playing their best football but after week 10 the committee felt Penn State was a notch above."
It is a piece of it. When you are comparing resumes you look at every single game and that was a game. Equally for Penn State winning against a ranked Michigan and a ranked Iowa were key wins as well.
The Tigers were No. 3 in the Coaches Poll and No. 4 in the Associated Press poll this week after starting as the preseason No. 1 in each back in August.
ESPN's FiveThirtyEight gave Clemson the best chance to make the Playoff going into the first CFP rankings (83 percent), followed by Ohio State (63), Alabama (52), LSU (40), Oregon (34) and Oklahoma (28). The site's 'Playoff Predictor' had the numbers with Ohio State leading (85), then Clemson (74), Alabama (72), LSU (56), Penn State (51) and Oregon (25). The Tigers are given a Power 5 conference-leading 78 percent shot to win out, ahead of Ohio State (57.4), Oregon (50.1) and Oklahoma (34) among contenders.
No. 2 LSU heads to No. 3 Alabama this weekend, while No. 4 Penn State goes to No. 17 Minnesota.
Clemson was ranked in the top-four of the previous four debut Playoff rankings (No. 1 in 2015; No. 2 in 2016; No. 4 in 2017; No. 2 in 2018). Clemson has gone on to complete the CFP rankings at No. 1 twice (2015, 2017) and No. 2 twice (2016, 2018). Three teams each from the last two debut CFP top-four rankings made the final Playoff, with Clemson, Alabama and Notre Dame doing so last year and Oklahoma moving in from a No. 7 ranking.
Clemson has spent the second-most weeks in the CFP top-5 rankings all-time (25), only trailing Alabama (31) since its 2014 inception. Clemson, Alabama and Ohio State are the only three teams to be in each of the 32 CFP Top 25 rankings.
This year's CFP committee is Oregon AD Rob Mullens (Committee chair), Oklahoma AD Joe Castiglione, former Virginia Tech coach Frank Beamer, former sportswriter Paola Boivin, former coach Ken Hatfield, Robert Morris president Chris Howard, Arkansas State athletic director Terry Mohajir, former USC All-American DB Ronnie Lott, Georgia Tech AD Todd Stansbury, former Texas A&M coach R.C. Slocum, former U.S. Army Chief of Staff Ray Odierno, Iowa AD Gary Barta and Florida AD Scott Stricklin.
This year's CFP semifinals will be played on Dec. 28 with times TBA in the Fiesta (Glendale, Az.) and Peach (Atlanta, Ga.) bowls. The National Championship will be held in New Orleans, Louisiana. on Jan. 13.
CFP Top 25 - 11/5
1. Ohio State
2. LSU
3. Alabama
4. Penn State
5. Clemson
6. Georgia
7. Oregon
8. Utah
9. Oklahoma
10. Florida
11. Auburn
12. Baylor
13. Wisconsin
14. Michigan
15. Notre Dame
16. Kansas State
17. Minnesota
18. Iowa
19. Wake Forest
20. Cincinnati
21. Memphis
22. Boise State
23. Oklahoma State
24. Navy
25. SMU