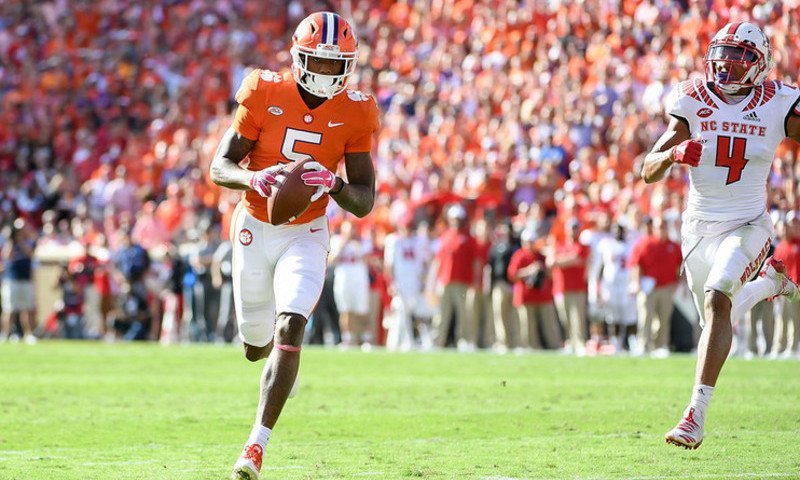 | | |
| --- | --- |
| Big win brings another leap in Playoff, ACC odds | |
---
| | | |
| --- | --- | --- |
| Sunday, October 21, 2018, 10:19 AM | | |
Another week, another big step toward another Playoff berth for Clemson.
Saturday's dominating 41-7 win over NC State improved the Tigers' CFP odds by 15 percent in the ESPN FiveThirtyEight Playoff metric, leading all of college football (79 percent).
That figure is boosted with Clemson's conference championship odds, now at 80 percent, which is 24 percent higher than any other Power 5 conference favorite (Alabama next, 56). Dabo Swinney's Tigers are given a 12 percent better shot than the nearest team to win out (52).
Notre Dame, which was off this week, completes the trio of heavy CFP favorites at this point (53 percent). They are followed by no team given more than a 31 percent shot (Oklahoma) but four more teams with at least a 19 percent chance (Michigan - 25; Ohio State - 21; Georgia - 20; LSU - 19).
The ESPN Playoff predictor increased its Clemson CFP odds to 89 percent, followed by Alabama (85), Notre Dame (66) and Michigan (41).
ESPN's Playoff panel has a consensus group of Alabama and Clemson at the top and LSU and Notre Dame in the other two spots.
The first College Football Playoff ranking is coming up on Oct. 30.
As expected coming up in the polls Sunday, Clemson moved to a consensus No. 2 for ESPN analysts Kirk Herbstreit, Jesse Palmer and Joey Galloway.
"We know about the defense," Palmer said on College Football Final. "The NC State game was interesting because NC State plays good run 'D.' It wasn't easy for Clemson to get the run game going but I was impressed with the true freshman Trevor Lawrence getting it going and what he was able to do when they needed him to throw it. They're now going to face a Florida State with a very good pass rush.
"A much improved Florida State team next versus what we saw earlier this year. That will be interesting to watch."
As referenced, Clemson (7-0) will now travel to Florida State (4-3), for a rare noon matchup there on ABC.
CFB analyst rankings
Palmer: 1. Alabama 2. Clemson 3. Notre Dame 4. LSU 5. Michigan
Galloway: 1. Alabama 2. Clemson 3. Notre Dame 4. Texas 5. Michigan
Herbstreit top-5: 1. Alabama 2. Clemson 3. LSU 4. Notre Dame 5. Michigan
Some movement in the top four of the #DKtop8 ...college football never disappoints!!

1. Bama
2. Clemson
3. Notre Dame
4. Michigan
5. LSU
6. UCF
7. Texas
8. Washington St

— Danny Kanell (@dannykanell) October 21, 2018
The top 4 after yesterday has changed just a tad!! College football at its finest...more movement to come over the next few weeks:

1. Bama
2. Clemson
3. Notre Dame
4. LSU
5. Michigan
6. Texas

— DjShockley (@DjShockley3) October 21, 2018
Top-7 based on who I'd least like to face tomorrow:

1 Alabama
2 Clemson
3 LSU
4 Michigan
5 Oklahoma
6 Notre Dame
7 Washington State

— Matt Schick (@ESPN_Schick) October 21, 2018
All this focus on how unbeatable Bama is and Clemson has gone totally unnoticed. Perfect spot for Dabo and the Tigers.

— Danny Kanell (@dannykanell) October 20, 2018