| | |
| --- | --- |
| Tommy Bowden says Clemson's defense holds the key to beating Georgia | |
---
| | |
| --- | --- |
| Wednesday, August 27, 2014 2:06 PM | |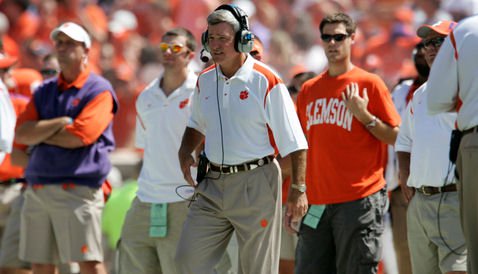 The strength of the 2014 Clemson football team figures to be an emerging and veteran defense that many feel will be one of the nation's best, but former head coach Tommy Bowden

Tommy Bowden
Head Coach
View Full Profile wants to see the defense play well against a team equal in talent before he jumps on the bandwagon.
With that in mind, Bowden said it will be imperative that Clemson's defense plays well when the Tigers open the season in Athens against Georgia. TigerNet spoke with Bowden Tuesday morning, and he said that he thinks Clemson's offense will score points.
His biggest question mark is how will Clemson's defense hold up against a quality opponent?
While defensive coordinator Brent Venables

Brent Venables
Def. Coordinator / Linebackers
View Full Profile ' group improved throughout the 2013 season, Bowden said that in games where the Tigers faced opponents with similar talent levels, the defense gave up too many yards and points.
"I think the biggest thing will be defensively how they perform," Bowden told TigerNet in an exclusive interview. "I think it will be pretty good on offense. If you look at Clemson's defense, I know that's the strength of their team on paper, but in the marquee games - Ohio St., South Carolina, Florida St., Georgia - teams with with comparable talent I think they are giving up 45 points and 450 yards."
In last year's opener against Georgia, running back Todd Gurley had himself a day – or a half – before getting injured. Gurley rushed for 154 yards on 12 carries; however that stat is slightly skewed because 75 yards came one play.
Against Florida St., the defense gave up 565 total yards, while Ohio St. racked up 427 yards of total offense. The Tigers actually gave up just 318 total yards to South Carolina as the defense held the Gamecocks' vaunted rushing attack to just 2.8 yards per carry.
Against Georgia, however, Bowden thinks the defense will hold the key to a win on the road.
"I think the key will be how well Clemson's defense plays in this game," Bowden said. "I think Chad Morris

Chad Morris
Offensive Coordinator / QBs
View Full Profile ' offensive system will score points and move the football. I think the biggest thing is can the defense in a marquee game rise to the occasion and put the skids on Georgia's offense."
Bowden said a big factor is last year's game was that it was at Death Valley, giving Clemson a marked advantage over Georgia, but the tables will turn this year as the Tigers travel to Athens. The Bulldogs will also have a little extra incentive,
"They can (win), but doing it is a different thing. Georgia had 545 yards and 35 points last year," Bowden said. "Clemson has eight starters back but that's the same eight starters that played in that game, plus they're playing at Georgia. I think it will be a close game. I think there will be a lot of offense. Last year Clemson had Sammy Watkins

Sammy Watkins
Wide Receiver (2011 - 2013)
#2 6-1, 205
Fort Myers, FL
View Full Profile and Tajh Boyd

Tajh Boyd
Quarterback (2009 - 2013)
#10 6-1, 225
Hampton, VA
View Full Profile and home field advantage and won by three. This year, they're playing at Georgia. Both teams lose their quarterbacks, but Todd Gurley - Georgia's Sammy Watkins - returns. I think it looks to be a slim - based on those statistics - Georgia advantage."
Bowden said winning on the road is hard at any time, but playing a team like Georgia with the history in the series makes it even harder.
"They are well-coached and have good players. Any arena that you go into that has well-coached and good players is going to be hard," he said. "That particular game, there's a lot of history to it, more so than the players. When I played Georgia we hadn't played them in a long time, so the players didn't get a feel of the sense of urgency in the game as much as the fans did. There's so much great history that goes back through the years.
"I think it's a lot more exciting for the fans than the players. It will be exciting for the players this year because Clemson won last year and Georgia will be a little more excited about getting them back. I lost two to Georgia and now that Clemson has beaten them, it will create more excitement for the players. I think the most of the excitement from the fans and for the game that you'll feel this Saturday comes from the history of the game."