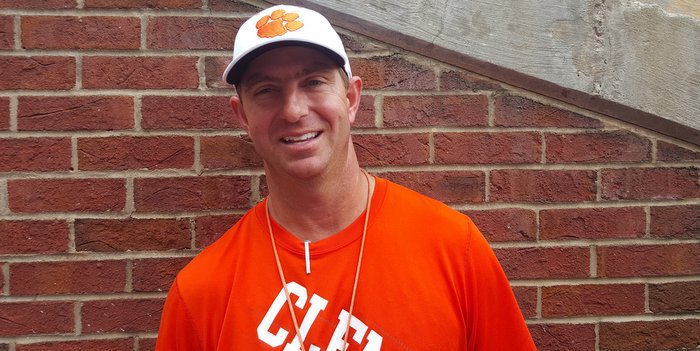 | | |
| --- | --- |
| Thursday update: Why is this man so happy? | |
---
| | | |
| --- | --- | --- |
| Thursday, March 31, 2016, 7:13 AM | | |
CLEMSON – There haven't been many instances this spring when we've seen Clemson head coach Dabo Swinney displeased with what he's seen on the field, and Wednesday's scrimmage inside of Death Valley was no exception.
The Tigers scrimmaged for two hours in Memorial Stadium Wednesday afternoon, and other than a few breakdowns on defense and a turnover issue from a young player Swinney was happy with what he saw.
"Scrimmage two, I thought, was a little bit better than scrimmage one. Still not ready to play, but I feel good about what we've been able to expose them to this spring to this point and the competition we're creating at a lot of places," Swinney said. "Long personnel day today from a staff standpoint — just our evaluation of where we are at this point individually, collectively as a team, special teams, everything. A lot of good information this morning for me, the coaches and then feedback for our players as we challenge them to finish strong this spring and then to go into the summer and improve in areas where they need to improve."
In typical scrimmage fashion, Swinney said he saw a little bit of everything.
"Good and bad on both sides, like pretty much every scrimmage. Did some really good things defensively," he said. "We gave up a couple of big plays, but we held them and created some turnovers, which was really good to see. I thought Jadar (Johnson) had a really good day. I'm really pleased with Jadar and the spring that he's had. He caused a big turnover in the red zone.
"But the flip side of it, the offense did a great job in two-minute, did a great job on the goal line and I thought did a nice job in the red-zone area, so there was good and bad both sides. Continuing to rep three groups. Did a lot of special teams today — kickoff coverage, kickoff return, punt. But I thought it was a good day."
Swinney was especially pleased with how the Tigers ran the football.
"We ran the ball well. Wayne Gallman broke off a couple long runs. (C.J. Fuller) had some runs. I thought Tyshon (Dye) might've had his best day today. I thought he made a couple really good strong, tough runs. Tyshon just has to be who he is," Swinney said. "Don't worry about trying to be Wayne because he's got to stay within his skillset and his game, and I thought he did that today. I thought he made some nice plays and finished a couple runs like I like to see him do. Adam Choice had a couple of great runs. I thought the backs caught the ball well when we threw it to them. Just a lot of good things. Trevion (Thompson) made another big play. I think he's really improved."
The disappointment came in the form of sophomore receiver Ray-Ray McCloud.
"Really disappointed in Ray-Ray (McCloud) as far as how he started the scrimmage, just not quite having the intensity that you have to have," Swinney said. "When you don't have your motor running, you're a little nonchalant and you make mistakes. He put the ball on the ground a couple times. Made a couple great plays, then the ball's on the ground, but he showed a lot of mental toughness, and he showed why he was one of the best players in the country with some of the plays that he made down the stretch. It's just becoming consistent.
"We know he can be really special, but it's just him having his motor running every play like it needs to. I think that's just maturity on his part and understanding what it's going to take to be great. It's not going to just happen at this level. You have to go make it happen. It's just all part of the process of him learning what it is going to take. Sometimes you have to fail a little bit to be motivated the right way. I was proud of how he finished and how he responded."
Defensively, linebacker Kendall Joseph continues to state his case as the starting middle linebacker.
"Lot of good things going on both sides. Kendall Joseph has been just tremendous," Swinney said. "Very steady. Very pleased with what I see in the secondary. When it's all said and done, we'll have a football team that's going to be a tough out. We're not there right now. Right now we're probably a 60-40, 70-30 type of team, meaning 60-70 percent, pretty good, and 30-40 percent, not so good. So, we're just not as consistent as we need to be, but part of it is repping three groups and the continuity of practicing every day and things like that. But I'm not displeased at all. I think we're a work in progress, and we're making progress, and if we'll continue to do that we're going to be OK."
Backup quarterback Kelly Bryant – battling Nick Schuessler for the second spot on the depth chart behind Deshaun Watson – impressed in the running game.
"I want to see the tape, but I thought he did some good things. The biggest thing today was I thought he made a lot of plays with his legs," Swinney said of Bryant. "Made a couple nice throws, but he showed a better presence in managing the pocket today. That's one of his gifts. He is dangerous, and I thought that he instinctively made a couple nice plays today. I thought he got off to a really good start to spring practice and regressed a little bit, and good to see him the last couple days kind of bounce back a little bit. Hopefully he'll finish strong."