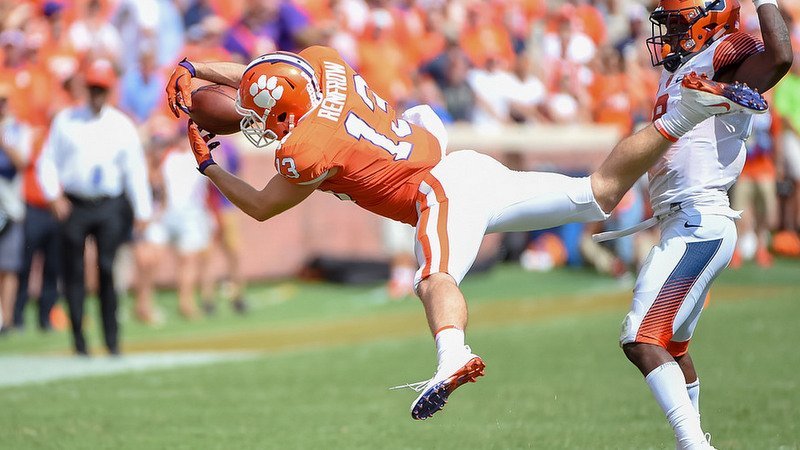 | | |
| --- | --- |
| The legend of Hunter Renfrow grows as he adds depth at quarterback | |
---
CLEMSON – The legend of Hunter Renfrow continues to grow.
The Tigers' senior wide receiver is known for his clutch and sometimes acrobatic catches, but the former walk-on serves many roles on the Clemson football team. Renfrow can play in the secondary if needed, is there if a punter is required, and will be ready if the Tigers need another quarterback.
As one Twitter user put it last week after his catch against Syracuse – Hunter. Freaking. Renfrow.
With Clemson's quarterback situation in flux – it's not known if Trevor Lawrence will be back next week – Renfrow is prepared to step in as a signal caller if something happens to Chase Brice.
"Trevor, we're fully expecting everything to be okay in him, be back soon," co-offensive Jeff Scott said Monday. "So, it's getting those guys ready, and even though those guys haven't played a whole lot, we've got confidence in those guys. For us, it's really getting Ben Batson and Hunter Renfrow in a position where they can go and at least manage the game and induce some things offensively if we got in that type of situation."
Ben Batson has been making his way back from injury but maybe isn't quite ready for game action, hastening Renfrow's learning curve at quarterback.
"I think Ben has come along. I think he hurt his finger a couple of weeks ago and so I think this past week is the first week he's been able to really be full speed and throw the ball and do all those types of things," Scott said. He's just a true freshman, just getting here, didn't have the spring like Trevor and obviously didn't have a year like Chase did. For us, right now where we are we're kind of preparing both of those guys and we'll evaluate them as practice goes with Ben and with Hunter. Obviously, Ben's been fulltime quarterback and he's been in all those meetings and understands a little bit of it, as far as how everything operates, the calls, protections, all that type of stuff."
Renfrow makes sense because he understands the system and played quarterback at Socastee High School.
"Fortunately for me, he has a great understanding of what we're doing from a wide receiver perspective so he can spend more time in the quarterback meetings, learning some of those calls," Scott said. "But I think for us, we're going to evaluate both of those guys. They'll get some opportunities in practice with the team, live reps and all those types of things, kind of see where we are and then it also may be a situation depending on how the game's going, what we need to do in the game. But we haven't made a firm decision on that yet. I think that's gonna be something we'll watch this week. Renfrow throws a good ball - I call him Banks McFadden. He's just kind of that old-school guy."
Renfrow's ability to help out anywhere led to an amusing misunderstanding last Monday.
"Here's the funny thing – I went up to him and in pre-practice on Monday, and Coach Swinney had made the announcement that Mark (Fields) wasn't going to be playing," Scott said." And so I went up to Renfrow and the music's playing, and it's loud. I just said, hey, you know, if we need you, will you be ready? And he said, 'Yeah, I'll just play outside leverage.' And I said, 'What are you talking about?' You know, he said, corner. I said, 'No quarterback.' He's like, okay. I mean that's just who he is. He's like, I can go play wherever, so we kind of got a good laugh out of that. That's just who he is. He has that feeling, you know, he can punt, he can punt return, he can play wideout and play quarterback. He could go over on defense.
He throws it well, and that's all he played until he got here. He played quarterback in high school. He didn't play one snap of wide receiver in his entire high school career. So he likes the opportunity and the challenge. It's going to help him down the road. He's going to have a chance at the next level of playing wide receiver, and to get that experience of really being in that quarterback meeting room and listening about how guys go through their progressions and defenses and all that. I mean, he's just a sponge. He wants to learn as much as he can. So I think it's a win-win for him to get that opportunity."

Upgrade Your Account
Unlock premium boards and exclusive features (e.g. ad-free) by upgrading your account today.
Upgrade Now