| | |
| --- | --- |
| The Great Heisman Heist of 2016 | |
---
The following opinion piece was written by two college professors, Otis W. Pickett and James Hill Welborn III, who are Clemson University graduates.
For good or ill, a Heisman Trophy winner is forever enshrined in the pantheon of College Football. While much acclaim is heaped upon the winner, the entire Heisman race is conspicuously discussed throughout the season. Pre-season magazines and media outlets even anoint winners before the season starts. The media tout "electric" players and athletes that "wow" them from week one, and these early impressions tend to shape the narrative and unduly influence the end results nearly every year. The Heisman Trophy carries prestige because it can and frequently has provided lifelong employment and a lasting legacy for trophy winners in the minds of American football fans. One need look no further than the recent "Nissan's Heisman House" commercials to find evidence of this cultural clout at work. Even if the Heisman winner doesn't have a long career in the NFL, he could make a living appearing in this and myriad other commercial advertising roles, in sports broadcasting, or from simply taking the trophy to his home university on game days and signing autographs (1980 Heisman winner George Rogers has famously done this at the University of South Carolina for years, and has now parlayed that continued visibility into national stardom as a resident of the "Heisman House"). In a common practice likely to continue unabated, universities offer their Heisman winner/s some conspicuous position in their athletic department or within their football program, effectively paying them to be a "face" of the program and parading them about with much pomp and circumstance any time alumni and boosters need a reminder of how great the program has been.
In short, this award is a big deal with huge implications that stretch well beyond the immediate concerns of any one particular player or season or program; "The Heisman" embodies the highest ideals of the sport, and as such, its award process should privilege the entire process by which those ideals are personified each year by each elected winner. That noble purpose has lately been tainted, however, especially in light of the most recent results in electing the 2016 Heisman Trophy winner, and the award is in danger of becoming a laughing stock and losing its luster. As Dabo Swinney poignantly declared in the wake of this year's ceremony, "Deshaun Watson didn't miss out on the Heisman Trophy, the Heisman Trophy missed out on Deshaun Watson."
It is abundantly clear that the selection process for the Heisman Trophy is in need of massive reform. Several questions arise when contemplating this evident need for reform: Why is the Heisman Trophy given out before bowl games and the playoff? Why are there over 900 voters from around the country? What are the standards to be a voter and who are they? Why can't they be held accountable for how and when they voted? Why are voters even allowed to vote before the final game is played? Many of the established rules and regulations for Heisman voting reflect the methods and mores of college football as it existed in 1935 when the inaugural trophy was awarded. But the game—on the field and in the public eye—has changed immensely since that time. Then, bowl games did not count toward final team and individual statistics and rankings. Now they do. Then, communication limitations necessitated a longer voting window and proscribed the transparency possible in choosing national champions and national award recipients. Now the digital age has rendered such delays obsolete and such a lack of transparency suspect. The implications for the winners and losers of the Heisman Trophy can often determine the their career on and off the field. With stakes so high, the process by which such a momentous decision is made demands more transparency and widespread reform. To cite recent evidence in corroboration of this need, it was reported on ESPN Sports Center and College Football Live on December 9th, 2016 by Desmond Howard (someone who as the 1991 winner personifies the Heisman's ability to open doors and sustain careers) that 9% of the voters for the Heisman cast their ballot before the ACC Championship game. This exhibits the incredible bias among those voters, who more than likely cast a vote for Lamar Jackson based on his play in September before watching Deshaun Watson account for five total touchdowns and a game winning drive in the fourth quarter to seal his second ACC title, second ACC Championship Game MVP trophy, and second trip to the CFP playoff. Later results only stacked the evidence higher against the current process, showing that over 16% voted before the conference championship games were played. This is unjust and illogical. Voters simply should not be allowed to submit ballots until all games are played, and those who do submit ballots before all of the games are played should forfeit their eligibility as voters effective immediate and in perpetuity. These statistics alone—that almost 16% of Heisman voters had made up their minds before watching Watson play the first weekend in December—mandate a massive reform of the Heisman Trophy voting process.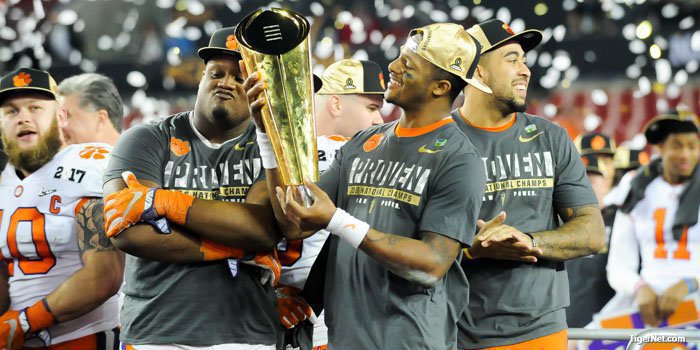 Some have argued that the Heisman trophy is a regular season award. This is not now true, and represented antiquated thinking that dates to the time before bowls games counted as official contests in the final rankings and awards. If the Heisman Trophy is meant to honor the regular season's best player then it should be awarded after the last regular season game, not after the conference championship games. If you are going to count the conference championship games (admittedly of relatively recent vintage dating to the first SEC Championship game in 1992) then you should also count the bowl games and the playoff games. It's defies logic that the conference title, playoff semifinal, and national championship games—undeniably the most important games on the biggest stage with the most at stake—have absolutely no bearing on the Heisman Trophy. Either render it less meaningful by defining it as a regular season award that only accounts for statistics accumulated during the regular season, or grant it full meaning by awarding it at season's end, counting statistics accumulated through the season's entirety, regular season, conference championships, bowl games, the playoff, and the national championship. If the season's greatest player is the one who plays best when the stakes are highest, then any award purporting to anoint the season's best player before the postseason games are played is a fraud. Again, this archaic award process demands massive reform.
Louisville's Lamar Jackson, the recipient of the 2016 Heisman Trophy, won the trophy based on what he did in September against inferior competition (padding his stats against non-conference power houses like Charlotte, Marshall, Kentucky and ACC opponents Syracuse and Boston College. Also, Jackson had one win over a Top 25 opponent: Florida State). Jackson won the trophy over Clemson's Deshaun Watson, who had taken his team to the playoff twice, almost beaten Alabama in an epic 2015 National Championship Game, beat Lamar Jackson head-to-head (along with fellow Heisman finalists Baker Mayfield and Dede Westbrook in the 2015 CFP semifinal against Oklahoma), beat Auburn in non-conference play, was the only Heisman candidate to participate in the 2016 College Football Playoff, where he beat Ohio State in the Fiesta Bowl semifinal then proceeded to beat Alabama for the 2017 National Championship. Given the overwhelming weight of this evidence, much of it compiled in the postseason when the lights were brightest and stakes were highest, is it possible to say with a straight face and a steady eye that Lamar Jackson had a better year in 2016-2017 than Deshaun Watson? The most ludicrous and damning evidence excoriating the travesty that was the 2016 Heisman Trophy voting process comes from the simple fact that four of the biggest games in Watson's career did not count in any way toward the 2015 or 2016 Heisman selection process. Watson beat Oklahoma in the 2015 Orange Bowl and almost beat Alabama with an incredible record-setting performance. In 2016, he beat Ohio State in the Fiesta Bowl and then went on to best his own record-setting performance in defeating Alabama for the National Championship. Not one of those games or the statistics in those games (the record 478 yards from scrimmage—405 passing, 73 rushing—in 2015 OR the record 420 passing yards—463 total yards—in 2016) counted for anything toward a Heisman Trophy in either year. In contrast, Lamar Jackson went on to lose the last three games of the season, including embarrassing losses to Kentucky and LSU. For some reason, however, those losses didn't seem to factor into the voters' calculus in determining the Heisman Trophy. Many had long since made up their minds in September, more recent evidence notwithstanding. This is absurd, idiotic, and flat out wrong. The Heisman Trophy should be awarded after the National Championship game, plain and simple. Again, massive reform is required.
As only he is capable, Coach Dabo Swinney addressed this at the Thursday night award ceremony on an ESPN panel with David Pollack and other analysts. Dabo said something to the effect of "Y'all have made America numb to how incredible Deshaun Watson is." And he is absolutely right. Watson has had two amazing seasons of College Football. He was as great this year as he was last year and perhaps even better, given that teams had a full year of film on him and the Clemson offense from which to develop game plans. He threw four more interceptions this year, almost half of which were the result of tipped by his receivers and bad luck in that the opposition corralled them before they fell innocently to the turf. And that slight increase came after a major overall increase in passing volume, from 491 attempts in 2015 to 579 in 2016. The completion percentages (67.8% in 2015 and 67.0% in 2016) and efficiency rating (156.26 in 2015, 151.14 in 2016) remained almost identical, while touchdowns (from 35 to 41) and passing yards per game (from 273/game in 2015 to 306/game in 2016) increased considerably. Watson battled heightened expectations of an almost superhuman effort resembling that he displayed in the 2015 title bout all season and still manage to equal if not surpass most of his numbers with his team leaning more heavily upon his arm and decision making in the passing game to better attack opposing defenses bound and determined to minimize the ground game and render the Tigers a one-dimensional offense.
Despite all of this, ESPN allowed a nominally sluggish (by his standards) start in wins against Auburn (in Jordan-Hare, where Clemson had not won since the Truman Administration) and Troy to drive the national narrative that he had "regressed." On the strength of this narrative, Watson suddenly found himself trailing Lamar Jackson (who was running roughshod and airing it out for multiple touchdowns against noted gridiron heavyweights Charlotte, Marshall and Syracuse) in the "pundits'" Heisman polls. To the media, if Watson wasn't displaying the sublime-bordering on surreal perfection he had in the 2015 finale, then didn't deserve the Heisman hype. That this ludicrous thinking gained credence and drove the national narrative on the Heisman race is downright despicable, and highlights the imperative for reform. Heisman electors should be limited to former recipients of the trophy, a selection of college football coaches representing each conference in every region of the country, select media, and some members of the playoff selection committee. More importantly, though, the entire selection process should be made wholly transparent, with voting guidelines and results made public immediately upon submission. In short, voters should be vetted for eligibility, and held accountable for the vote they cast.
Because of these glaring issues, Lamar Jackson won the 2016 Heisman. Only the longstanding neglect and/or refusal to amend the system enabled such a farce to come to fruition,. What does this reveal about our society's collective psyche and that of the media? We crave glitz, glamour and excitement over consistent winning. We herald losers who look good and pass the "eye test" while losing rather than players who will their teams to victory in playoff games and national championships. We would rather celebrate a player loses the game but looks good doing it than champion someone who humbly keeps his head down, puts in the work, and wins (Watson's career record as Clemson's starting quarterback: 32-3). ESPN feeds this narrative by privileging fleeting flashes of brilliance labeled "Heisman moments" that pass the "eye test" over statistical data and a complete body of work. Rather than admitting their fault in the grossly premature anointing of the Heisman leader in September, and reassessing the false narrative they created, ESPN analysts stuck to their guns, doubled down and made an even stronger case for Lamar Jackson in November and December, despite the facts: that he put up paltry numbers in humiliating losses to Houston, Kentucky and LSU, especially when compared to Watson, who ascended to new heights statistically and as a team leader when the competition stiffened, the pressure increased, and the lights shone brightest. A Heisman trophy winner simply cannot lose in three consecutive weeks to inferior opponents to end a season. Well aware of this downward trend for Jackson in both the box score and the on the scoreboard, the media doggedly refused to acknowledge their error, and instead kept up the charade. And it cost the most deserving football player (Deshaun Watson) a Heisman Trophy. In the eyes of Nick Saban, Dabo Swinney and every Clemson fan in the nation, Deshaun should be hoisting the Heisman Trophy.
Finally, the fact that Watson's performance in the playoff and National Championship last year or this year will not be taken into consideration for Heisman voting is perhaps the most irrational and inexplicable atrocity perpetrated upon the college football world since the advent of Friday night games (another vexing issue for another epic rant). Deshaun Watson and his Clemson Tigers have thrust themselves into the royal court of college football the past two seasons, and have usurped some of the most regal names in the game in the process, dismantling of Oklahoma and Ohio State in consecutive semifinals and dissecting Alabama's defense twice in the grand finale. That the unquestioned leader in all of these feats could not include them on his Heisman resume is, in truth, the only proof needed to indict the current Heisman voting process. Deshaun Watson will now move on to what promises to be an equally transcendent professional career in the NFL, and barring injury we think he has what it takes to garner several MVP trophies along the way. But his college days are past. And regrettably, the historical record will perpetuate the national travesty by listing some other name on the trophy honoring the most revered name in the game: Heisman.
Otis W. Pickett earned his B.A. in history from Clemson University in 2003. He went on the receive a M.A. in history from the College of Charleston, an M.A.T.S. (Theological Studies) from Covenant Theological Seminary, and earned his PhD in history from the University of Mississippi. He is currently Assistant Professor of History & Political Science at Mississippi College in Clinton, MS. James Hill Welborn III earned his B.A. in history from Clemson University in 2005, and also completed his master's degree at Clemson in 2007. He earned his PhD in history from the University of Georgia, and is currently Assistant Professor of History at Georgia College & State University in Milledgeville, GA. Both Dr. Pickett and Dr. Welborn are avid, lifelong Clemson fans, and proud to call themselves loyal members of the Clemson Family.

Upgrade Your Account
Unlock premium boards and exclusive features (e.g. ad-free) by upgrading your account today.
Upgrade Now