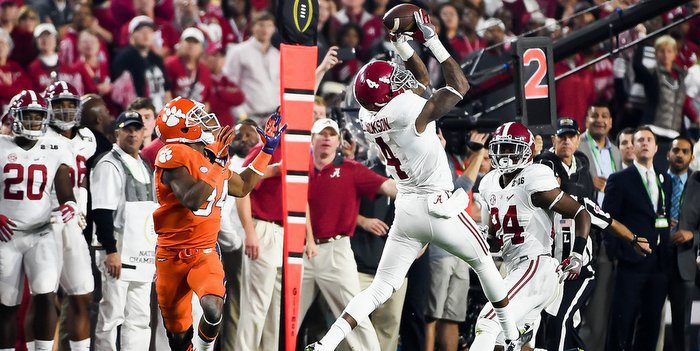 | | |
| --- | --- |
| Swinney agonizes over the five plays that cost the Tigers a championship | |
---
| | | |
| --- | --- | --- |
| Wednesday, July 27, 2016, 9:01 AM | | |
SUNSET – Clemson head coach Dabo Swinney doesn't hesitate to tell his players or the media that five plays each game usually dictate who wins and who loses, and it didn't take Swinney long to find the five plays that cost the Tigers the National Championship against Alabama in January.
Since day one, Swinney has preached to his players that they have to pay attention to the little things if they want to win big games. It's all about attention to detail and making sure you do your job and trusting your teammate to do their job.
The lesson hit home in the aftermath of the loss to Alabama. As one offensive lineman removed his shoulder pads and ran through the game in his mind, he turned to me and said, "It was just a few plays that cost us. And I'll be thinking about those plays all winter and summer."
At Swinney's golf outing last week, I asked him if he had taken the opportunity to pick out five plays from that game to show his team, and he said that's how he began spring practice. He showed the team five plays that cost the Tigers a title.
The onside kick and kick return for a touchdown weren't in those five plays.
"I already have. That is how we started the spring. I took five plays that really had nothing to do with the opponent," Swinney said. "It was a message as we started in the spring that it's all about Clemson. It's all about what we can control. It's not about anything else and let's take care of us. And just so you know, the onside kick wasn't in that clip, and the kickoff return wasn't in that clip. Neither one. They (Alabama) made two great plays."
Swinney said that coaches, players and fans have to realize that there are times when the other team simply makes a great play.
"Sometimes the opponent makes a play. They made a great play down the sideline where the ball falls out of the sky," he said. "Sometimes other teams make plays. Other teams have good players. But it's the things that we do control, and that was the message in that video."
He said he even used star quarterback Deshaun Watson as an example.
"I started with our best player (Deshaun Watson) because he had two plays in that game that were critical mistakes," Swinney said. "They were critical errors. It was kind of an easy way to transfer into spring practice and make sure everybody had their mind right as we got back to basics. Because it was the little things that cost us in that game. We made a couple of mistakes. And when you're in a game like that and you're playing an opponent like that, it is a few plays.
"Yes, there are some games where we have a bigger margin for error. But when you're playing championship caliber football, and it's really good-on-good kind of even, it's really a few plays. And of the five that I presented, if you could change two of them the outcome is probably different. But you can't change them."
Getting back to basics – and eliminating the silly mistakes – was a constant them during spring practice and Swinney said the team responded the right way.
"It's ball handling. It's fundamentals. It's executing the call. It's Cover 3, it's Cover 2 and supporting from the outside and not running inside a receiver," he said. "It's little things. It's not big things at all. But it was a good way as we started over in the spring to re-focus them. But to be honest with you, with this bunch, they've been really easy and had a sense of urgency from day one and an eagerness to get back at it."

Upgrade Your Account
Unlock premium boards and exclusive features (e.g. ad-free) by upgrading your account today.
Upgrade Now