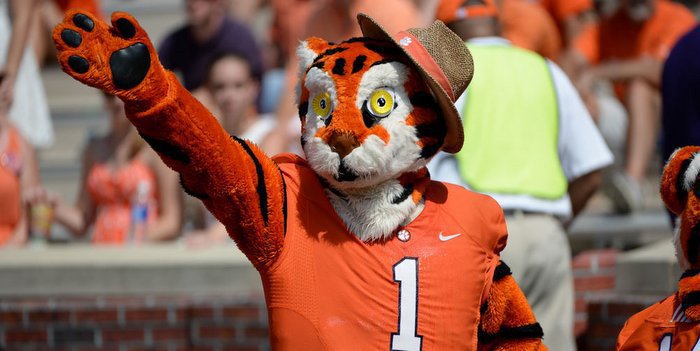 | | |
| --- | --- |
| Pigskin Prophet: Preparation H Edition | |
---
Sure, you can enjoy the bye week, but the Pigskin Prophet has been busy as heck.
Let's start with what I've been up to the last couple of weeks. Old John Swofford has been getting all kind of correspondence out of the state of Kentucky relating to Clemson's win over Louisville a few weeks ago. Because most of it was written in crayon and had crude drawings with it, the ACC hired a graduate from UNC's dynamic and award-winning (hahaha) sports media program to answer the letters.
However, the correspondence has been almost too much to bear as irate Louisville fans complain about everything from yard markers to the announcers to the officials to the fact that Clemson's fans "were just too dang loud" and created an unfair advantage for the Tigers that night.
How bad has it gotten? The ACC is now getting letters that point back to losses as far back as 1972, with all of those losses at the hands of Swofford and nefarious Clemson chain gang members. Even the TV stations in Louisville are running crime shows in which every guilty party is wearing a Tiger paw.
So what does that have to do with what I've been doing?
Well, you see, my cousin is a bigshot over at Pfizer, which makes Preparation H. He's asked me to oversee the convoys of trucks, planes loaded with pallets and even boats loaded with shipping containers. They are loaded with Preparation H, which ran in short supply in Louisville and the surrounding areas after all of the butt hurt that's been going on since their loss.
The only issue we've had? Trying to convince some of them not to eat it. But if they did eat it, it would be the fault of the person who REALLY shot Kennedy, killed Jimmy Hoffa, the keepers of Area 51 and members of the Clemson chain gang.
On to some picks.
UMASS AT SOUTH CAROLINA
South Carolina held on to edge Open Date last week, the players milling around in an empty stadium and failing to score until someone pointed a player towards the goal line and told them it was actually ok to cross it. This week, they get a bad UMass team, which means the Minutemen might be good enough to win the SEC Least, whose champion will have seven losses. The rumor out of Columbia is that Will Musclamp will start his 11th quarterback this season, and the new quarterback will do exactly what the others have done….lead the Gamecocks to exactly 14 points. UMASS misses an extra point late, fans blame Swofford even though he has nothing to do with this game. SAVIOR QB 14, UMASS 13
NC STATE AT LOUISVILLE
Louisville went through an extensive vetting process this week, making sure the new members of their chain gang have the yard markers 20 yards out onto the field of play, and they will even have members of the chain gang chase the players around the field holding up yard markers so they will KNOW WHERE THEY ARE AT ALL TIMES!!!!!! The fear is that one of the crazy chain gang members will chase the State kicker and scare the poor kid, who has already had a rough week. Lamar Jackson recovers from his Prep H ingestion and leads Louisville to a win NO THANKS TO CLEMSON!!! VILLE 34, STATE 24
TEXAS A&M AT ALABAMA
The Aggies bring a lot of confidence into their game with Little Nicky's squad of 5-stars. Most people think the Tide will roll, but Jalen Hurts hasn't seen someone like Myles Garrett and he won't find the room to run on the outside he's gotten against other teams. Bama gets behind the chains early – they send a letter of protest to Swofford at halftime because the official has a daughter whose hairdresser knows a guy who went to Clemson and made life unfair – and things get gritty in the second half. The Tide pull away late, but it won't be easy. TIDE 30, A&M 24
UNC AT VIRGINIA
North Carolina fans are not looking forward to this road trip. Rumor has it that Ron Cherry will be the lead official, and photos have been leaked that show Ron Cherry once ate lunch at The Esso Club on Clemson's campus. Realizing this is cheating at its highest form, Swofford calls in longtime friend Karl Hess to officiate the game, and UNC begins to flop early to get all the personal foul calls. They pull away by halftime and win easy, despite the fact that one of the TV cameramen once shot a game in Death Valley, thereby causing a conflict of interest (wonder if Louisville fans get the gist of this yet). UNC 41, UVA 23
OLE MISS AT LSU
LSU has already filed a protest, simply because Chad Kelly once played at Clemson and has a conflict of interest that has made Louisville fans mad (please pass the Preparation H). However, the SEC doesn't understand what the lunatics in crayon are writing about and let the game proceed. LSU has played better on offense as of late and has a talented defense. Ole Miss has a quarterback who chases ugly porn stars, turns the ball over a LOT and no defense whatsoever. LSU wins in Deaf Valley despite the name being eerily similar to a stadium in Clemson. Louisville fans threaten to boycott the SEC for JUST NOT UNDERSTANDING HOW UNFAIR IT ALL IS. LSU 31, OLE MESS 30
OHIO ST. AT PENN STATE
The Buckeyes are on a roll, and shouldn't face a challenge in Happy Valley. However, Louisville fans get mad because Urban Meyer once called a game in Clemson for television while he was retired, and Penn St. fans have been on the Louisville message boards and realize THIS IS JUST NOT FAIR. What isn't fair is the beating they will receive. OHIO ST. 44, PENN ST. 21
HOUSTON AT SMU
Louisville fans are up in arms. They need for Houston to keep winning so they can beat Houston later in the year and bolster their playoff hopes. However, SMU head coach Chad Morris once coached at Clemson and thereby has a chain crew advantage, sending poor Cardinals fans over the edge as they realize it was something like this that sunk the Titanic. HOUSTON 40, SMU 20.
That's it for now, sending more Prep H to Kentucky.

Upgrade Your Account
Unlock premium boards and exclusive features (e.g. ad-free) by upgrading your account today.
Upgrade Now