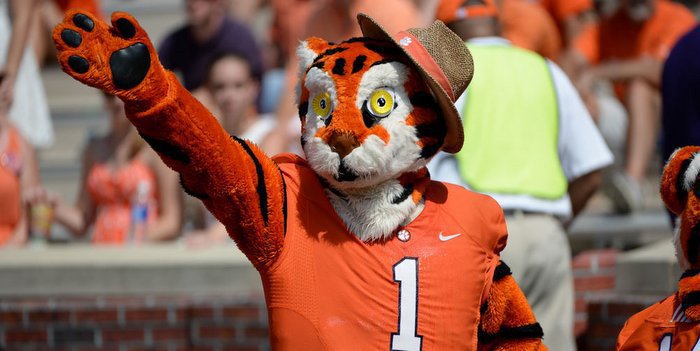 | | |
| --- | --- |
| Pigskin Prophet: Buckets of Tears Edition | |
---
| | | |
| --- | --- | --- |
| Thursday, October 6, 2016, 1:01 PM | | |
A crazy end to last week turned into a crazy beginning to this week.
Clemson closed out a thrilling 42-36 win over Louisville in the early hours of last Sunday morning, and had to turn around and practice later that afternoon for Boston College. Why did they practice on a Sunday? Well, it seems like old John Swofford and the folks at the ACC want to take the pressure off of North Carolina handing out fraudulent degrees for 20 years by making other members of the conference play on a night usually reserved for high schools.
So Clemson heads to Bahstun a day early and will pahk the cah in Havahd yahd blah blah blah blah blah.
I decided to help out the City of Clemson and make Louisville fans feel welcome to Death Valley last weekend – hey if I can make people feel welcome while dodging the feces-laced drinks at Willy Brice I can make them feel welcome anywhere.
Everything was going smooth until after the game, and then we had problems. In between bouts of sobbing, histrionics, gnashing of teeth, cursing and attempted adultery – and that was just Bobby Petrino – I learned that the yard markers were at fault, Ben Boulware attempted to play too rough, the officials were at fault, the music was too loud and Lee Corso now has put a curse on Louisville.
We managed to get all of the Louisville fans back to their broken down pickups and sent them on their way, collecting all of the tears along the way. The collected tears have now been shipped to a drought-ravaged part of Africa to help things there. Pigskin Prophet: Buckets of Tears Edition
Now onto some picks.
FRIDAY
CLEMSON AT BOSTON COLLEGE
The ACC's attempt at being a high school league takes a major step forward when the nation's No. 3 team – and maybe the league's best team – plays on Friday night in front of hundreds of hockey and New England Patriot fans at Alumni Stadium. Boston College knocked off ninth-ranked Southern Cal at night a few years ago, and would like to do the same to a bunch of southern cats who aren't used to those northern environs. It won't matter, however. These cats are too fast and, just like another bird learned last weekend, they scratch and claw their way back when down. This one will be close for a play or a dozen, but Clemson cruises. TIGERS 27, BOSTON COLLEGE 9
SATURDAY
TEXAS VS. OKLAHOMA
I think this used to be called the Red River Shootout, but then the politically correct crowd got ahold of it and now it's called the No Color River Wine Tasting and Trophy For Every Kid Event. Charlie Strong and Bob Stoops are two of the most beleaguered coaches in the country, and both need a win in the worst way. In the past, that means Oklahoma gets blown out because Big Game Bob has turned into Sideshow Bob. But something stinks at Texas, and I don't think Charlie can save his job again by wearing a Non-gender specific hat (what we used to call a cowboy hat) and riding off into the sunset on the shoulders of his players. OKIE 41, TEXAS 37
LSU AT FLORIDA
Les Miles got kicked to the curb down in Baton Rouge (pronounced Bahtawwwn Ruuuge) and Ed Orgeron – America's Replacement Coach – managed to kick the Tiger offense into high gear after just one week. Orgeron, long known to be an offensive genius in the mold of Will Muschamp, introduced something revolutionary to the LSU program, a new concept called the forward pass. It worked as LSU blew out a really bad Missouri team (but aren't all SEC East teams really bad?). This week the Tigers get to take Florida to the woodshed after the Gators managed about six points and 19 yards against a bad Vanderbilt defense last week. LSU keeps getting better. LSU 30, FLORIDA 11
NOTRE DAME AT NC STATE
I am gonna tell you something about this game, and this is gonna shock you. Notre Dame is the first Power Five non-conference opponent NC State has faced in the Dave Doeren era, and they're only playing the game because the ACC is making them play it. Doeren and the Pack like to play what we typically call an SEC non-conference schedule, but this time they have to play a team that has something resembling a pulse, even though Brian Kelly's squad is on football life support. This one will be a thriller, and the Irish pull of the road win. Barely. IRISH 34, WOLFIES 31
GEORGIA TECH AT PITTSBURGH
Seems like everybody has figured out how to stop the option attack of Paul Johnson – recruit good players while Paul recruits, well, just some players that nobody else wanted. Tech's game against Miami changed last week when a Tech lineman was called for a chop block – shocking I know – and the Jackets had to block their men straight up. It wasn't a fair fight, and this won't be either. Pitt just has better players. And a better coach. PITT 27, TECH 20
TENNESSEE AT TEXAS A&M
Texas A&M beat South Carolina last with 80 percent of the team back in Aggieland nursing injuries, while Tennessee went on the road and had a horseshoe stuck where the sun don't shine and beat the Bulldogs on the last play of the game. They won't be so lucky this week because the Aggies get back all of those injured players, and the 12th man will really make a difference. Besides, Josh Dobbs has played really well the last two weeks and we know that can't last. It's time for him to turn into Josh Dobbs and Butch Jones to turn into Butch Jones. AGGIELAND 34, TENNESSEE 20
VANDERBILT AT KENTUCKY
I heard tickets are really, really cheap for this SEC LEAST SHOWDOWN. KENTUCKY 3, VANDY 2
GEORGIA AT SOUTH CAROLINA
South Carolina continues to make progress under new head coach Will Muschamp, almost breaking the 13-point barrier last week. Unfortunately, a lack of talent, leadership and coaching got in the way. Georgia had its heart broken by the stupid dog or mountain man from Vol Nation, and it's hard to tell if they'll be mad and ready to play or like my girlfriend after three dates and just give up on life. My guess is they'll give up, and the rousing 9-9 halftime score will prod the Bulldogs into furious action against the Gamecocks. BULLDOGS 12, SOUTH CAROLINA 9
FLORIDA ST. AT MIAMI
This really should be one of the marquee games of the weekend, but instead it's all about the 'Noles trying to climb out of the hole they've been in. The game will be played at a neutral field – I know it's at the home of the Miami Hurricanes but it's in the ghetto and six hours from campus like South Carolina – so we're not sure who has the homefield advantage at Joe Robbie Stadium Pro Player Park Pro Player Stadium Dolphins Stadium Dolphin Stadium Land Shark Stadium Sun Life Stadium Krusty Krab Park Hard Rock Café Planet Hollywood Field. Miami has been better this season under Mark Richt, and they'll be just a little better than little Jimmy Fisher's team Saturday. CANES 34, NOLES 30