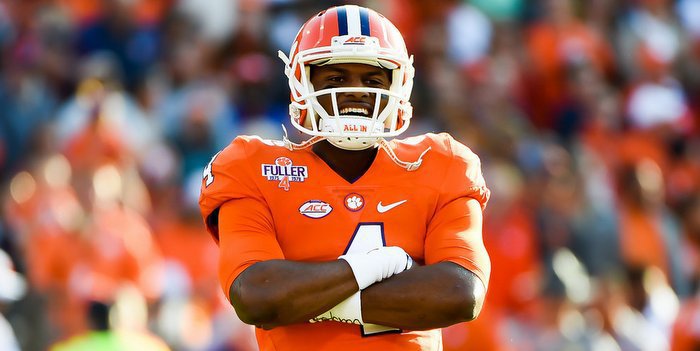 | | |
| --- | --- |
| No room for error: Tigers need to be perfect against Wake Forest | |
---
CLEMSON – Jeff Scott knows the old expressions that hindsight is 20/20. He also knows that when the room for error is small, you'd better make sure you're perfect in your execution.
The Tigers weren't perfect last Saturday against Pitt – turning the ball over three times and failing to convert twice in a short-yardage situation late in the game – and it cost them the game.
"Obviously it wasn't the outcome we wanted Saturday, kind of starting off with the negatives, we played 95 plays and it really came down to the end," Scott said. "I really think five plays that really hurt us were the three interceptions, one was tipped and not a whole lot Deshaun could do there, had a guy in his face. The other two were poor decisions we can definitely learn from, and then the last two plays on third-and-one and fourth-and-one. Those are the five plays that stick out, you've got to give Pitt credit, we just completely rolled the ball out there and they had to make plays and they did that. We were not able to execute and the shame of it is, outside of those five plays, we played really well."
Despite the loss, Scott said it was an incredible performance.
"Probably one of our best performances of the year. Deshaun threw the ball really well, outside of those interceptions, as well as he's ever had in his career at Clemson," Scott said. "He was 52-of-70, 74% on 70 passes, I mean I thought the conversions between him and Mike were great chemistry, the best it's been all year. Deshaun did a great job, there was a lot of decision making in that game and a lot of run pass options because of how they chose to play us defensively, we had 10 throws out there on the bubbles to the wideouts and I thought they did a good job out there. We averaged about 6.5 yards every time that we threw it out there on one of the bubbles and then we had a lot of runs that were tagged in with the quick game. Deshaun made some great decisions. I think talking to Coach Streeter, he had four poor decisions in his 95 plays, and three of those were the interception and one other, that's how this game is.
"The room for error is very small and even though we did a lot of very positive things in the game, the difference for us offensively were the turnovers in the red-zone and then right there in the end not getting one when we needed to. Haven't had a lot of adversity here in Clemson, a lot of these guys have been around here, I think y'all know the stat having won 26 of the last 28."
He hopes the offense can learn from a bad afternoon.
"This is a good opportunity for us and it's not one that you want, but it's a good opportunity for us as coaches and players to really be able to learn and a great opportunity to be a coach this week and have the guys attention and get refocused a little bit and I believe this will make us better as we go and make us stronger and be a more complete offense and a more complete team as we get ready to go down the stretch," Scott said. "The guys will come in this afternoon and we'll go over all the corrections and lay out everything that we did good and the mistakes we made and what we need to improve upon on the next time and then we'll move on to Wake Forest. That's probably the best thing about it is that we get to play this week as opposed to the last time we lost. It was a long offseason before we got to play again."
He then said that he thinks Watson is better than ever.
"In 10 games, he's got 39 more completions, 78 more pass attempts, when you throw the ball more, you have more opportunities to surrender the ball to interceptions. 476 more yards passing this year after 10 games, four more touchdown passes. It doesn't seem like that, does it, because of our narrative," he said. "He's does have five more interceptions, that's the biggest negative and biggest difference of what everybody is kind of judging him on. On touchdowns responsible, he's got one more and 29 this year as opposed to 28 last year. In total offense, Deshaun, just himself, he's got 254 more yards this year than last year. I think it's very easy to pick out the negatives.
"Obviously he's made some mistakes he'd like to take back, you play this game long enough it's going to happen. Ultimately what it is is that he was on a very high pedestal going in to the year, rightly so, because of everything he did last year. He's not perfect, none of our coaches are perfect, and none of our players are perfect, but there's a great chance he's going to go down as the greatest quarterback of this football program. We've got a lot of confidence in him and he's a guy that will learn and has learned, I promise you when he let a couple of those balls go he wanted them back really quickly. There's no one that will critique himself or learn from it better than him.
"You go back and watch the video, there were four of five throws he made in the first half on third down conversions where he literally stepped over a guy and threw it on one foot to Mike Williams on third-and-12, there were several of those and that's where I go, 'That's the NFL throw right there,' on a corner route to Leggett right in between two defenders. Yes, there's some negatives there that he's got to clean up, but there's a lot more positives than negatives and that's how we choose, that's kind of Coach Swinney's culture he's brought in here."
On Wake Forest
"Very impressed with Wake Forest when you turn on the video. Very athletic and we were up here with some official visitors after the game and had the game on and they were up 12-10 with 11 minutes left to go in the fourth quarter at Louisville. They'll definitely have our full attention. I think the staff has done a great job in recruiting with some of their personnel. They're very long in the secondary. I mean every one of those guys is six-foot-plus and they're long and they've got seven starters back on defense, that includes the four up front. You don't have a lot of time to feel sorry for yourself or anything like that, it's time to go back to work and put all your energy and efforts to being 1-0 this week."
Could you have gone a different direction with the running plays?
"As a coach you always do that when it's not successful. The heavy package that we were in, I believe we were five-for-five before that in this year, so that's what we were talking about. The third down play was a play that we'd been very successful on in the past and we don't run a whole lot, it's kind of like when you've got to have it, go get it. Their end made a really good play and stood up and held the point and allowed the other guys to fill in. The last play with the heavy package in there had been really good for us this year. Obviously when it doesn't work, you can come up with 10 other things we'd like to have done in that situation. We were pretty unanimous, we had two timeouts, we had time to think about it. There was some discussion, but I think we were all on board with what we called and it just came down to executing and their defense executed better than our offense. As a coach, that's part of it. Even the interception, there's things we could've done differently looking back. We've also made a lot of good plays on the same calls, so it kind of goes both ways."
What can you do at this point to fix the red-zone errors?
"We went back and looked at that. We had six turnovers in the red-zone and one was Wayne Gallman fumbled the ball, you can't say you're not going to run it down there. Tyshon fumbled it, Mike Williams trying to make a play fumbled against N.C. State, that's three, and then the two interceptions this week and then one more interception against Louisville where the ball was thrown a little bit behind, #10 for Louisville made one heck of a play. We have some plays that are only for the red-zone, none of those turnovers have come from any of the red-zone scheme plays. It'll continue to be a point of emphasis for us, that's kind of where we are."
-

Upgrade Your Account
Unlock premium boards and exclusive features (e.g. ad-free) by upgrading your account today.
Upgrade Now