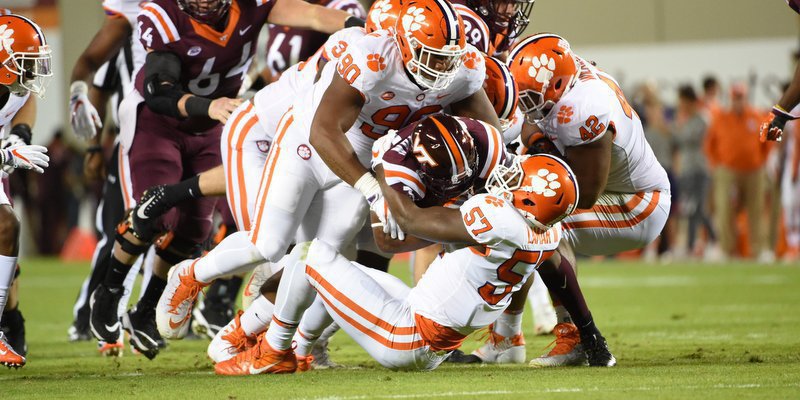 | | |
| --- | --- |
| No "hollow wins" for Clemson: Tigers are playing and beating the nation's best | |
---
How has Clemson fared against teams that finished the season ranked during the College Football Playoff era? Better than you might think.
The website Saturday Down South recently ran a story that took a look at how SEC teams fared against teams that FINISH the season ranked in the Top 25.
Clemson was mentioned in the story as a team NOT in the SEC that has a pretty good record against Top 25 teams during that span. The website lists Alabama as the king with an 18-5 record (.783 winning percentage), but with no other SEC team higher than Georgia's 9-6 record (.600 winning percentage).
Ohio St. comes in second nationally with a 14-4 record (.778 pct.) and they list Clemson as third with a 14-6 record. However, Sports Information guru Tim Bourret informed me Thursday that those numbers are wrong, and Clemson is actually 15-5 during that span for a winning percentage of .750 over teams that, once again, finished ranked in the Top 25. That includes an incredible 14-2 record the last three years combined.
The story states: When you look at a list like that with all of those elite programs, it sort of puts things in perspective. If you're beating Top-25 teams more times than not, you're an elite program. Period. The fact that Alabama, Clemson and Ohio State have done that at least 70 percent of the time is why they represent 9 of the 16 total Playoff berths.
The writer states that while some teams have winning records – he used South Carolina as his example – the wins are hollow because they don't come against good competition. The Gamecocks finished with 9 wins but they were just 0-2 against teams that actually finished ranked inside the Associated Press Top 25.
When it comes to Top 25 wins – where the team is ranked at game time – Clemson has been among the national leaders. The Tigers won four games ON THE ROAD against Top 25 teams last season, and the loss to Alabama in the Sugar Bowl broke an 11-game winning streak for the Tigers against Top 25 competition. And, by the way, head coach Dabo Swinney has won a school-record 26 games over Top 25 teams.
That's pretty good.
We've all heard the big shots on the message boards, the ones who say, "If your team played the same schedule my team played, you wouldn't win a game." The message boards of your rivals might state that Clemson has made the playoff because of the conference it plays in (ignorance at best). The numbers – and facts – say that isn't the case. Clemson and Alabama and Ohio St. are making the College Football Playoff because they're beating good competition along the way.
That got me to thinking – what has been Clemson's final strength of schedule over the last four years? As you might have guessed, pretty darn good. The NCAA uses a new "rating" system for strength of schedule and I used that formula.
Clemson's final strength of schedule in 2017 was fourth. Because the earlier writer used South Carolina as a comparison and because they are the Tigers' rival, we will look at them in this example. The Gamecocks achieved their nine wins last year against a schedule that was ranked 48th.
In 2016, Clemson's SOS was third while South Carolina's was 59th. In 2015, Clemson was 4th and South Carolina was 41st. In 2014, the teams were closer with Clemson at 29 and South Carolina at 30.
The next time someone tries to talk to you about a certain league or about a certain schedule being all in Clemson's favor, show them the above stats. Maybe a better question would be how some SEC teams would fare against Clemson's schedule. The Tigers are not only playing AGAINST the best competition, they are beating them on a regular basis.

Upgrade Your Account
Unlock premium boards and exclusive features (e.g. ad-free) by upgrading your account today.
Upgrade Now