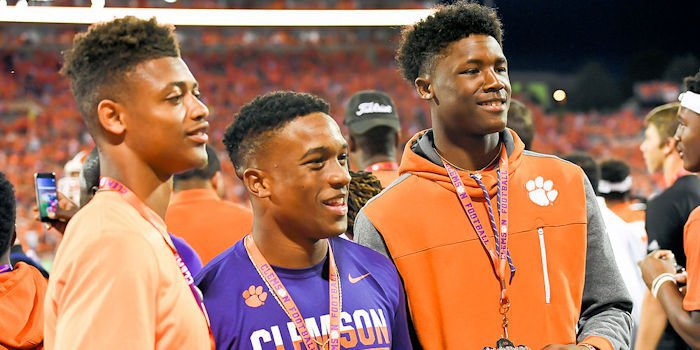 | | |
| --- | --- |
| National Championship: Recruits react to Clemson's big win | |
---
| | | |
| --- | --- | --- |
| Thursday, January 12, 2017, 2:01 PM | | |
With the recruiting dead period over, the Clemson coaching staff can hit the recruiting trails for the first time in 35 years as national champions.
TigerNet reached out to several of Clemson's commits and top targets after Monday night's thrilling 35-31 victory over Alabama in the College Football Playoff National Championship to get their reaction and bellow is what they had to say.
We'll have more reactions this weekend after Clemson's first official visit weekend of 2017.
A.J. Terrell, 2017 defensive back commit, Atlanta (GA) Westlake
"Alabama had a great game, and they gave Clemson the challenge that we all wanted to see. Clemson came to play, and along the road towards the fourth quarter and pulled out the championship. #AllIn"
Jake Venables, 2018 LB commit, Central (SC) Daniel
"I'm not surprised. We'll have a couple of more of them by the time I graduate."
Matt Bockhorst, 2017 OL commit, Cincinnati (OH) St. Xavier
"It's a great accomplishment for all of those involved with the program and the university. I am most happy for the players and coaches after the past year of getting to know all of them. I was able to witness the hurt, struggle and determination they experienced to get to this point."
Baylon Spector, 2017 LB enrollee, Calhoun (GA)
"I thought it was awesome. There couldn't be a better time to be here."
LeAnthony Williams, 2017 DB commit, Roswell (GA)
"Words can't even describe, but I just can't wait to be a part of the family."
Noah DeHond, 2017 OL commit, Rochester (NY) The Peddie School
"It's awesome. It is just the beginning of our dynasty."
Mike Jones, Jr., 2018 LB commit, Bradenton (FL) IMG
"It's insane. I'm so glad for all of the guys and the program."
Mustapha Muhmmad, 2018 TE, Missouri City (TX) Ridge Point
"Awesome."
Blake Vinson, 2017 OL enrollee, Citra (FL) North Marion
"I'm really excited for the players and coaches. They deserve this."
Verone McKinley, 2018 CB prospect, Carollton (TX) Hebron
"I was ecstatic! I told coach Venables and coach Reed congrats and really enjoyed the game as a whole. I like both teams and seeing them lay it on the line and the game coming down to the last minute was great!"
Stephone Wynn, 2018 DE prospect, Anderson (SC) T.L. Hanna
"It's absolutely amazing to see my childhood dream school win the Natty. It's a great feeling, and I'm extremely happy for the coaches that I've bonded with and the players."
Lyn-J Dixon, 2018 RB prospect, Butler (GA) Taylor County
It was an awesome game to watch and Clemson winning the championship left a nice smile on my face."