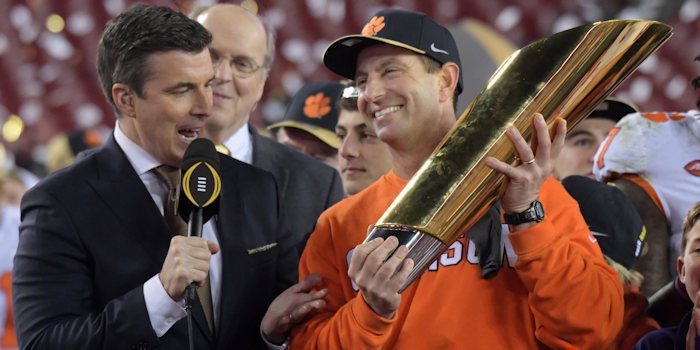 ---
TAMPA, FL – Deshaun Watson hit Hunter Renfrow on a two-yard pass with one second remaining and Clemson completed an improbable comeback with a thrilling 35-31 victory over Alabama Monday night at Raymond James Stadium, securing the second National Championship in Clemson history.
The Tigers fell into an early 14-0 hole, but Watson saved his best for last. Alabama scored a go-ahead touchdown with 2:07 to play, but Watson rallied the Tigers and led them on the game-winning drive. Renfrow had 10 catches for 92 yards and two scores in front a 74,512 fans, a Raymond James Stadium record.
After the late Bama score, Watson hit Mike Williams on a 26-yard pass and Jordan Leggett on a 17-yarder to put the Tigers inside the 10. Following Williams' last catch, the Tigers had a final play to run with just six seconds left on the clock, and Renfrow floated into the flat and pulled in the catch for the game-winner.
Clemson has beaten the last seven national champions this season - Alabama (four), Auburn, Florida St. and Ohio St.
"Oh, man. Just, first of all, I'd say congratulations to Alabama. What an unbelievable, unprecedented run they've been on. Never seen anything like it. Incredibly – just a great champion," head coach Dabo Swinney said. "But they lost the wrong game just like we lost the wrong one last year. We were both 14-1 last year but we lost the wrong one and we're both 14-1 this year. Just hats off to those guys. What an unbelievable champion they are. What a fight.
"I don't know if I can – I don't know if I'm going to be able to stomach watching that one any time soon. That has to be one of the greatest games of all time, just absolutely incredible, to have to take the field and go down the field to win the game, that's what it's made of. That's what I told 'em when it was over. This is what it's all about right here, boys. They fought. They fought for every play, and I just – I said it out on the field, and I'll say it again: For me personally, only God can do this. I mean, there's just no other explanation for me. It's not anything to do with me. It's God working through me and the staff and these players."
Swinney said he's humbled by the win.
"Eight years ago our goal was to work our tails off and eventually get Clemson back on top, and tonight that's a reality. It truly is," Swinney said. "The paw is flying on top of that mountain tonight. We saw the top of it last year, didn't get quite there. Tonight we took that next step. It was really the only thing we hadn't done in the last eight years, and we got it done.
"As I said earlier, it's not just for this team, it's a credit to all my teams, all my players. They all share in this moment. They truly do. They truly do. Because what they did was meant for them at that time, but this was meant for this team. This was this team's responsibility. This was this team's mission, and there was really only one lid left on the program, and that was to win the whole dadgum thing."
plemson forced a Bama punt on the first drive, and the Tigers put together a drive that reached the Tide 41-yard line. Facing a 4th-and-1, Swinney called a timeout. He elected to go for it, but Gallman was stopped short of the marker and the Tide had an early break.
Four plays later, Alabama scored on a 25-yard by Bo Scarbrough and the Tide had the early 7-0 lead.
Clemson made another huge mistake later in the quarter. Facing a 3rd-and-5 at their own 42, the snap from Guillermo to Watson landed on the ground, and Bama recovered at the Clemson 35. The defense held, however, following a penalty and big tackle for loss on Scarbrough, and Bama was forced to punt.
Clemson couldn't get past its own 27, and Alabama once again needed just five plays to cover 75 and put points on the board. Scarbrough tacked on the second touchdown of the night with a 37-yard scamper down the left sideline, and Clemson was in a 14-0 early hole.
Clemson's offense continued to sputter, but following an exchange of punts the Tigers put a dent on the scoreboard. The Tigers took over at their own 13, but Deon Cain broke loose for 43 yards on the second play of the drive and it turned out to be the play Clemson needed. Four plays later, Watson rambled in from eight yards out and Bama held a 14-7 lead with 6:09 to play. The drive covered 87 yards in sx plays and took just 1:33 off the clock.
Clemson felt like it had momentum coming out of the half, and needed a score to keep that momentum. Instead, it was another turnover. On second down, Alabama called a run blitz and Clemson ran into the teeth of that blitz with Gallman, who lost ten yards and promptly fumbled. Alabama took over deep in Clemson's territory at the 16. The defense held, however, and Bama settled for a short field goal that made 17-7 early in the third quarter.
The Tigers once again moved into Bama territory, and a third-down catch by Hunter Renfrow appeared to give Clemson a first down inside the 40. The play was reviewed and overturned, however, and Swinney let Watson do a quick kick that pinned Alabama at their own five.
The defense forced a Bama punt, a punt that was shanked, and Clemson took over at the Bama 42 and Clemson made the Crimson Tide pay. A quick 14-yard pass to Cain set the Tigers up at the 28, and two plays later Watson hit Renfrow on a crossing route and Renfrow sidestepped three defenders on his way to a 24-yard touchdown. With 7:10 to play in the third quarter, Bama led 17-14.
The Tigers forced yet another Bama punt, but on the ensuing series Watson was stopped a yard short on third down and Clemson punted deep into Tide territory. Alabama gained one first down, then found a repeat of last season when Hurts hit a wide open O.J. Howard down the sideline for a 68-yard touchdown, and Bama led Clemson 24-14 late in the third.
Clemson responded with a long drive. A pass interference early in the drive set up consecutive first down passes to Deon Cain, and Jordan Leggett broke loose on a 17-yard gain to the Bama 17. Four plays later, Watson floated a four-yard pass to Mike Williams in the corner of the end zone, and Bama held a 24-21 lead with 14 minutes to play in the game.
Both offenses settled into a battle of field position, the teams exchanging five punts before Clemson took over at its own 12 with just over six minutes to play. Watson hit Leggett for 17 yards and then Williams came down with a 26-yarder deep in Bama territory. The Tide earned an unsportsmanlike conduct penalty, and Watson followed that with a 15-yard run to the Bama one.
Gallman had a leap over the top of the defense for the one-yard score, and Clemson led for the first time all night at 28-24 with 4:38 to play.
Alabama's offense, which had been dormant since the Howard touchdown, found its pulse. The Tide covered 68 yards in just six plays with Hurts running it in from 30 yards out and Bama regained the lead 31-28 with 2:07 to play.

Upgrade Your Account
Unlock premium boards and exclusive features (e.g. ad-free) by upgrading your account today.
Upgrade Now