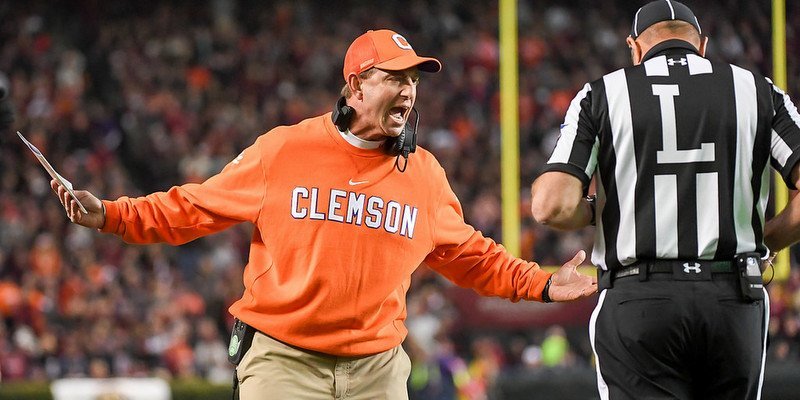 | | |
| --- | --- |
| Interview Insider: Clemson and South Carolina have plenty to say following Tigers 4-peat | |
---
| | | |
| --- | --- | --- |
| Sunday, November 26, 2017, 1:19 PM | | |
COLUMBIA - The trash talk from both sides was low-key in the week leading up to Saturday night's rivalry game between Clemson and South Carolina, but both sides had plenty to say after the Tigers' 34-10 victory.
Clemson and South Carolina players and coaches met with the media after the game, and the following is an edited transcript of the interviews.
CLEMSON HEAD COACH Dabo Swinney
Opening Statement
"Well, that was fun. I'm really happy for our team. I'm really happy for our staff and certainly our fans. We all know how important this game is and it's great to be state champs – that's for sure. South Carolina is a good football team, they've had a heck of a year. Much, much improved. Will [Muschamp] has done a great job, and we knew it was going to be a hard fought game but I'm really proud of our guys for showing up and being ready. Every week for us is a playoff mentality, that's just the way it is. To see our guys embrace that is pretty special. I love the chemistry of our team and the leadership of our team, because they all know every single week it's all in.
"It's everything you've got and to see them embrace that is pretty special. First time in the history of Clemson to go on the road and beat four ranked teams in the regular season – that's not easy to do. Especially when you look at this team and you look at all that we had to replace, I'm just proud of these guys and how they've responded and how they've hung in there and competed all year long. Four our seniors, that's four in a row for those guys what a great accomplishment. Again this is something that's important to both sides and it's really hard to do so I'm really happy for those guys to leave here. I think that senior group tied the school record for wins today and a chance to set the record next week and maybe for an ACC record – I'm not sure.
"It's a good group of guys that have hung in there and fought hard for us. The game was a game I thought that we controlled. We had 30 first downs to their 10. We had over 200 yards passing so that's good to see. We missed on a couple, but it's good to see us move the ball and catch the ball well. We had some big plays and they had 207 total (yards) so I thought we controlled the game, for pretty much the whole game. I felt like we got a little sloppy there in the fourth quarter but it was good to give some other guys some opportunities to play. We've just got to grow through those mistakes. I'm just really proud of our guys. The interception was a huge spark in the play early – that's little things showing up. Ryan did a great job on Skai [Moore] and his technique and his coverage and fooling him, and it paid off.
"Travon (Mullen) came back and had another big interception. Our special teams were awesome, our punting game was huge we kept them on a long field pretty much the whole first half. Will Spires was awesome at really creating field positions and guys getting down there to pin the ball. Noland Turner had three tackles on special teams. Our kickoff coverage was very good and our kickoff return, man we are really, really close on kickoff return complementing it. Opening up the second half, Travis popped a big return. I think we scored the very next play we went for, so it's just good to see our special teams create field positions on both sides. I thought their punter was awesome, I thought he punted the ball very well.
"Offensively, Hunter (Renfrow) ran for two touchdowns it's just that time of the year he just seems to come up big in these type of games. What a great night for him. I thought Tee Higgins sparked us on a big third down. That was a very well executed route and he did a great job with his influence. It was good timing, the ball was a little low though. It was a heck of a catch, that was a big spark and I thought Travis (Etienne) sparked us as well. A lot of young guys stepping up for us and making big plays, but again happy for our team and excited for this week representing the Atlantic in the ACC Championship."
On the perfect day for him to be a coach and get his 100th win
"I remember my 100th game was the ACC championship in 2015. That was pretty special and getting our 100th win here is something I will always remember. The wins go by name, but I'm just fortunate to have a bunch of great players that play for me. They have earned those wins. I haven't played a play in any of those games. The players played those games and we have a great staff. We have a lot of awesome people that have been a part of it."
On the peak of the season
" I do think that we are starting to play our best football, I really do. That's where I want to be. As you get into that final stretch here you want to have confidence, you want to have depth, you want to have good health and you want to feel like you have some rhythm and momentum. It does feel that way, and I think our guys are confident. We are as healthy as we have been in a while, Kelly (Bryant) has some confidence and we are starting to finish off some plays that we missed on for a couple weeks there. Defensively I think we developed the type of depth that you need when you go onto the final stretch here."
On throwing things on the field
"It was disappointing. I know that was not a representation of the people of South Carolina. I have a lot of friends and people that I know that are great people that are South Carolina fans. It was just disappointing to see that and it's dangerous. I kept thinking that the players were going to get their eye knocked out by a ref throwing a flag - similar to what happened in the NFL. It ended up devastating that player's career. Here, we have things being thrown out onto the field, and the refs have to do something about that. They put a flag on me because I came out of the box, but you know it was about the fifth time that it happened so I felt like I had to address it. I know there is a lot of emotion, but things like that should not be a part of the game."
SOUTH CAROLINA HEAD COACH WILL MUSCHAMP
Opening Statement
"I'm extremely disappointed. We started the game with a miscommunication of receiver and quarterback and throw a pick for a touchdown. Third down killed us on their first offensive touchdown. We don't get off the field for an 80-yard drive. There were opportunities there. (We) start the second half and miss four or five tackles on a simple bubble screen. There were some simple things that we need to do well in this game, and we did not. Offensively, it was hard to get anything going until late, so I'm disappointed with that. Their front four affected us in the run and pass game. We give them credit for that. We just got beat. You can't beat yourself against a good football team, and we had too many self-inflicted issues tonight that caused issues for us. We had nine penalties for the first time. We haven't had nine penalties in the last four or five games combined. I'm disappointed with the showing tonight."
On self-inflicted wounds
"I told our time after (the game that) we need to learn how to handle the moment better, obviously. We did not, and that's something we addressed at half. At the end of the game, I talked to the team in the locker room. I'm extremely proud of our seniors and the progress we've made in the last two years. I'm extremely disappointed with tonight. We've got to handle it better, and we didn't. We lost our cool at times in some situations. I told them in any situation, whether it was a defeat or a victory, you've got to learn from those situations, and you need to move forward and we need to learn from this."
On Jake Bentley and whether he considering taking him out of the game
"No, absolutely not. Jake's our quarterback. Again, you've got to protect a bit better. Obviously, he would probably like to have some throws back here and there. Overall, you've got to do some things. Whether it's protection or decision-making, it was a combination of those things. We had a hard time blocking at the end of the day. I'm sure he would like to have some throws back, especially the interception for a touchdown. We'll go back and make corrections and move forward."
On the miscommunication that led to a Clemson pick six
"It was either a split safety or middle field coverage. The route should have been broken off, and we should've taken the ball another place."
On adjustments made during the half
"Really the one drive was disappointing defensively. I felt like other than that, we played them pretty decent. I thought we played well in space. We had some pretty good guys in space. I think we tackled well in space to that point. I felt like we needed to make a play or two here or there. They're very aggressive. They create a lot of one-on-one matchups. I felt like we could win some one-on-ones down the field, and we weren't able to do that. It was frustrating, but I thought our guys came out and competed. The first play of the second half was disappointing, but it wasn't a lack of effort. We had a lack of tackling; we had four or five guys miss their guy, and give their guy credit: he made the play. Those are things (where) we need to handle the moment better than we do."
On whether they put too much emphasis on last year's game
"No. We competed in the game, and we just didn't get the outcome we wanted. We need to play better, and we need to coach better and that starts with me, nobody else."
On the whether the score accurately represents the gap between the teams
"I think that in any situation – and I've learned in this game for a long time – it's never as good as it seems, and it's never as bad as it seems. It's somewhere in between. We need to continue to recruit. We're down about 10 scholarships right now because of the attrition we've taken over with. It is what it is; you don't hear me complaining about it. It's the situation we're in. We're going to continue to recruit and develop. We had 12 seniors that did a fantastic job for this football team, and we'll continue to build the program the right way."
On the three-linebacker sets defensively
"We felt like we needed to get bigger on the perimeter. We were really hurt with some of the quick screens last year. We got hurt on some edges, and we felt like we needed a bigger body in the game. Sherrod (Greene has) been a guy that plays really well in space and can shut edges for us better than some of our defensive backs."
SOUTH CAROLINA QB JAKE BENTLEY
On the pick six
"At the end of the day, I throw the ball. I have to be responsible for every pass that I throw so that's 100 percent on me. I have to be better than that."
On handling the moment better
"We came out really fired up so we need to hone in on our emotions and not make plays that are uncharacteristic of who we are. We were all so amped up. As far as getting better, that will come with experience since we're a young team. The more games you play, the more opportunities you have to learn from games like this and that's something we can take away from this game. "
On being effected by the pressure in the first half
"They had a great d-line. It's hard to not let it affect you. We had some plays to get the ball out fast and those were effective."
On if there was too much emphasis placed on the Clemson game
"We didn't stop competing the whole game, and the offense went down and scored late which shows that we didn't stop competing. Obviously, we didn't play as well as we wanted to but that shows that we're never going to stop competing until the final whistle and we showed that tonight."
On trailing big at halftime as the game went on
"It's a hard deal when you get down, having to throw, especially when they start dropping eight in coverage. We have to find a way to run the ball and get better. It sucks losing, but we have to get better. We're not going to let this define our program, and we have to keep working and get better."
SOUTH CAROLINA WR BRYAN EDWARDS
On being more competitive today compared to last year's Clemson game
"We lost at the end of the day. It doesn't matter how much it's by. We competed, we played hard, but a loss is a loss."
On how long you let this game sink in before moving on
"Whether we win or lose, I have a one day rule. You take it in that night, and the next morning get ready to move on to the next opponent. Now we have to get ready to see who we'll play in the bowl."
SOUTH CAROLINA LB SKAI MOORE
On the game as a whole
"Not too well. We could've handled our emotions better and played better as well."
On his immediate thoughts after playing his last South Carolina-Clemson game
"No. It definitely hit me up there. I definitely wish I could have went out a different way, but I definitely felt like it was the last one."
CLEMSON RB TAVIEN FEASTER
On coming to Columbia and getting the win
"It was incredible, we knew all the guys were locked in from the moment we left the hotel. It was just one of those things."
On getting four straight vs. South Carolina
"It's amazing, four straight, to keep carrying on. Just very excited to get this victory."
On looking ahead to the ACC title game
"Definitely, next game mentality. As soon as we get back to Clemson, we'll start honing in on Miami."
On the team keeping its composure in a tough environment
"It's going to be loud, just like everywhere else we've been. Just come out and handle business."
CLEMSON DB TRAYVON MULLEN
On what he saw on the interception
"I knew they were going to come to my side, he's a pretty good receiver so when it comes to crunch time he's the receiver they're likely to go to."
On the playing in a tough environment
"We did have a lot of fun, the fun is in the winning as well… any time we're on the road, crowds always get us hyped. We love those type of environments, going on the road, playing in big games, the students and everything just gets us excited."
On staying disciplined and not getting sucked into penalties or fights
"Coach preached that, but the way our program is ran, we don't get into things like that. We don't let that stuff bother us, we come prepared and block the outside noise."
On Coach Swinney's personal foul penalty motivating the team
"It means a lot to us, Coach Swinney loves us like we're his own. It just shows the type of coach he is and the type of person he is."
On the team finishing the season strong
"We're putting together all three phases of the game, coming together as a team and complimenting each other."
CLEMSON WR HUNTER RENFROW
On the win
"It means a lot to me. I'm so proud of the way we played, the way we came into this environment. The defense helped us out early, got a big score, and I'm just so proud of them."
On some of the talk that was bothering them
"It happens with a rivalry. Just the "never again" stuff, and that they weren't much better than us. At the end of the day, it's still a football game. It's not about talk and we showed that tonight."
On what it says about the team, being 11-1 and clicking even without DeShaun Watson
"We haven't done anything yet. We still have to play for the championship. We still have a lot to work on and improve on to get better but we're close and we're right where we want to be right now."
On the 61-yard touchdown play
"I felt like I was running the triple option at Socastee again. It was a good play. I looked back on the flag and was worried about that."
On watching the defense play how they have been
"It gives us a lot of confidence. Just to go about there, and play stress free without any pressure. We know they're going to make big plays and that they're going to stop the offense. We don't have to be perfect, especially early. We have time to get our feet under us."
CLEMSON CB RYAN CARTER
On the dominant defensive performance
"Great performance defensively. I took a lot of pride in that, especially several guys who I thought played really well collectively. Hats off to the D-line and linebackers. I think we just had a great week of preparation. We knew what it was going to take to beat a team like this. South Carolina is a great football team, so we knew that we had to prepare and be locked in from the jump."
On how the Gamecocks have prepared the Tigers for the ACC Championship
"We know that next week is an even bigger type of game and bigger atmosphere. I thought we made a lot of strides in this game going forward. I thought it was a good experience down towards the end for the younger guys to get in and experience this type of magnitude of a game. Next week is going to be really big. We are really excited about the challenge of playing against Miami. I think a lot of the guys are used to playing in the ACC Championship; some of them have been doing it a lot of years, but I think the guys are locked in and ready to go."
On the team keeping their composure
"(Coach Swinney) was saying don't let the emotion and magnitude rile us up. There is always going to be that much emotion in a rivalry game. That's what he was trying to tell us, not to get in to all of that 'chippy-ness'… There is going to be some here and there but don't make it to the point where you are going to get thrown out or you're going to be out for the next week where it's going to cost us that big. He's really preached on us having our composure, and I thought the guys handled it really well.